Shoes.com taps into artificial intelligence
The online retailer rolls out a new visual search tool as it continues to grow aggressively.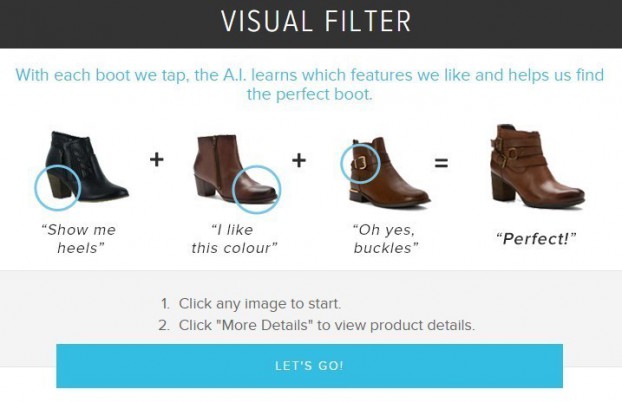 Vancouver's Shoes.com is hoping it can help customers find the exact pair of boots they have in mind with its new visual search tool.
For what it calls "Visual Filter" on its Canadian site, ShoeMe.ca, the company has partnered with San Francisco-based Sentient Technologies' artificial intelligence program, Sentient Aware for e-Commerce.
To begin, a user would click a pair of boots they like to pull up similar styles (based on things like heel height, colour or material). As the customer continues clicking through, they'll get more results that are intended to help bring them closer to what they're looking for, such as a particular shade of brown with a certain kind of buckle.
The search draws from about 128 different data points to help narrow the options and bring up other items close to what the user is looking for. "There's no need for language, they're no need for typing," Shoes.com's director of innovation, P.J. Worsfold, says of the filter's main appeal.
Currently, the filter is only available for women's boots on ShoeMe.ca as a pilot. "As we get some data about how this is being used, we'll look forward to rolling it out to a larger part of our inventory," Worsfold says.
Shoes.com currently offers products from more than 500 brands and says it has eight million customers across Canada and the U.S.
In August, the company announced a partnership with Toronto visual search company Slyce, to include its "snap to buy" functionality across its footwear products.
Last week, the company acquired lifestyle accessories brand Richer, Poorer and announced plans for its first bricks-and-mortar location in downtown Toronto. The idea behind the store will be to change its theme every six weeks to accommodate new looks and merchandise.
In September, the company introduced two-hour delivery in Toronto and Vancouver, with plans to expand to Calgary, Edmonton, Montreal and Ottawa.
Shoes.com was bought by Hardy Capital and a group of Vancouver investors in 2014, along with OnlineShoes.com and ShoeMe.ca. The combined business has revenues of roughly $300 million.
Correction: This article originally stated that Shoes.com's concept store will change its theme every six months. It will refresh roughly every six weeks.