Canadian Tire's content-heavy Christmas
The retailer zeros in on its active family target with a new influencer partnership.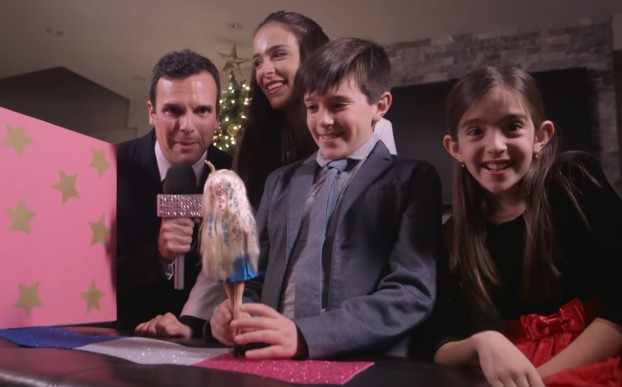 Canadian Tire has kicked its influencer strategy up a notch for the holidays this year, partnering with social media stars Eh Bee Family on a digital and social campaign.

"When you think about the Canadian Tire core target, which is active families with kids, this family could not be more spot on," says Susan O'Brien, VP marketing at Canadian Tire. The retailer's core target has always been active families with kids, but this year's partnership aims to ramp that up, especially with more of a focus on toys.

As part of the campaign, led internally at Canadian Tire, Eh Bee Family has created a series of 12 videos focused on gifting, with an emphasis mainly on popular toys for the season but also some home products. The family also created a "Giftmas 'Wrap'" video, capturing their journey through the aisles of the store (and of course, making it rain with Canadian Tire money).

That video and four others will be getting paid support on YouTube and social media (with Touché! on the media buy) with the remainder being featured organically on Canadian Tire and Eh Bee Family's social media accounts, which have a large following. The rap video, for example, gained 4,500 views within 10 minutes of being posted to the family's YouTube page, O'Brien notes.

Taking cues from the popularity of "unboxing," the family has also created four videos opening gifts and showing off product.

Canadian Tire worked with digital entertainment company Collective Digital Studios on the Eh Bee Family videos.

Overall, collaboration was important, and having Eh Bee Family come up with their own ideas for how to execute was key to making these videos work and not feel like conventional advertising, O'Brien says. "There has to be something in it from an entertainment point of view for the viewer."

Outside of the Eh Bee Family partnership, Canadian Tire has been working with influencers to create content for its Canvas line of holiday décor products. "What we've always done with this brand is recognize that it's about making the season easier," O'Brien says.

In a continuation of its recently-launched "You Got This" digital videos, the brand has also been creating how-to style videos for the season. The overall campaign, conceptualized by Tribal DDB and executed internally by Canadian Tire, is inspired by popular online searches by customers, which are then turned into short instructional videos, such as how to iron a shirt properly, how to check your car's tire pressure or how to repair a screen door.

For the holidays, Canadian Tire has also refreshed its annual campaign featuring its spokesperson outdoors, giving gift advice to Canadians. Running in English and French, those spots were created by Taxi.

Going forward, outside just the holidays, Canadian Tire is planning to continue investing in branded content and influencer-led campaigns, O'Brien says. "For Canadian Tire, one of the big important pieces of this is measurement," she says. She adds that with 144 product categories, there is plenty of room for more content but that the retailer now has to focus on measuring the impact on the brand and its customers.