Let's get physical
Why news of store closures isn't deterring online retailers from setting up brick-and-mortar shops.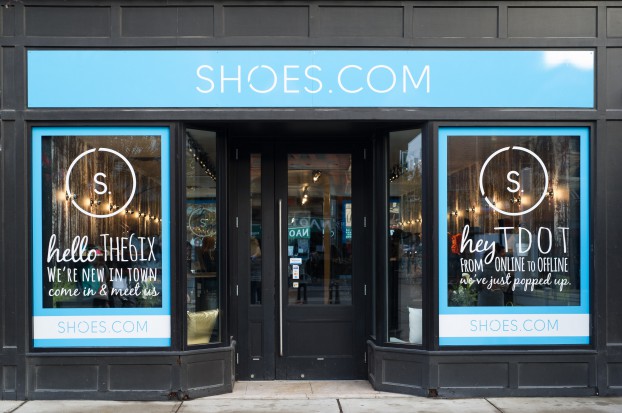 Among the memorable scenes (for this writer anyway) in The 40-Year-Old Virgin is Steve Carell trying to awkwardly ask out Catherine Keener, only to be continually interrupted by Jonah Hill, confused and a little mad at the premise of Keener's "We Sell Your Stuff on eBay" store.
It just didn't make sense to him – if he could only buy these sparkly boots online, what's the point of the store?
Flash forward a decade and the premise of online retail meeting bricks and mortar is not only less confusing, but a strategy that several successful sites are employing to woo customers with brand experiences (while still selling merchandise, of course).
Eyeglass retailers Warby Parker and Clearly (formerly Clearly Contacts) have both taken a more physical approach in the past few years, as has Montreal menswear retailer Frank & Oak.
Earlier this month, Amazon did have some people scratching their heads at the introduction of its physical book store in Seattle. Aptly named Amazon Books, the store curates merchandise based on Amazon.com customer ratings, pre-orders, sales, popularity on Goodreads, and its curators' assessments, according to its website. Price points are also the same as they are online, so customers don't have to comparison shop (although the retailer does encourage use of its mobile app while in store).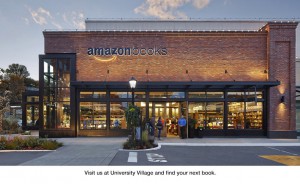 "It's not really to sell more books, it's that Amazon needs to create experiences inside their stores that they can't get to in a virtual world," says Chris Lund, CEO at Perennial Inc. As Amazon looks to international examples like China's Alibaba or Myntra and Jabong in India, it's likely seeing that having a strong, functional e-commerce site isn't enough, he argues. He points to Apple as a good example of a company that wanted to control the experience around its brand and did so through a retail environment, despite having already sold products at big box stores like Costco or Walmart.

On a simple level, a physical location allows brands to go after customers who don't normally shop online. But on a more complex and arguably important level, it's all about creating a better brand experience.

"Far too many bricks-and-mortar retailers as well as online retailers are focused on just trying to do the basics better and trying to make transactions easier," Lund says. "You have to invest in an outstanding experience if you want to avoid the race to the bottom on pricing."

"If the experience that I get inside the store is of no incremental value to me than what I can get online, then why would I ever go to your store?"

Closer to home, there's Shoes.com. Today, the Vancouver-based brand is opening its first physical concept store (acting as a showroom for customers to try on and order merchandise), located in downtown Toronto. It could seem an odd move for a company that has ".com" in its name and has been investing in making its website more usable (it recently introduced visual search technology to its Canadian site, for example).

"For our retail concepts, we're really looking to reach a group of urbanites that we consider to be influencers," says Geoff Henshaw,VP of brand and retail for Shoes.com. "Generally, that's a white collar, time-constrained professional who's interested in fashion, excited about shopping and interested in the theatre of retail."

The store is set up to be turned over regularly (with what Shoes.com calls a "hyper-curation" approach), the way a website might be, featuring new items and themes. For example, the launch is centred around boots, but later, it could feature the best looks for the summer festival season.

The storefront also allows Shoes.com to create experiences for the brands it sells, by incorporating food, drink, music and live events when featuring a particular brand, Henshaw says. "From a revenue perspective, one store is not going to eclipse our online store anytime soon," he says, noting that on Cyber Monday alone, the combined sales for Shoes.com, ShoeMe.ca and OnlineShoes.com reached $5 million. "We really view our retail stores as an opportunity to build our brand and we hope to do so in a way that complements our online site."

On the fulfilment side, physical locations also help Shoes.com improve its delivery (it recently announced two-hour delivery for select shoes in Vancouver and Toronto). The company has plans for more stores in Vancouver and other major markets including Montreal, Ottawa and Calgary next year, with eventual plans to do the same in the U.S. after it establishes proof of concept.

While physical locations obviously come with overhead costs, being strictly online isn't exactly cheap either. As retailers aim to stay competitive, they're investing in things like visual search technology or other mobile-friendly tools, for example. "If you look at what it costs to do a great job online, it really is quite expensive," says retail consultant Ed Strapagiel. "In retail, a company's best advertisement is the sign on the front of its store."

What's more, opening up shop also lends a public relations factor that can help boost business, he adds (think of the media attention that Amazon Books got, for example).

This is not all to say that all online retailers will be opening up stores everywhere. "I would not anticipate Amazon building 1,000 bookstores," Lund says. "Rather, I would see them looking in a variety of different category verticals [and] building experiential formats [for categories other than books]."

Overall, traditional bricks-and-mortar retailers have tended to concentrate on their infrastructure to shift or change consumer behaviour, but smaller steps can have a greater impact, he also notes. Take the holiday season. Introducing things like a dedicated "gift guru" in store who can help shoppers stay on budget, or creating lineups with Wi-Fi tech and employees solely focused on returns and exchanges can improve the experience for minimal cost, he says. "Flexibility and nimbleness are truly the things that will win out."