Vichy brings e-commerce to Canada
How the beauty brand is taking its personalized skincare approach online.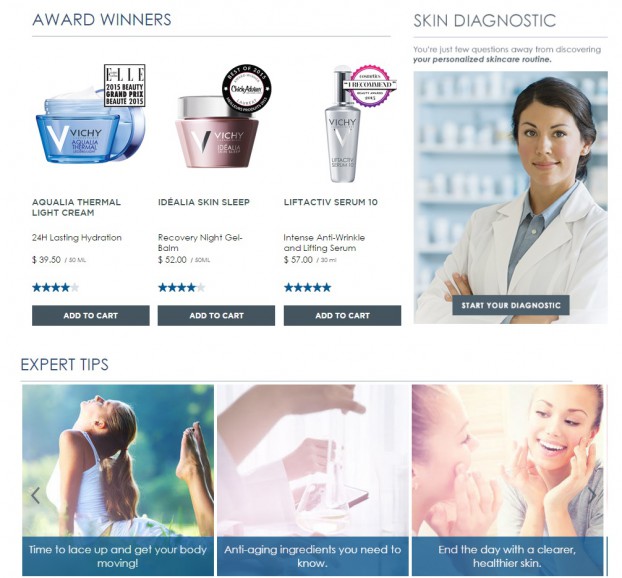 L'Oréal brand Vichy has launched e-commerce in Canada, aiming to reach online shoppers who wouldn't ordinarily buy product in the drug store.
Quietly launched in October, the brand began promoting to the revamped Vichy.ca over this past weekend leading up to Cyber Monday.
The idea behind the new site was to bring the specialized skincare consultation online, mainly through an interactive skin diagnostic questionnaire about things like what bothers the customer about their skin and what lifestyle factors, such as sun exposure or work stress, affect them most. The site also includes expert advice through a live chat tool. "[The] Vichy brand is all about advice and making sure that you get the best personalized routine for your specific skin type," says Annie Grégoire, marketing director for Vichy Canada.
Rather than going after the same sales as its drug store partners, Vichy is now after consumers who would be buying online anyway, she says (Vichy says it is currently the top skincare brand sold in drug stores).
"It's more than a transactional site," she adds, noting that it also includes lifestyle content alongside product information. Vichy took that approach with its recent "#VichyWorksForMe" advertising campaign in Canada (by Publicis Montreal).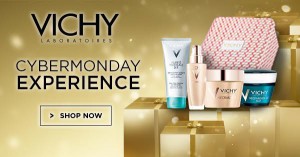 Leading up to this past Cyber Weekend (between Black Friday and Cyber Monday), Vichy used digital banners, programmatic and retargeting to get users to the site. Vichy has been reaching out to media, beauty bloggers, YouTubers and other influencers to help get the word out about the new Vichy.ca. In early 2016, it will be rolling out additional programs with influencers.

Over the past year, Vichy built a CRM database, leveraged to announce the new Vichy.ca site and now used on an ongoing basis to engage its base, providing things like targeted experts tips,  skin related advice and some promotions.

The new website also includes promotions such as free samples added to purchases, and a VIP program where customers who sign up can be the first to be notified of rebates, promotions and luxury samples. Those subscribers also receive free shipping on orders over $50.

Vichy worked with Graphiques M&H for the web design, Bicom Communications on PR, Publicis for social media, and Xaxis and AdRoll for media (programmatic and retargeting).