On trend in 2016
From the sharing economy to age-agnostic marketing, here are a few predictions for the year ahead.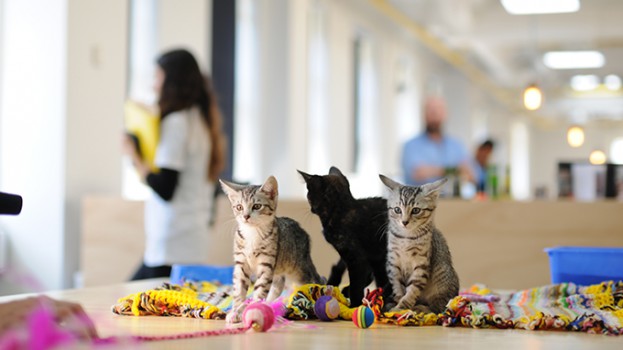 This story appears in the December/January 2016 issue of strategy.
Consumer behaviour is constantly changing, and that affects all brands. Are you ready for what's to come in the new year? We chat with experts from DDB, J. Walter Thompson and Human Branding about the biggest trends on the horizon.
Fulfilling basic needs
Next year, the sharing economy is going to get a lot more basic, says Johanna Faigelman, cultural anthropologist and president of Human Branding.
Hyper-digitization has left a void for some basic needs, like social interaction (in Japan you can hire someone to wipe your tears, while a Toronto woman is offering to be the little spoon in a cuddle-for-hire), cooking (strangers can make you a meal in your own home) and even petting puppies and kittens.
Rather than be disruptive to a business, savvy companies can help fulfill these fundamental needs, she says. After all, if Uber can deliver a crate of puppies and kittens (adorably pictured above) to a person's workplace for an hour as a marketing stunt, why can't other companies take it even further?
Finding a balance
Consumers want to have their quinoa cake and eat it too, say Lucie Greene, worldwide director of the innovation group at J. Walter Thompson.
Millennials and generation Z are more likely to balance a night of binge drinking with a heavy dose of yoga; eat a generous helping of a calorie-laden cheesecake, as long as it was made with avocado, coconut oil and unrefined sugars; or go vegan during the week to justify a massive greasy burger on the weekend, says Greene.
As a result, good-for-you products – from single-ingredient beauty buys to chemical-free tampons to sustainably sourced candy – and apps that encourage balance (like ones that track carbon emissions) will boom in popularity, she says, all helped along by chic, urban packaging and branding.
And it's not just young adults, adds Tony Johnstone, chief brand officer at DDB. Boomers, too, are realizing their health limitations, and have the discretionary funds to spend on balanced products. "Boomers don't want to compromise, but their bodies are making them aware that they need to live better," he says.
Money (kind of) makes the world go round
With mobile wallets on the horizon and apps taking care of our payments, Faigelman says consumers' relationship with currency is going to change.
The process of paying takes consumers out of the experience they have with brands, she says. It makes interactions with companies feel like transactions. But seamless payment (through apps and mobile wallets) takes the thinking out, making it more of a relationship.
Need more proof? Just look at Disney's MagicBand system, a bracelet that does everything from unlock hotel doors to pay for food, which has received rave reviews from the media, CMOs and agency presidents alike.
All ages access
Society is going ageless, and marketers are following suit. A study by Hotwire PR found that in 2016, marketers from more than 22 countries plan to market "age agnostically." This jives with JWT's trend report, which found that globally, boomers are a diverse group and need to be treated as such, rather than just as a gray wave of zoomers. It's not a totally new concept – Kraft has been targeting psychographics for years – but it's growing in popularity. After all, since "millennials" encompass a wide age range, with the youngest just starting adulthood and the oldest likely with a family of their own, why does everyone continue to try and market to them in the same way?