Shoppers Drug Mart's 'Jollydays'
The retailer positions itself as a one-stop shop for gifts and ups it influencer strategy for the holidays.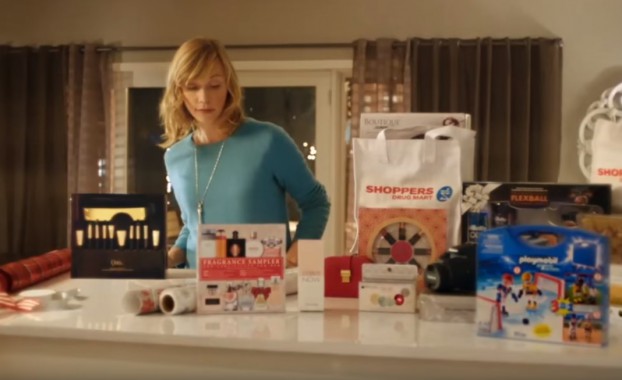 Shoppers Drug Mart is going after holiday shoppers with a new campaign, aimed at positioning the retailer as a one-stop shop for convenient gift ideas.

The "Happy Jollydays" platform includes a spot, running on TV and as pre-roll, featuring a woman – named "One Stop Shop Sarah" – impressed with how easy it was to bring home her holiday haul and gift wrap it all in a literal snap (before getting a bit carried away).

Versions of the spot end by featuring different products such as fragrances or confectionery items and reminding Canadians that buying for their loved ones also means getting Optimum points for themselves.

The main idea behind the campaign was to remind consumers of the variety of merchandise Shoppers has available, making it a prime spot for getting several gifts at once and not just stocking stuffers, says Shelagh Stoneham, SVP marketing at Shoppers Drug Mart. "We know that customers shop all parts of our store but we wanted to remind them that we also have a lot of seasonal merchandise and things that make for perfect gifts, like electronics," she says.

The retailer has also created an influencer strategy, partnering with TV host Jillian Harris on a series of online tip videos related to things like holiday entertaining and gift ideas. Those videos are running on YouTube and social media. Shoppers is hoping to use customer feedback to see whether it will continue similar influencer campaigns in the future, but so far, response to the Harris videos and the campaign generally have been positive, Stoneham says.

The "Happy Jollydays" campaign, led by Shoppers' AOR John St., also includes digital banners, radio and print advertising, as well as in-store merchandising (such as product gift sets). Dentsu Aegis led the media buy.