Marketers of the Year: Getting Interac users back in the black
Andrea Danovitch is transforming the brand from familiar face to financial liberator.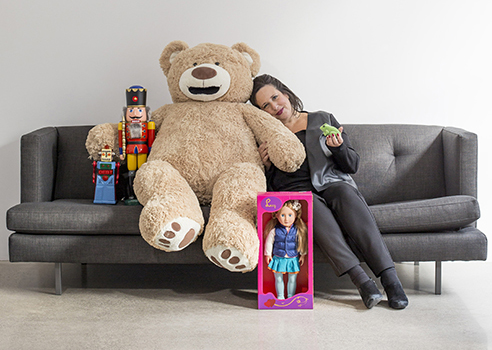 This week we're profiling our six Marketer of the Year winners. Check out the overall winner, Jason Doolan from General Mills along with profiles of Labatt's Kyle Norrington and Agropur's Caroline Losson, and stay tuned for the other profiles. 
This story appears in the December/January issue of strategy.
I remember the first few times I used my credit card for a coffee under $5. I carefully kept my chosen method of payment hidden from peering eyes. I thought, "Why does the barista have to ask 'debit or credit?' Can't they just leave me to fumble over the card machine as I try to hide that I'm not using my own money?' I just wanted the travel points. But I convinced myself that my onlookers thought I couldn't afford a cup of joe.
I wasn't alone. Paying for small purchases with credit was once generally frowned upon, but as more people got wind of the increasing rewards programs attached to those cards, the stigma started to lift. Good news for the credit card companies, bad news for Interac. That's because the company depends on Canadians using debit to purchase (for the most part) everyday goods, from gum to groceries. But because it wasn't able to lure shoppers with similar aggressive rewards programs, Interac was starting to lose ground. The brand and its agency Zulu Alpha Kilo decided to fight back by helping Canadians liberate themselves from credit card debt.
Enter Andrea Danovitch, Interac's director of marketing and brand. She led the "Be in the Black" platform, which was born out of necessity in 2014, and has steadily evolved over the past two years to include comical characters like "Holiday Bill" (a human personification of the post-holiday credit card bill) and more practical programs like the "21 Day Credit-Free Challenge" (a web series featuring a reality TV host teaching viewers how to curb credit card spending).
Essentially, the idea behind "Be in the Black" is to show Canadians that using their own money can lead to an anxiety-free life. TV spots glorified the act of making debit purchases with regular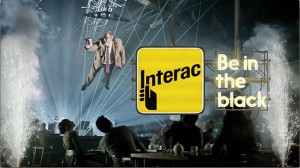 people being likened to rock stars, and OOH creative featuring taglines like "Reduce stress by 19.7% a month." It struck a nerve with a lot of people. Interac recorded 5.2% transaction volume growth within the first three months and a 24% increase in growth compared to the same period the previous year.

Danovitch came to Interac from CIBC in 2007, where she had spent 17 years – a surprising fact considering she originally wanted to become the next great Canadian author, having studied English literature in Montreal where she grew up. But Danovitch learned to parlay her creative writing skills into the corporate world. She would write and edit campaign-related materials for CIBC in Toronto, and eventually moved up to become brand manager.

She later landed at Interac in a more modest department than she was used to. In fact, there was only one other person. They were structured as both the marketing and communications team, reporting to Interac's VP of client management and marketing. Today, that department has grown to a team of five: Danovitch, plus a senior marketing manager, marketing manager, specialist and coordinator. And while her budget has remained relatively flat over the years, she's learned to be creative, stretching media resources (with the help of agency Media Experts) to give Interac a sustained brand presence throughout the year. Instead of pooling its spend into a fulsome, one-time-only campaign on TV (as it has in the past), she's getting the brand to consistently hit retail, OOH, radio, digital and social media with creative that's a continuation of the original launch platform.

"We feel, to do justice to our product suite and to really cast a wonderful halo across our products, we wanted to be more consistent [across platforms and throughout the year]," explains Danovitch.

For example, the "21 Day Credit-Free Challenge," which followed the aforementioned 2014 "Holiday Bill" TV and radio campaign, launched in the spring of 2015 with 23 social videos. The brand had personal financial expert Gail Vaz-Oxlade invite people to set their credit cards aside for a full 21 days. Interac then sent a video a day to over 2,000 people who signed up for the email-based program, with Vaz-Oxlade giving tips to help them beat bad spending habits. The average completion rate of those videos was 93%, and the emails had an open rate of 40%.

Beyond this program (which was later extended with spots in Cineplex cinemas), Danovitch and her team have been working with merchants to cater to reward-hungry Canadians. Through partnerships with Cineplex, the Beer Store, Pizza Nova and Couche-Tard, among others, the brand made using Interac Debit more rewarding. It offered to upsize popcorn and drinks at cinemas, as well as coffee at convenience stores, for free. Interac also had its pizza restaurant partner throw in free dipping sauce, and at the Beer Store, it donated to the Leukemia & Lymphoma Society of Canada in exchange for debit transactions. The increase in store transactions, from 5% to 8%, reinforced that the merchant programs were winning over consumers.

"People love getting something that's more immediate gratification," says Danovitch. "Not everyone likes to collect points over a long time…When we did this for a certain period of time, we started to see stickiness in people actually shifting and continuing to pay with their debit card."

The current competition for Interac is credit card companies, but the brand could potentially face losing its monopoly of the debit network category. Today, it's the only physical network in Canada, but that could change with the growth of Visa Debit (which is currently only used online in Canada, and in stores in the U.S.). To compete, Danovitch is relying on reinforcing the brand's heritage, and reminding people that, for 30 years, it's been the "trustworthy, reliable brand that people have come to know and feel comfortable using."

The brand has always ranked high in likeability scores, she says, thanks to its previous signature yellow truck, which, in TV spots, was shown following people around as they go about their day (indicating that "your money is with you"). "It was warm and fuzzy… and we did see some incredible results," she notes. "But while people loved the brand we weren't necessarily seeing the pay-off in the bottom line and share of payments."

Even so, Danovitch still wants to see some of that "magic" in the creative that's being produced today. "We don't want to lose the things that are inherently great about the brand," she says, pointing to Interac's recent "Merry January" holiday spot, which launched in November. In it, the brand puts a holiday spin on the "Be in the Black" platform and brings toys in a store to life, having them sing a debt-inspired version of the "Dance of the Sugar Plum Fairy" to a customer wrestling with her decision to use credit or debit. Danovitch believes it's the brand's best work to date and sets the stage for 2016, when she plans to evolve the platform further and "start looking at a higher purpose and what we stand for" because, "now that we've made those points [around being debt-free], we want to show why life is better now that you use your own money."

Personally, Danovitch says she is motivated by the potential of being an "enabler for something that's adding to people's lives."

"It's very hard to turn on the news these days without hearing about Canadians' debt," she says, adding that the team witnessed the issue up close, having interviewed people in focus groups about anxiety, panic attacks and sleep issues because of their debt. "And that's what makes this platform so gratifying. You know that you're doing something that makes a difference…It's something that I can teach and instill in my own children."