Marketers of the Year: Bringing Samsung to life
Mark Childs has strengthened the brand by focusing on the experience and benefits of tech.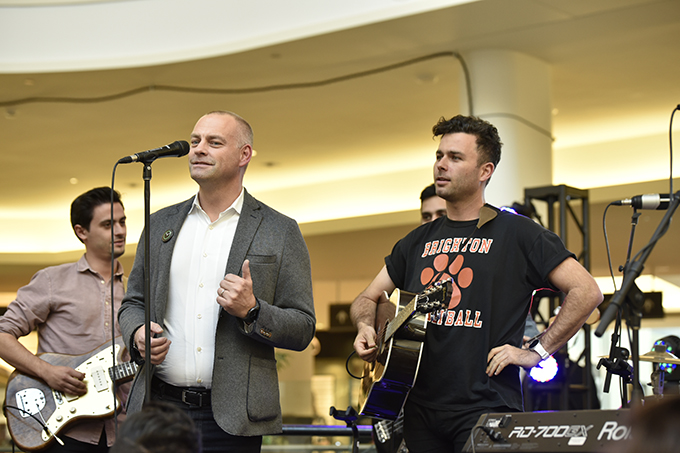 We've been profiling our six Marketer of the Year winners. Check out the previous stories, Jason Doolan from General Mills, Interac's Andrea Danovitch, Agropur's Caroline Losson, Labatt's Kyle Norrington and Denise Darroch from Kimberly-Clark.  
This story appears in the December/January issue of strategy.
Guiding the Canadian image of one of the world's biggest consumer tech players might have seemed like an unlikely role for Mark Childs, CMO at Samsung Canada, nearly three years ago.
Childs joined the company in the summer of 2013 after more than 25 years of marketing for legacy CPG brands, including stints as VP of marketing at Kellogg and Campbell. His hiring at Samsung came at a time when it was trying to market itself less as a tech company (focusing on specs and product features) and more like the household brands he was used to.
"The human side of technology is increasingly important, especially as we head into the internet of things and devices become the main things that connect us in our lives," Childs says of the similarities between tech and CPG marketing. "So that foundation of consumer marketing remains true: cracking a great insight and making an authentic connection with somebody."
Childs and Samsung's marketing team took a new approach to its work, zeroing in on a clearer picture of the audience it was speaking to, and identifying the best way to connect innovation with day-to-day life.
"Because of that, we know this 'young-minded' audience so intimately now, whether they're millennials, moms, men or new Canadians who are interested in what's new," Childs says. "What we concluded was that we really had to bring the product benefits to life much more than we had – going away from speeds and feeds to what those benefits look like in real life."
For example, the campaign for the recently released Gear S2 smartwatch featured social videos created by Cheil Canada and showed how it could seamlessly fit into one guy's daily activities,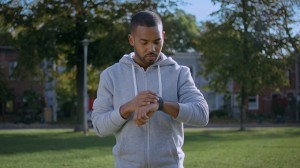 from working out, to preparing for the work day, to rescheduling a date.

"When we launched the first Gear, it was very much about the functionality of your smartphone on your wrist. Today, everything we know about the S2 is wrapped up in a whole integrated campaign that shows the experience of wearing one of these is not about knowing the time, it's about what we do with it."

Childs has also placed a greater emphasis on events and public activations to show consumers first-hand how a product can fit into their lives, working closely with Cheil, Mosaic and North Strategic.

"The physical experiences may reach less people, but it's a fuller and deeper experience," he says. "So it's been about how we find that balance between reaching and communicating, and delivering the human experience no matter what."

For the Gear S2 launch, the company brought the Global Galaxy Studio to Toronto's Sherway Gardens in October. The installation featured all of Samsung's latest tech, from phones to tablets to speakers to VR, but was centred on the watch, showing its features, customization options and how it could connect with other devices consumers were already using. It also provided a preview of the company's newest flagship store located in the shopping centre, its fourth in Canada and its biggest retail footprint to date, which allows customers to be hands-on with the newest Samsung products.

The Galaxy Studio concept had previously been done in Seoul, London, Singapore and New York, one of many ways Samsung Canada has benefited from being part of a global network. Its offices collaborate through an internal system that allows Childs and his international counterparts to see what kind of marketing activities are launching in all of the company's markets.

"Canadian business can't create everything uniquely when they're part of a worldwide structure, and ideas from Australia or Germany or the U.K. share really quickly," Childs says. "If great work is happening elsewhere and it will resonate here, we'd be crazy not to take the opportunity to build on that in a way that connects it locally and starts the conversation we want."

A prime example of that collaboration is the Look at Me project. Developed by Samsung's home office in Korea, along with university researchers, the app features games that help children with autism do things like sustain eye contact and recognize emotions based on facial expressions. It's based on research showing that autistic children interact more easily with digital devices than with people. Canada was the first international market to adapt the project, working with non-profit Autism Speaks to identify 200 Canadian families to receive Samsung tablets loaded with the Look at Me app last December. The brand also released a video in the spring showing how one family benefited from using it (the video earned over 3.5 million social impressions, among the highest the brand has seen from paid media).

Samsung Canada has adapted global work in its traditional ads as well. With a range of new tech being built into its home appliances, Childs and his team were looking to educate young parents on these features, while maintaining its principle of connecting them to the realities of their lives. Then, Samsung debuted a campaign in the U.S. featuring actors and real-life couple Kristen Bell and Dax Shepard using things like ActiveWash washing machines to deal with the day-to-day issues of raising a child.

"We were developing a whole campaign platform, but we looked south of the border and there was an amazing spot that was bang-on to what we were already talking about and we knew would connect with our audience," Childs says.

From there, the company added a local touch with social videos showing slices of real life, focusing on the messes and crises that come across a parent's table. They're the kind of thing Childs says Canada has been more immersed in than its global "peer group." It also launched Samsung Innovation Home, a pop-up in downtown Toronto, where Canadian celebrity designers hosted visits and dinners in a room equipped with the company's latest appliances. The event brought in 2,450 visitors for 26,000 demos, exceeding targets by 169%.

Childs has also been keen on tapping into points of Canadian pride and passion. He's pursued partnerships with festivals like NXNE and TIFF, and with the NHL. At TIFF, Samsung put its newest smartphones in the hands of filmmakers participating in the festival's Emerging Directors Showcase to create short films with mentorship from director Jason Reitman. It also let festival-goers create their own 15-second social videos with footage of TIFF's biggest moments and stars cut together with their own content.

"Yes, we got to be part of an event that is about Canada's passion for film, but Torontonians also had the chance to experience content they wouldn't have without us," Childs says. "When I can get you inside access or give you a social video you could only create with us, we hope you feel a little more special because of that relationship with Samsung. And the filmmakers became advocates for us, showing their peers what our tech enables them to do. Letting someone meet their full potential connects with Canadian pride in a big way."

Today, Childs says Samsung Canada's biggest strengths are brand awareness and preference, cracking the top 10 of Ipsos Reid's Most Influential Brands for the first time this year.

The challenge he sees now is keeping up with the pace of change and fostering consumer relationships with products that aren't even in market yet. Which is why connecting with consumers through brand experiences, instead of product features, is going to be all the more important for Childs in the future.

"The question we see ahead of us is, 'How do we create more pride in owning and being part of the Samsung brand?' Building loyalty or affinity is going to be the most important, because that's what moves us from not just building momentum, but insulating us for the future and whatever that next new product is going to be."