Serving a higher purpose
Editor Emily Wexler on what the next generation of purpose-driven marketing should look like.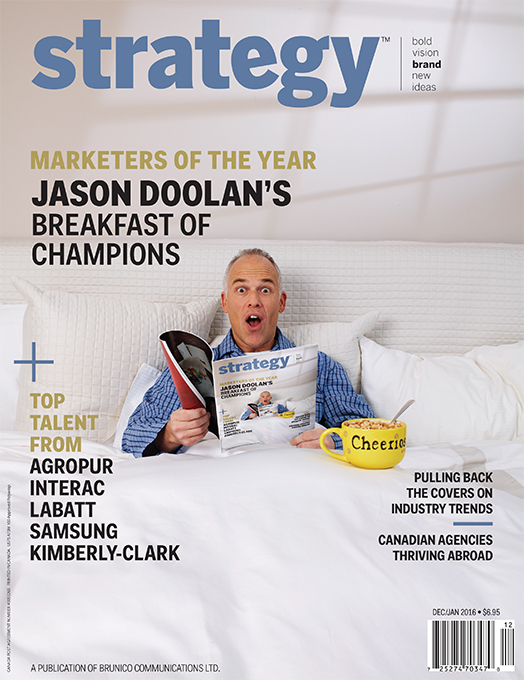 This story appears in the December/January issue of strategy.

At strategy's Agency of the Year awards last month, the shortlisted agencies presented videos that were, as always, a highlight of the show. Many of those videos have not only gone viral (like Zulu Alpha Kilo's "no spec" manifesto), but they also pointed towards trends from the past year. Among them were marketing to millennials (aren't we all tired of that term?), ever-shrinking budgets and, well, saving the world. Ogilvy's video perfectly summed up the latter when it humorously pointed out that advertising is expected to cure cancer, save lives and even eliminate the possibility of death – okay, it hasn't quite gone that far… yet.

In September, Karen Howe wrote a column for strategy that lamented the fact that a lot of advertising doesn't just sell products anymore. Ads are suddenly expected to have a higher purpose (at least if it's going to win awards) – it must rid young girls of their self-esteem issues, tackle social injustices or bring estranged families together. A recent ad for German supermarket Edeka stars a grandfather who fakes his own death to bring his children together – I repeat: fakes his death! I can't help but picture a lonely frozen turkey, wondering, "Did you forget about selling me?"

I agree with Howe, who believes we're reaching a saturation point. We live in a cynical society, and thanks to the internet, our cynicism has reached light-speed.

All this is not to say that there isn't room for purpose-driven marketing. I happen to think that a lot of it is brilliant. But going forward, it will have to tie even more closely to the brand to avoid the inevitable eye-rolls and avoid being seen as a grab for video views and Cannes Lions.

Our Marketer of the Year overall winner, Jason Doolan of General Mills, has proven that purpose-driven marketing can also be about the product. "The Cheerios Effect" might feature diverse people talking about coming together, but it's based on the fact that Cheerios actually attract each other in milk. And the "#LuckytoBe" campaign for Lucky Charms was about acceptance during Pride, but it also prominently featured the product, especially the little rainbow marshmallows that incite so much nostalgia for cereal eaters. Doolan has a knack for really tying products to their campaigns, and that's what it will take to remain authentic in the eyes of the skeptics going forward.

To get to these insights, it starts with a brilliant strategy. That's why we've been working hard on defining the parameters of our newest awards – the Strategy Awards – which will debut next year during Agency of the Year. It celebrates the oft-unsung heroes of the marketing world – the planners and strategists, without whom a lot of brilliant creative work would never be born.

I look forward to the year ahead – to the genius ideas that haven't been thought up yet, the great Canadian work that will win on the world stage and how marketers and agencies will adapt. See you in 2016.