Saying no to spec: the aftermath
Zulu Alpha Kilo's Zak Mroueh on what happened after his agency's now-infamous "no spec work" video.
The story appears in the December/January 2016 issue of strategy.
By Zak Mroueh
When I first started Zulu Alpha Kilo, I would always get asked that age-old question: How big do you want to get? In the beginning, my perfect number was no more than
15 people.
Once we had our first client, the number grew to 30. Soon after, when there were 40 of us, I realized our ideal size wasn't tied to a number at all – it was tied to our ability to stay true to Zulu's guiding principles. We'll have become "too big" the moment we compromise these core values.
New business RFPs requiring free "speculative creative" put our core values to the test every day. Five years ago, we made an unconventional decision to say no to spec. Since then, this has become an intrinsic part of Zulu's new business philosophy, centred on the principle of giving existing clients our undivided attention.
When you're trying to grow an agency, it's disheartening to turn down potential clients by saying no. Would we be bigger if we'd said yes? Absolutely. But despite our stance, we've continued to grow, winning some amazing clients along the way.
When we submitted our Agency of the Year shortlist video to strategy this year, in which we asked a few local businesses (like a personal trainer and a restaurant owner) to provide spec services, we knew it would spark a local debate. We had no idea it would ignite a worldwide conversation.
Since going viral, with over 1.6 million views (at press time) our video has hit a nerve globally even among those outside the advertising world. From contractors to architects, everyone's weighing in from as far away as Singapore and Australia.
Yet on the local scene, few agencies have commented publicly. I don't blame them.
No one wants to be an advocate of spec pitches, because they know it can cost them hundreds of thousands in time and expenses. This old-fashioned practice is a cog in the increasingly bureaucratic procurement machine.
At the same time, even fewer agencies want to denounce spec work publicly because it would mean potentially turning away new business revenue. And who's prepared to do that?
Back in the Mad Men era, clients didn't switch shops nearly as often, so doing work on spec made financial sense. Eventually, agencies could make up the pitch costs. Today, it's a different world with margins squeezed for both agencies and clients.
As costly as it is for everyone, expense isn't my main concern about spec work. After 28 years in the industry, I've seen spec pitches do more harm than good as an evaluation tool for clients. Here's why:
1. It's not an accurate reflection of an agency's creative expertise. Talented freelancers are often hired to do the creative for the full-timers who will actually work on the business (but are too busy to work on the pitch), resulting in a giant smokescreen.
2. It can be a big, shiny distraction. Any agency can seduce clients with dazzling creative work in a pitch. But chemistry and a proven track record of producing brilliant work are much better long-term measures of an agency's capabilities.
3. It has led to an epidemic in the industry where agencies divert resources away from existing clients in order to fuel new business.
That was a recurring theme in the feedback I heard after our video was released. Paying clients go to the "back of the line" because the pitch becomes the agency's sole focus. This is an industry-wide phenomenon, and should give clients real pause.
4. It can hinder groundbreaking, game-changing ideas. If an agency is investing heavily in a pitch, very few of them are brave enough to go out on a limb to put forward an earth-shattering new concept. It's way too risky.
Now, some of you reading this may think we're being anti-client. We're not. Clients are the very reason we exist. We believe real client projects should never be handed off to a B-team every time a new pitch is happening. Agencies (and clients) are better served focusing investments on recruiting top talent, not producing a revolving door of spec work.
If we're going to do creative work for free, let's all put that effort behind a worthwhile charity or cause that can change the world for the better.
Let's face it. Our industry is in need of a major overhaul. The excuse that this is the way it has always been done is as antiquated as the spec pitch process itself.
No more excuses. No more spec. We owe it to ourselves. We owe it to our clients.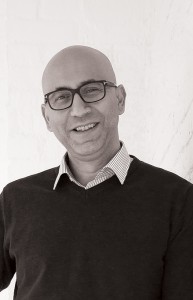 Zak Mroueh is the chief creative officer & founder of Zulu Alpha Kilo.