'Tis the season for agency holiday cards (part three)
From Edelman to Bensimon to KBS, here is the third and final round-up of agency holiday goodies.
By Jennifer Horn and Harmeet Singh
There is nary an agency that's saying "bah humbug" to the creative holiday "card" trend (we mark this with quotes because, well, there are very few simple fold-out cards. We're talking agencies creating apps, books, clothing, videos, inventions, etc. to spread their holiday cheer these days). We're not complaining, but we'd just like to note that there was a flood of them the past two weeks, so much so that we couldn't keep up, and we decided to spread them out into a three-part series. Here is the third and final batch, and if you missed the first and second group, click here and here.
KBS paints a bizarre world with branded Clauses
KBS has created a world of "What ifs?" with a site that fantasizes about the many different Brands of Santa that could, but probably shouldn't, exist. What if we left meatballs for the bearded man instead of cookies? What if he was a slim, pipe-smoking, cowboy-hat wearing man who rode about town on a red-nosed reindeer? These are the types of visuals you can expect to see on the holiday site, drawn in classic Rockwell/Sundblom-style in collaboration with Canadian artist Sharif Tarabay. The idea is to see what other brands (if a certain soda brand hadn't got there first) could have popularized Santa's image to match their own. Can you guess them all?
And while you're at it, make sure to check out the pretty brilliant mini-doc on the artist (and his naughty views on Santa), which the agency created to accompany the illustrations.
Edelman finds an unlikely spokesman for Hanukkah
Speaking of branding the face of Christmas, Edelman thinks there's another holiday event that also needs attention: Hanukkah. They feel that the big guy in his red suit has made Christmas immensely popular in western society, so much so that it's actually detracting from other festivities that have a lot going for them too. So the PR shop is proposing Hanukkah gets an ambassador, and it's got its eye on the one and only Harrison Ford. And why? Well, you'll have to watch the video to find out.
Forget 3D printing, Fuse Marketing takes on sweater printing
When trying to come up with an idea for a holiday card this year, Fuse Marketing asked themselves, "What's warmer than a Christmas sweater?" Nothing, you say? Well, you're wrong. The agency came up with a way to innovate the sweater to make it warmer and fuzzier than we could ever imagine. It did this by merging the old with the new to create a sweater printer (a play on the 3D printer, but with its sole purpose to make sweaters using, you guessed it, wool). We won't tell you what secret ingredient it uses to give an extra degree of warmth, you'll just have to watch the video below to see for yourselves.
Bensimon Byrne bails out crappy gifters with a nifty hotline
There's nothing worse than receiving a gift from someone, only to give nothing in return (well, there are worse things, but this is pretty high up there). Those feelings of remorse can now be a distant memory, thanks to a "Bailout Hotline" that Bensimon Byrne has decided to gift the world. How it works is simple: first, you receive a gift from a friend/family/foe, you blush (but only for a minute) as you realize you have nothing for them, then you lie. You tell them their gift is in the mail (and continue to sell the lie by complaining incessantly about the postal service). Finally, you text the hotline number with a gift emoji and a dollar amount. You'll then receive gift details and "fake" confirmation that it's on backorder, which we assume you can send to the recipient for "proof" that, as Bensimon puts it, you're just terribly unprepared and not really a terrible person.
Lg2′s gift swap
Like the traditions of carolling, hanging stockings and drinking eggnog (or just drinking), getting a crappy gift has clearly now become a holiday staple. But no need to subtly re-gift this year.
Instead, the team at Lg2 has created "The Swap Club," a Tinder-esque app that can help you "swap" your ugly scarf for something less offensive. If we haven't sold you on the idea, check out this handy infomercial.
Camp Pacific's Gingerbread Donors
If your cookie decorations are destined for Pinterest Fail, fear not. Vancouver's Camp Pacific has created an interactive website where users can create their own gingerbread people. But what's even better is that decorating a virtual cookie also means pledging support to become an organ donor. Decorating each virtual cookie involves more than just adding socks and hair – users can add each organ that they plan to donate, from lungs to eyes. The site, which links users to the BC Transplant website to register as donors, has 500 blank gingerbread men and will remain live until the end of January.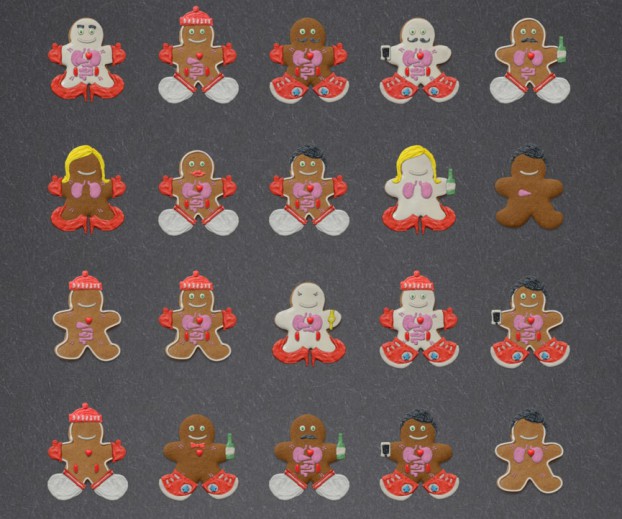 Cossette disrupts Christmas
"Why be festive when you can be disruptive?" ask Cossette Vancouver, the thinkers behind "Bltzn" an artisanal holiday subscription service (that leverages the Cloud!)

Spoiler: it's not a real app. As the shop puts it, some things don't need to be rebranded, so let's enjoy the holidays the old fashioned way.