Out of Home: Billy Bishop's digital OOH ecosystem takes flight
There are huge opportunities for advertisers looking to dig into the newly built tunnel that connects Toronto with Billy Bishop airport.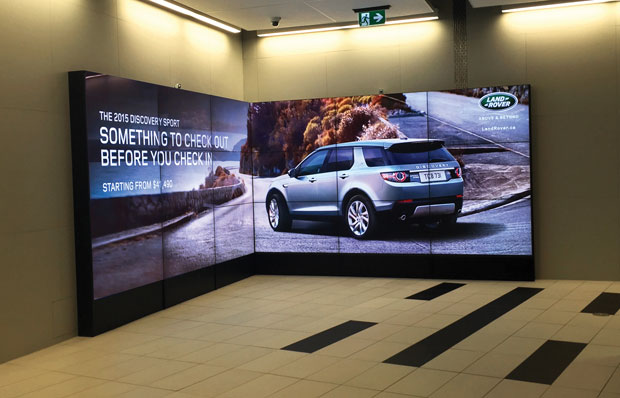 Imagine following an audience from the start of their journey to the end…
With the opening of the long-awaited tunnel connecting mainland Toronto to the Billy Bishop Airport, marketers can now journey with consumers as they travel to and from their plane. And a new geo-synched app and comprehensive digital advertising ecosystem make it all possible.
Since opening its doors in August, the 853-metre walkway set 100 feet underground has seen a steady flow of foot traffic. And that's great news for advertisers, as with those feet come eyeballs.
Designed by media company Black on behalf of PortsToronto, The Billy Bishop digital OOH system is an ideal place for brands to reach a highly targeted consumer, says Dean Black, president and CEO.
"Unlike other airports, Billy Bishop has always been unique," says Black. "Even before the pedestrian tunnel, there was an opportunity for the airport to enter the experience economy and differentiate itself from competitors by providing passengers with a superior over-all travel experience. Keeping our focus on the passenger journey we were able to integrate a state-of-the-art, multi-platform media environment that actually removes pain-points from air travel and, most importantly, creates an experience halo that a brand can use to introduce their own story to a highly defined target audience."
Targeting the business traveller and the higher-income leisure passenger (about 68% of people who fly through the airport are under the age of 45, with the majority being university educated with an average household income of $118,924), the digital out-of-home experience is complete with 4K and interactive screens, beacon technology, sponsored (and free) WiFi, as well as a mobile app. The ads are at scale with the people using it, with eight-foot tall displays and all signs along the moving sidewalk placed at eye optimal viewing angles.
Black points to a Land Rover campaign as a recent example of how marketers can use the system to its advantage. Working with Mindshare and Spark44, the car company ran an integrated program with interactive touch screens and digital OOH, as well as two display cars. Its "Discovery" campaign invited passengers to test their "adventure quotient," a fitting tag for those set to board a plane.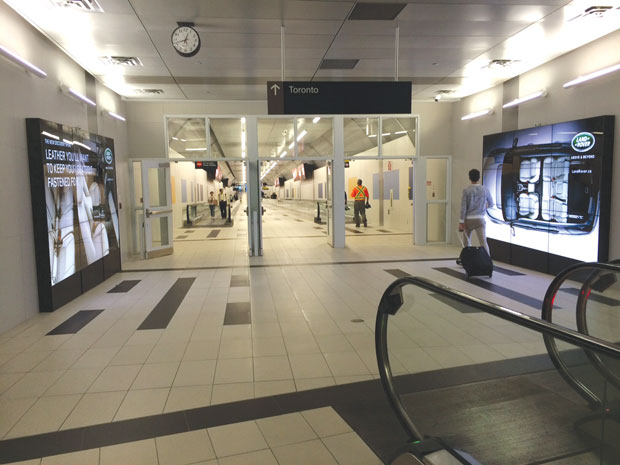 Similarly, a recent activation with BMO Wealth Management took advantage of the interconnected platform. To support the bank's overarching "We're here to help" campaign currently running across the country, the brand, Maxus and KBS+ installed automated banking machines, a full digital OOH program, as well as WiFi and app sponsorship, all driving the messaging that the bank is there to help.
The entire advertising system is meant to align with the passenger's journey and allow marketers to tell their brand stories within the context of air travel, Black says.
The app, for example, provides travellers with the information they need at the times they need it. So while people are preparing to depart for the airport, a real-time flight, traffic and weather updates are available. As they arrive at the airport, flight information can be pulled up, while business travellers are provided with a digital magazine that offers relevant articles around Billy Bishop's destination cities.
Marketers can tap into the app using beacon technology or geo-fencing programs, connecting the advertising directly with the content passengers are reading through native and mobile ads that are contextually relevant, says Black.
Having only been open five months, and considering one of the campaigns is still in market, it's too early to expect definitive results from the aforementioned campaigns, however he says both brands are returning with a presence at the airport in their upcoming cycles, which is a good indication of early success.
UPDATE: BLACK is currently hosting the Billy Bishop Advertising Creative Contest for your chance to win $250,000 worth of media space for charity, entries due January 22, 2016.
Contact
JOHN CURRY
Director of Sales and Business Development – Black
jcurry@black-co.com
T: 416.979.0159 x 2330
Supplement Links