The lessons of CES 2016
A breakdown of the big news from the tech show, and how it will impact marketers.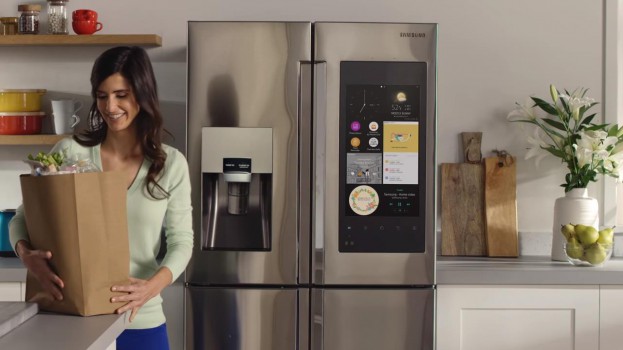 Every year, the world looks to Las Vegas to see the latest tech innovations coming out of the Consumer Electronics Show. As more and more companies have selected CES to make their biggest announcements, it can be hard to keep track of. We've pored over the announcements and reached out to those in the know to figure out which presentations are most worth paying attention to, what trends have emerged and what lessons marketers can learn about what's to come.
Where do we stand with IoT?
From wearables to connected appliances to the smart home, advancements in the internet of things has become an expected element of CES. Samsung stepped up its connected home ecosystem with its Family Hub Refrigerator that, in addition to mobile connectivity, internal cameras and a large touchscreen, features Amazon Alexa, the artificial intelligence platform that powers its Echo device.
Companies like FitBit have beefed up the capabilities of their existing, familiar trackers, while Under Armour has embedded that tech directly into a new sneaker that also eliminates the need to tether to a smartphone (and carry it with you during a run). But for tech analyst Carmi Levy, the thing that was missing is the big picture of how all these devices fit together.
"We've seen bits and pieces of it, [but] we still haven't seen how it will all come together into a cohesive whole," he says. "IoT is still a giant, disconnected puzzle of disconnected pieces, and we're still looking for guidance from the industry about what we'll have to buy, how much it's going to cost and what info we'll need to make the best purchase decisions. Which means a lot of consumers are still standing around, waiting for the dust to settle."
On the flip side, Mitch Joel, president of Mirum, points out that while many of the IoT advancements were incremental, they were in all the right areas, namely in terms of usability.
"The stuff we're seeing now feels more real than it has in previous years," he says. "There's things you've seen where you just assume it's going to be clunky and not work properly, but we've hit the inflection point where technology has removed the technology from technology. Especially if you look at Nest and other home automation, it is easy and intuitive. You don't have to know how to set things up or specially wire it, you just plug it in and the app identifies it and you're good to go."
Automakers take centre stage
If 2016 has proven anything, it's that automotive brands are just as important to watch at CES as pure-play tech companies.
"It speaks to how embedded tech has become to what automakers do and signals a major shift in strategy for the industry," Levy says. "It's not just about the auto show circuit and the engineering that goes into these cars, it's about the technology that makes that vehicle come alive that decides how it will be used."
In addition to what Levy calls "the rush to the dashboard" we've seen in years past (which includes better integration with consumers' existing devices and wider adoption of things like Apple's CarPlay and Andriod Auto, or BMW's gesture-controlled AirTouch 3D system), we're also seeing more of the big picture of the direction the entire industry is headed. That means things like GM's Bolt, an electric car that gets over 200 miles per charge, and a partnership between the automaker and Lyft that will see billions of dollars invested to eventually create a fleet of autonomous taxis.
"It shows that there's as much outside-the-box thinking happening in automotive as in tech, and it's all in the way you will use a car, how you will pay for it, if you will even own it at all or just call it up on an app from a shared pool," Levy says.
Partnerships to drive innovation
In addition to utilizing Amazon's AI in its fridge, Samsung, which has spent the last several years attempting to unseat Apple as king of mobile devices, announced that its current-generation Gear S2 smartwatches would be updated with iOS compatibility at some point this year, allowing it to be connected to an iPhone. This is a move that's all the more significant considering Samsung has been very big on its "connected ecosystem" of devices, which now looks like it may soon have room for devices created by some of its competitors.
Partnerships are driving some of the show's biggest announcements, from the automakers that are integrating with platforms, to fitness brands continuing to partner with tech providers to stake their claim to a growing market.
"Companies used to exhibit one new gadget at CES that would enamor consumers and drive business for the rest of the year," Levy says. "But as tech becomes more interdependent, it's more difficult for individual companies to succeed. They need to partner with others and focus less on one monolithic product but becoming part of a broader ecosystem. Increasingly, the most successful companies aren't going to be the ones making the best products, it'll be the ones who know how to find the best partnerships out there that fit with what consumers are already using."
Changing the way advertisers look at tech
Joel says a lesson that is more apparent at this year's CES than any other is that the way advertisers treat new tech innovations needs to change.

"As a marketer, you are seeing all these things that are totally different, or don't have one screen or don't have a screen at all," he says. "So what is the role of a marketer and brand in this? It isn't so much how you can ad onto it or sponsor it or stick an ad on it, but how, as a business, you create the products and services that are adjunct to the ones you're already involved in. There's a network of opportunity if people get out of the advertising mindset and think about how you can evolve your business model to have multiple streams of revenue."