Chevy 'sparks' interest in the connected car
The automaker teased the "ultimate mobile device" as part of a launch campaign for the new model Spark.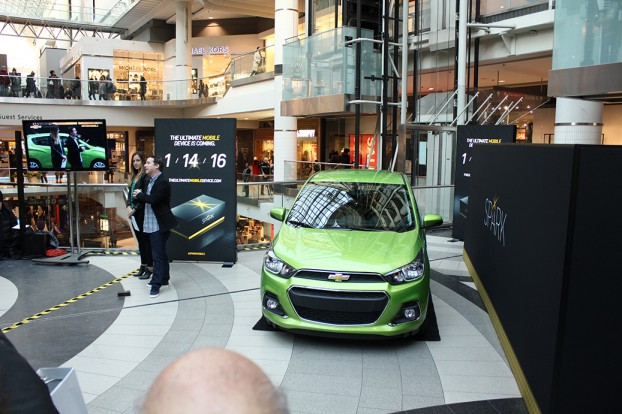 Chevrolet Canada used a little bait-and-switch to promote the connectivity and tech in the new model of its Spark, in an attempt to make inroads in the small car category with urban, millennial car buyers.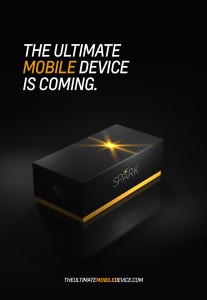 Earlier this month, cryptic out-of-home ads promoting the impending launch of the "ultimate mobile device" began appearing in major urban centres across Canada, showing nothing more than an nondescript black box, while a clock on theultimatemobiledevice.com counted down to Jan. 14 at 2 p.m.
That was the time and date events in Montreal and Toronto's Eaton Centre kicked off, the latter hosted by tech bloggers and hosts Amber Mac and Marc Saltzman, and streamed live online. What was played up as an unboxing of the packaging seen in the ads became something more when the display behind the hosts was moved aside to reveal the new 2016 model of the Chevrolet Spark.
The new Spark functions as a 4G LTE mobile hotspot, giving anyone inside access to Wi-Fi, and comes with Apple CarPlay and Android Auto platforms with an MSRP just under $10,000. Paul Bailey, Chevrolet Canada advertising manager at General Motors of Canada, says these characteristics allow it to deliver on the message of being the "ultimate mobile device," and align with the interests of its millennial target.
"When we first looked at this project and what the car itself had, it made sense that this was more than a car, it was a mobile device," he says. "The last generation Spark was a more traditional small car with good fuel economy and nimble handling, and our marketing focused more on that. This car delivers on those things, but it has this connectivity that has never been in this segment before. So it's a really unique opportunity to step away from the traditional marketing."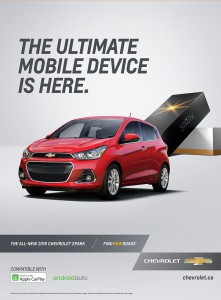 Going forward, the OOH creative will be updated to reveal the Spark as the device the ads were teasing, and a digital campaign has launched targeting potential car buyers in urban centres. There will also be a French TV spot running in Quebec to reach a mass audience, since Bailey says the province tends to over-index when it comes to small car buying. Both the pre- and post-launch campaigns were handled by the Toronto office of Commonwealth McCann, with media by Carat.
"We know to be successful here in Canada in automotive, it's really important that we make inroads in Toronto, Vancouver and Montreal," Bailey says of targeting buyers in urban centres. "There's large populations and large potential for marketing and growing our market share. The challenge is that this is a non-traditional buyer for Chevrolet, and we need to find non-traditional methods to reach folks in these cities."
By "non-traditional buyer," Bailey is referring to small car buyers that might not associate Chevrolet with that sized vehicle, as well as the "next generation" of car buyers that might be attracted to the Spark's tech. That's important for the brand, as it has a number of new models launching in the small- and mid-sized car categories in the near future. Aside from the Spark, the company has also debuted the new Bolt electric car, Cruze hatchback and new mid-sized Malibu model at the Detroit International Auto Show this week.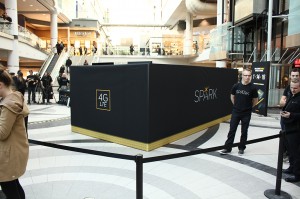 "When folks think of Chevrolet, they don't tend to see us aligning with a millennial buyer, plus we're more well-known for our pickup trucks, our performance vehicles and our large cars," he says. "These [new models] are going to change the dialogue when it comes to Chevrolet, and what we can do when it comes to segments where we've been discounted or not been in the top three or four when it comes to market share. In this segment and with this target, we know it's important to find messaging that breaks through, and thought this might do it."