Curling Canada's new character
The organization hopes to update its image and boost ticket sales with the help of a time-travelling Scotsman.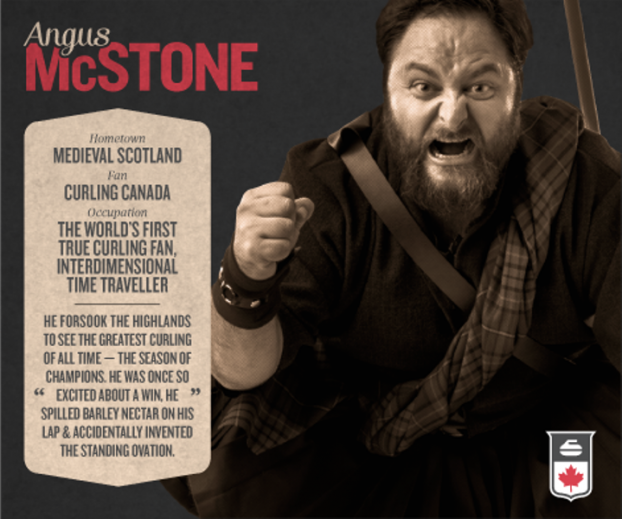 Curling Canada is hoping it can transform armchair fans into ticket-buying enthusiasts, with a new campaign ahead of several major events this winter.
Central to the organization's new marketing is Angus McStone, a curling lover transported to modern day Canada from medieval Scotland (where the sport originates). Created by Clark Stanley Productions, which led the creative campaign, McStone urges Canadians to get off their "duffs" and experience curling in real life.
The campaign includes a series of TV commercials, running during TSN's curling broadcasts as well as online. The campaign also features print and radio, with Curling Canada handling media planning and buying internally.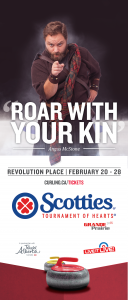 "Our approach had become pretty stale," Andy Henry, manager, marketing and tickets at Curling Canada, says of the organization's marketing leading up to this campaign. Last July, Curling Canada signed on Clark Stanley to refresh its advertising, but prior to that, there had been a lot of recycling of ideas, he says.
"Our events have television numbers that rival many major sports teams and sports entities in Canada," Henry says. But getting people to come see events live has still been a challenge. "We really needed to appeal to what we refer to as the 'armchair curling fan,'" while still resonating with its long-time audience.
Enter Angus McStone, a nod to the sport's history and a fun way to get new fans thinking about coming to live events.
"Another thing that was great about this character was we needed something that could be adapted to each of our local markets," Henry says, with the McStone character appearing in print and brochure ads customized for particular towns and cities, and the end of the video spots being customized for local events.
McStone is also the face of an online video series called "On the Button," where the character takes to the rink to chat with Canadian curling champs about their sport and life in general. Those videos will be promoted once per week during the six weeks leading up to Scotties Tournament of Hearts and Tim Hortons Brier (women's and men's curling championships, respectively).
Going forward, more digital and social media content, especially video, will be increasingly important for Curling Canada, with budgets moving to those areas from traditional print advertising, Henry says.