A new bank on the (digital) block
EQ Bank launches with a campaign arguing that its lack of bricks and mortar can save Canadians some bucks.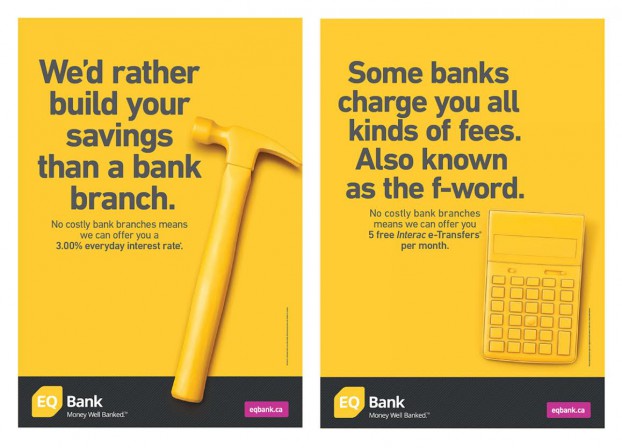 There's a new digital bank in town and it's hoping to make a splash with tech-savvy consumers by painting Toronto and Vancouver – its key markets – yellow.

EQ Bank, launched earlier this week, is a digital- and mobile-only bank created by Equitable Bank. To promote the new brand and its flagship savings account product, the financial institution tapped Toronto's Union to lead a campaign.

Launched Monday, the new campaign includes a 30-second TV spot highlighting the idea that a bank branch can really by anywhere with EQ's app.

The campaign also includes a heavy digital execution and OOH, all highlighting EQ Bank's 3.00% interest rate for its savings account. The OOH aims to "paint the town yellow" (the brand's colour) with subway dominations, transit wraps and TSAs, and a strong presence at Toronto's Billy Bishop Airport. The main idea behind the creative is that the bank would rather help customers grow their money than build a bank.

"Really our positioning is about being a bank that doesn't have branches and by not having branches, we really can offer the customer more," says Bryan Dinh, director of marketing and sales for EQ Bank.

The promise of being a better bank because of its lack of physical locations is something the brand thinks will resonate based on its consumer research. A survey for the brand, conducted by Environics Research in October, found that 59% of Canadians do most of their banking online and only visit a branch less than once a month or a few times a year. Nearly 20% said they conduct their banking exclusively online and never even speak to someone in a branch.

Launching in January was also important, given that people are often coming out of a high-spending holiday season and re-assessing their savings goals for the year, Dinh says.

EQ Bank is entering the market as the traditional banks in Canada are introducing more digital features, such as mobile cheque deposits (digital bank Tangerine launched its own brand campaign this week as well).

But EQ Bank's newness is also its benefit, says Victoria Thorpe, group account director at Union (which led both creative and media for the campaign). Since it was created so recently, it hasn't been tied down by legacy systems. In other words, it's starting fresh.