PFLAG sheds light on labels
The organization's new poster uses a camera flash to make students think about how they see their LGBTQ classmates.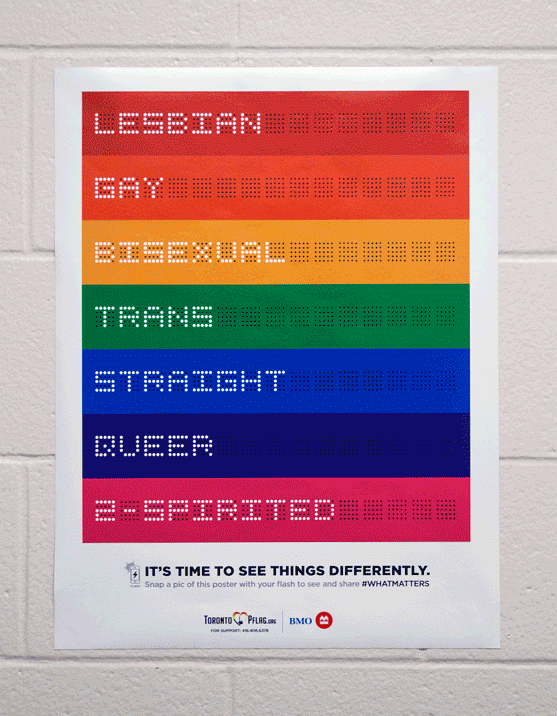 A lot of words are used in school hallways every day.
Toronto PFLAG (Parents, families, friends and allies of Toronto's LGBTQ community) and J. Walter Thompson Canada wanted to create a way for students to look at just a few of those words in a new light.
The organization distributed posters in Toronto District School Board schools to reach 76,000 middle and high school students returning from their holiday break. The posters feature the colourful stripes of the commonly-known rainbow pride flag along with the words lesbian, gay, bisexual, trans, straight, queer and 2-spirited.
The poster asks students to take a photo of the poster using their flash, and then share it on social media using the hashtag #WhatMatters. When the poster is captured with a flash, a series of new words is revealed next to the original: partner, teammate, buddy, friend, ally, supporter and BFF.
The idea is to make students think twice about their peers beyond labels about gender or sexual orientation.
Standing out in busy school hallways is a challenge, so having an interactive component was key for the message, Ryan Spelliscy, SVP and ECD at J. Walter Thompson Canada added in a press release.
The shop did the work for PFLAG pro bono, with BMO, a supporter of the organization, providing funding for poster printing.