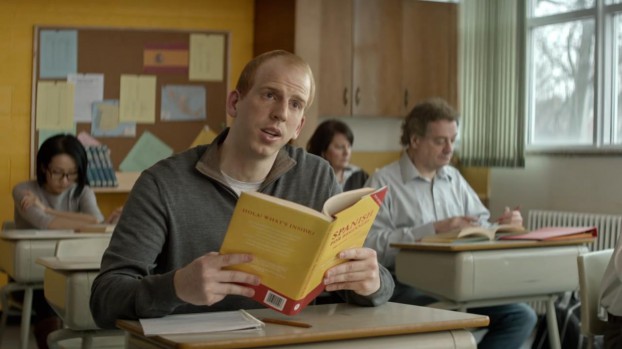 Zag Bank's first campaign for RRSP season looks to show digitally-savvy Canadians that even long-term saving and investing can be simple.
A pair of new 15-second TV spots by Lg2 show how easy some of the most complicated things someone can do – like learning a new language or marrying the love of your life – would be if they were as simple as saving with an RRSP from Zag.
Rachel Milan, senior marketing advisor at Zag, says the idea behind the campaign is to both maintain its established positioning of providing simple banking and to stand out during a season when most financial institutions are competing for the same audience.
"And everyone typically does it in the same fashion," she says. "It's always about the deadline or the fact that Canadians aren't saving enough, so we wanted to be different about it, and be down to earth, because that's what our brand is about. Being straightforward with Canadians with simple banking, but also respecting that there's a limited timeframe for the season, without actually coming right out and saying that as the lead message."
The spots also highlights a 2.5% interest rate that is available to those opening new RRSPs with Zag until June 1.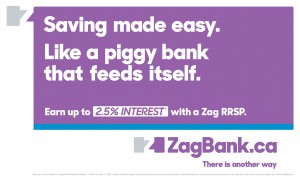 In addition to the TV spots, the campaign will feature out-of-home ads that play on the idea of making saving easy. Much like past campaigns, Zag is focusing its mass media buy on Western Canada, but this will mark the first campaign that also targets consumers in Ontario, with a small digital buy. Media buying was handled by Touche!
"The plan has always been to gradually come east, and the first wave of that right now is the digital program, and we're looking to grow that as the year goes on," Milan says.
The campaign will also featured an experiential component launching next week that Milan says helps give the digital-only Zag a physical footprint in Canada. It will set up "confession booths" at shopping centres in key markets, which it tried on a smaller scale in the fall, and encourage Canadians to share their "savings secrets." The booth features a contesting element and the content will be used in more savings-focused creative in Q2.
While some might see opening an RRSP as something you do in-branch with the guidance of a financial advisor, Milan says Zag's clientele do most of their research about financial decisions online anyway.
"Some of our research shows that among people who are already digitally-inclined, there's a subset of people who are very open to doing all of their banking online, and it represents a good percentage of the market," she says. "It's also a market that is under-served. There is so much emphasis on this belief that 'it's investment season, so you should put more attention and time into this.' And you should, but that doesn't mean you need to take an hour or two to sit face-to-face with someone. There's a market that will always want to go that route, but our market is the ones who don't have the time for that."
Milan adds that, while its target market is anyone who is digitally-inclined, regardless of age, Zag has been particularly attractive to affluent Canadians looking for good rates, as well as professional women.