Why personal screens mean more engagement
A new Google Canada biometric study breaks down how viewers engage with different devices.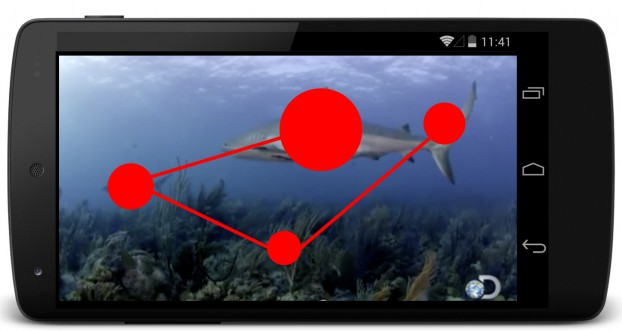 In the age of plentiful content and goldfish-like attention spans, what's the stuff that really grabs eyeballs and keeps them there? How much does it have to do with the content and how much with the kind of device on which it's consumed?
These questions lie at the core of a study that Google will unveil this afternoon during its presentation at the ICA's FFWD Marketing and Advertising Week. The study, titled "The Biometrics of Branding," began as part of an effort run by Zahra Kanji, lead of analytics and insights at Google Canada in partnership with Mississauga-based marketing and biometrics research co Explorers. The report had a dual purpose, says Kanji: to keep doing cutting-edge research and to give marketers a different way of comparing TV and online video instead of a typical sales analysis. 
Some of the insights from the study, which tracked second-by-second engagement as it peaks and troughs, by eye, brain and skin response, show that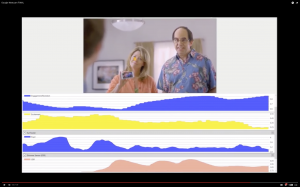 heightened overall engagement is more evident on smaller, personal devices than on TV. The image on the right shows how viewers' eyes, brains and emotions connected with Google's ad for its web camera.
The results demonstrated a reaction to both the kind of content as well as the device that it was viewed on. Specifically, online video generated 2.4 times the attention than TV content.
For online video, too, a small screen worked more like a primary screen. The Google team's research showed that the eye's attention was focused on the centre of the screen when watching content on TV, forcing peripheral vision to kick in and take in everything else. However, the eye pattern on small devices showed that the experience is more immersive with the eye travelling around a much larger portion of the screen.
What the research shows is that attention and connection are both higher for content and ads when viewed on a small screen. Online video saw 9% higher attention and 18% higher connection than TV.
And how did viewers engage with ads? Kanji says that TV viewers disengaged from ads on TV, switching to smaller devices as soon as ads came on. However, in analyzing how ads fared on TV as compared to smaller screens, the researchers noted a 39% increase in overall engagement on smaller screens. Broken down, the study shows 19% more attention on online video ads, and 15% higher brain and skin connection.
Advertisers need to think of online video as a primary screen, says Kanji. "In a cross-screen environment, it's intuitive. We know people connect more strongly with personal screens."
Online video also has the advantage of the multiplier effect, as Kanji points out. "It's been shared by hundreds of thousands of people, you have heard people talk about it and you are primed to connect with it or understand it. How is it relevant to you?"
Researchers at the company decided to wrap their heads around the question of engagement after an online sample study of 750 Canadians gave them an answer that wasn't quite satisfactory. About 57% of respondents who were asked, after watching some TV and YouTube content, which of the two they found more engaging, pointed at YouTube. The folks at Google weren't convinced so they decided to take a deeper dive into engagement measurement by dipping their toes into the world of biometrics, following a path recently trodden by Microsoft and Facebook.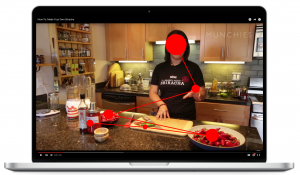 Google teamed up with Explorers and began by setting up a lounge-like laboratory where they would observe how 750 people from the GTA would engage with TV and online video content. The biometrics part involved eye, brain and skin tracking. By measuring how the eye fixated on content, researchers were able to track viewers' attention. The image on the right, for instance, shows how viewers engaged with a video on making sriracha on the Instagram channel Munchies. Eyes dart from the host's face to the bowl of chilies to the ingredients, taking in various details. Will 4K change this dynamic given that the new technology is expected to give a more immersive, less passive viewing experience?

Brain-tracking, through a process known as electroencephalography, showed just how engaged and excited viewers were by what they were watching. And through a galvanic skin test, they were able to see sweat levels to gauge viewer excitement.

All participants were shown a selection of most-viewed TV content by Numeris ratings, which skewed towards reality and sitcom. Online video included top five most-watched videos as captured by Google Preferred, and included channels from Vice and Popsugar. Participants also saw 10 recent ads from a representative sample of top industry advertisers, which were shown in the same format on all platforms (TV, mobile, tablet, laptop). Sports, news and music programming were not included.

From Media in Canada