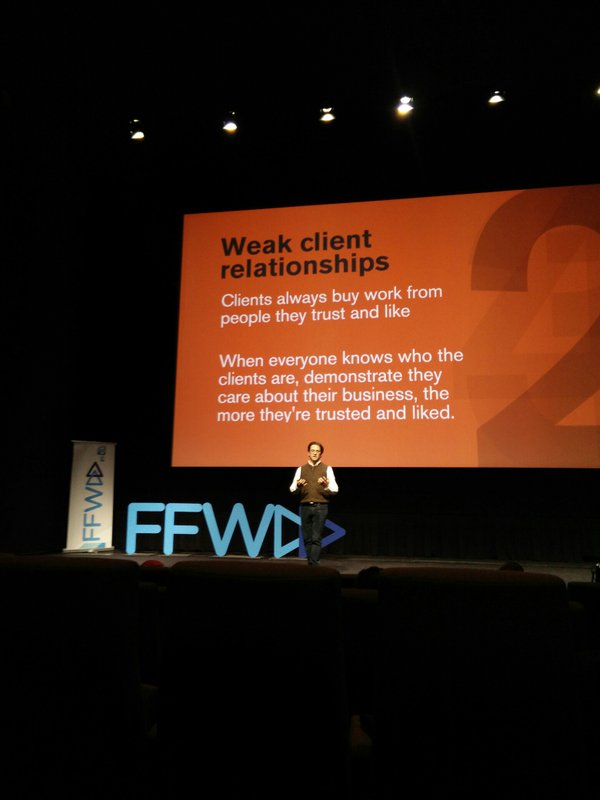 Canadian advertising agencies are, in some ways, facing some tough times. Yesterday at FFWD Advertising and Marketing Week in Toronto, hosted by the ICA, StrawberryFrog founder and CEO Scott Goodson broke down some of the steps agencies can take to "do" and not "die" in 2016.
Creatives are part of the client relationship
To make his point, Goodson presented this quote from an unnamed client: "I've never understood why you expect me to say yes to an idea that costs millions and was pitched to be by someone I don't know."
Great work is about creating cultural movements, Goodson says. As an example, he points to work such as StrawberryFrog's "Long Live Pets" campaign for pet food brand Nature's Variety, which helped get Americans behind rescuing dogs from shelters.
To do that, it not just up to the account person to maintain the client relationship. Rather, it's about human connections, and everyone needs to get behind the movement of the work, be it the account lead, creatives or media people.
Quit the aversion to rocking the boat
Saying yes to working for less money than what's deserved is undercutting agencies' value, and the perception of value drops, Goodson says. Being able to say the "unpopular truth" and be willing to stand up for ideas is the best way to drive value. Fear of losing accounts just leads to poor work, he says.
For younger creatives who don't know how to establish their value, Goodson suggests talking to people in other fields, be it lawyers, accountants or investment bankers about how they charge what they charge and why.
Focus on the best, big solutions
Guide clients to the standout solution and get behind that idea, he says. That means not providing creative ideas as an "either/or" option, which devalues the work. Rather, use various ideas to show the process of how you think, and why you think that idea is strongest.
Look south
When making a different presentation about the tough environment in Denmark, Goodson used a giant map to show that Danes need only look 45 minutes away to Germany, where client business was ripe for the taking. The same is true for Canada, he says, pointing out that our dollar is just one reason over the next 10 years that Canadians agencies should start looking south to grow their business.
Image via FFWD Advertising and Marketing Week on Twitter