Rethink adds to its leadership
The agency names three new partners along with new hires as it continues to grow.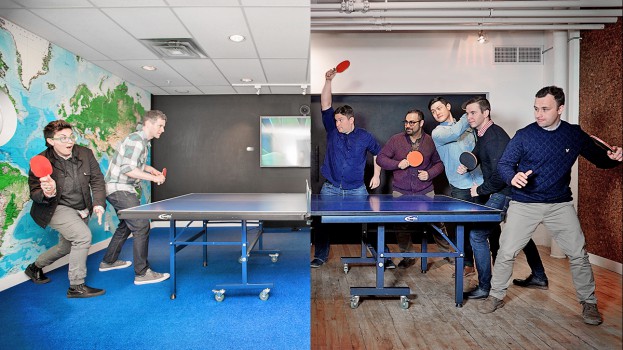 From left to right: Leah Gregg, Bob Simpson, Mark Scott, Justin Xavier, Rafael Gi, Joel Holtby and Mike Dubrick.

Rethink has begun the year with a handful of hires, promotions and new partners to add more leadership to the agency as its growth continues.

Bob Simpson, CD in the agency's Vancouver office, and the creative team of Mike Dubrick and Joel Holtby, CDs in Toronto, are Rethink's newest partners, joining the agency's leadership group. In addition to their current duties, the three new partners will have a greater role in contributing to the direction of the agency as it moves into the future.

Simpson joined Rethink as a copywriter in 2003 and was promoted to CD in 2014. Dubrick joined the agency in 2012 and was promoted to ACD in 2013, while Holtby joined in 2012 and was promoted to ACD in 2014. Both were promoted to CD at the end of 2014 following their work together on the Molson Canadian Beer Fridge and an attention-grabbing gay rights PSA for the Canadian Institute of Diversity and Inclusion.

"We're continuing to grow and as we plan for the future of the company, it calls for more leadership," says Caleb Goodman, partner and managing director at Rethink, of the agency's leadership group, which now consists of 18 partners.

Goodman says that growth is also requiring more leadership in the agency's creative department. Mark Scott has been promoted to CD in Toronto, having joined the agency as ACD in 2013 from Union. Scott has worked on several of the agencies large clients, including Molson Coors and Sport Chek.

Leah Gregg, previously a content strategist with Rethink, has been promoted to director of amplification. Gregg has been a major part of the agency's earned media strategies on several of its most attention-grabbing campaigns (such as the Uber Breathalyzer, which gained more than 55 million earned impressions) and helped to formalize amplification as part of Rethink's creative process. Her work also earned a Facebook Studio Award and has been featured in case studies by Twitter.

"We've evolved our process and our creative development approach to keep amplification in mind from the beginning," Goodman says. "She was doing that previously, but on specific jobs among her other duties. Now, her main focus is going to be on amplification and playing more of a leadership role when it comes to that, and will work across all our clients."

When it comes to new hires, Rafael Gi is returning to Rethink as its new strategy director, while Justin Xavier joins as an account director, both in Toronto.

Gi was previously a digital strategist at the agency from early 2013 to the end of 2014, when he joined Anomaly as digital strategy manager, leading digital and social planning for brands including Budweiser, Shock Top, Nike, Spotify, Mini and Hershey. Xavier was previously at The&Partnership, which he joined in 2014 after six years with Havas.

Goodman says additional support was needed for three new pieces of business, which will be announced in the near future, in addition to organic growth and more work from existing clients in 2015. That included new assignments from Molson Coors and Sport Chek, as well as new business from Slack, Shomi, Uber and Scotts, among others. The year also began on the heels of winning Coors Light and opening a new Montreal office.

In the fall, the creative team of copywriter Jamie Umpherson and art director Marie Richer left the agency to join The Martin Agency in New York.