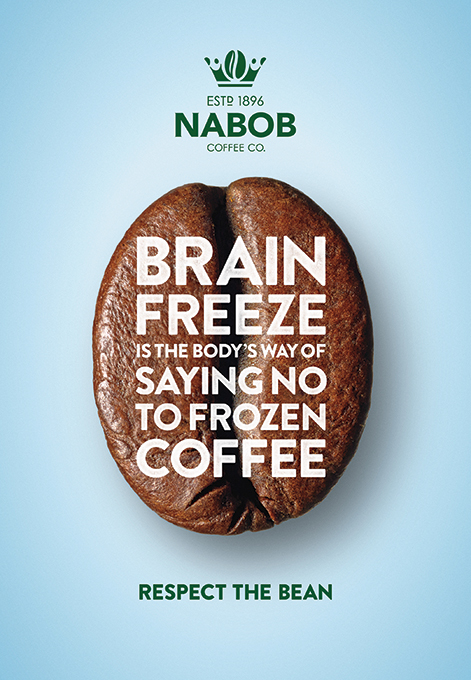 This story appears in the February/March 2016 issue of strategy.
Packaged Goods
Situation Analysis: By 2012, Nabob, once the top premium coffee brand in the country, had fallen on hard times. Sales were in decline due to dramatic changes in the coffee category. Two new lines – Nabob Whole Bean and Nabob Bold – launched in 2013 with a packaging overhaul, stemming sale declines and restoring modest growth. However, the Nabob brand remained ill defined. Recent sales progress was severely endangered by increased competition from away-from-home brands (such as Second Cup and Tim Hortons). In particular, the upcoming grocery launch of McCafé threatened 10% to 15% of Nabob's volume.
Insight & Strategy: A coffee segmentation study highlighted a group identified as "Bold Bobbies" who drank more than their fair share of coffee at home and wholeheartedly believed that substance should always trump style. This group was unhappy that coffee (and the beans) had started to become merely an ingredient to be iced, blended, frapped and then topped with whipped cream, cinnamon or caramel. Nabob, a brand that had been making craft coffee without pretense for over 115 years, could take aim at the frothy and faux universe of what coffee culture had become. The goal was to re-establish the Nabob brand and its belief that coffee was at its best when grown, roasted and served simply, authentically and unpretentiously.
Execution: Launched in May 2014 and supported by an annual spend of over $5 million nationally (excluding Newfoundland), "Respect the Bean," a rallying cry to return to relishing the pleasure of a simple, unadulterated cup of coffee, was launched across television, online pre-roll, digital banners, web page takeovers, OOH, magazines and Twitter.
Filmed in the coffee fields of Colombia, real coffee farmers responded to the ever-changing absurdity of North American coffee culture. Many OOH executions were strategically placed near corner coffee shops to remind people there was a better option out there.
Results: The objective for Nabob, the number two brand in the market, had been to hold dollar share flat. This was achieved while market leader Tim Hortons and number three brand Van Houtte both lost share to a very strong McCafé launch, which immediately challenged for the number three position. Nabob also saw increases in repeat buyers (1.1%), trips per buyer (0.2) and spend per trip ($1.20). Compared to an estimated "do nothing" loss to McCafé of $2 million in gross sales, Nabob grew $2 million in consumption during the year to June 2015.
Cause & Effect: External creative testing showed engagement, emotional response and brand association scores for the campaign had exceeded norms on all key metrics, as did purchase intent. During the campaign period, the overall premium roast and ground coffee category declined 3% while commodity-based price increases raised base pricing 17% compared to the pre-campaign period. Brand spend levels were comparable to the same period the year prior, while distribution levels remained virtually flat.
Credits:
Client: Kraft Canada
CMO: Tony Matta
VPs marketing: Brian Kerr, Doug Pritchard
Marketing director: Dana Somerville
Sr. brand manager: Jamie Sprules
Brand managers: Heather Fadali, Mieka Burns
Assistant brand manager: Jenny Sochnacki
Brand assistant: Katie Shaw
Agency: Ogilvy & Mather
CCO: Ian Mackellar
ACDs: Ian Simpson, Catherine Allen
Strategic planning director: Doug Potwin
Group account director: Jennifer Christen
Account supervisors: Connor Ofield, Matt Coulson
Media agency: Starcom Media