CASSIES Silver: Johnnie Walker's gentleman's wager
The Scotch brand defines luxury as experience, with a little help from Jude Law.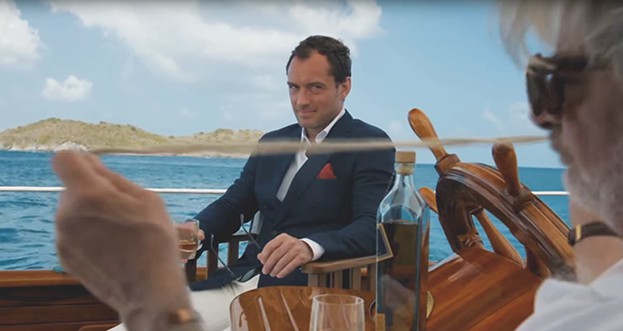 This story appears in the February/March 2016 issue of strategy.
Silver: Canadian Success on the Global Stage
Silver: Best Matching of Message to Medium(s) 
Situation Analysis:
Following the global financial crisis, the luxury market was in a period of rapid growth. But, while people's appetite for luxury goods had returned, Scotch was now perceived as dusty and old fashioned. Johnnie Walker Blue Label a range of whiskies at US$250 a bottle, needed to be lifted out of premium whisky to have the same appeal as the Cartier red box or the Tiffany Blue bag, especially in emerging global markets.
Insight & Strategy:
The expression of luxury had changed from material objects to experiences. To reach the time-poor audience of five million luxury consumers across 21 countries would require a luxury experience they wanted to engage with.
Research was conducted on how that market takes hold of viral campaigns, arriving at the formula of "Celebrity x Culture x Story." The celebrity needed to be a stylish individual who embodied the Blue Label drinker and the world they aspire to live in. For the culture component, dance played a role in entertainment that transcended borders. The story was to be about the new luxury world of experiences, but set in the world of old luxury.
Execution:
"The Gentleman's Wager," a story of two men who, despite having it all, use a wager as an excuse to experience new things, was launched as an online 2.5-minute film (on YouTube and Unruly) in August 2014 with a global investment of US$3.8 million with a specific focus on emerging global markets.
Jude Law in the main role enabled the film to be premiered in the Soho House network and screened at the Venice Film Festival. A blogger outreach program targeted trade marketing and Men's KOLs in both global and local digital publications.
Results:
In the three months of the campaign, sales by volume of nine-litre cases increased in Australia by 48% and India by 25% versus the same period the previous year. (Timing of entry restricted data availability from other markets). This translated to a market share gain from 35% to 42% in India.
Depletion rates of Blue Label increased at key airports in key Asia Pacific markets where the campaign was activated (Singapore 17%, Hong Kong 29%, Korea 21% and Taiwan 12%). Econometric analysis identified the return on investment of the campaign above baseline sales as $1.8 per $1 spent in Australia and $1.3 per $1 spent in India.
Cause & Effect:
Against an objective of five million views for the period of July 30 to Dec. 3, the campaign achieved 45 million total global views, of which 2.5 million were in India and 1.1 million in Australia. The film achieved close to 120,000 shares and Johnnie Walker gained almost half of all digital share of voice in the alcohol category globally, compared to less than 2% prior to the campaign. In India, brand tracking indicated an increase in key brand measures for Johnnie Walker. No other brand activity was in market for Johnnie Walker Blue Label during the campaign timeframe. And there were no changes to discounts, promotions or distribution during this time.
Credits:
Client: Diageo
Global content creation director: Anita Robinson
Agency: Anomaly
CD: Mike Byrne
AD: Mark Sarosi
CW: Dave Douglass
Production house: RSA Films
Director: Jake Scott
President: Karina Wilsher
Account director: Lauren Bozarth
Executive producer: Winslow Dennis