Starbucks opens new Express Store
A new Union Station location in Toronto is only the third on-the-go format to launch in the world.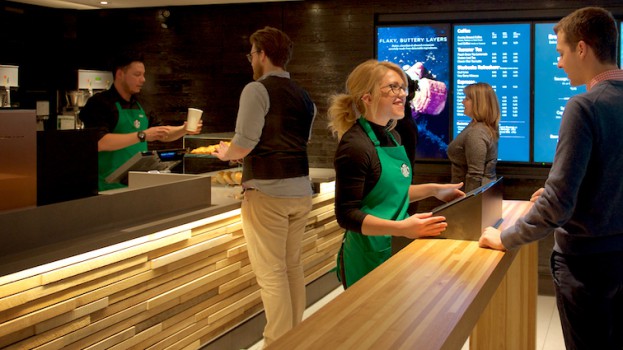 Starbucks Canada has created a new "Express Store" format, opening in Toronto's Union Station.

The 400-square-foot store has no seating and caters to on-the-go commuters in the city's busy downtown core (Union Station sees 250,000 commuters daily). It includes digital screens with menu options focused on commuters (brewed coffee, espresso drinks and breakfast sandwiches).

When entering, customers have their order taken by a Starbucks employee who then sends their order to the baristas electronically.

The express format is the first in Canada and the third globally (locations on Wall St. and the Empire State Building in New York City opened last year). While it hopes to introduce more express stores in Canada, there are no concrete plans in the expansion schedule.

The traditional café stores are still important for the brand, but options like the new express format is one way to address different customer needs throughout the day, Madeleine Löwenborg-Frick, public affairs at Starbucks Canada told strategy in an email. Starbucks also offers drive-thrus in some markets.

In January, Starbucks also expanded its Mobile Order & Pay service to Vancouver and to the Android platform (it was previously only available in Toronto in Canada and for iOS).

"We definitely have seen that it is driving incremental transactions, so additional visits to our stores," Jessica Mills, director of brand communications at Starbucks Canada told strategy at that time. "It's really user case-dependent and in areas where time is a hot commodity," she says. For example, mobile orders have been popular in areas near major Toronto hospitals or the CF Toronto Eaton Centre (both of which have shift workers).

The intention is to have Mobile Order & Pay rolled out to other Canadian locations this spring.