Creative Report Card: DDB's constellation of specialties
This year's #3 agency explains how they managed to keep building on the successful Netflix campaign.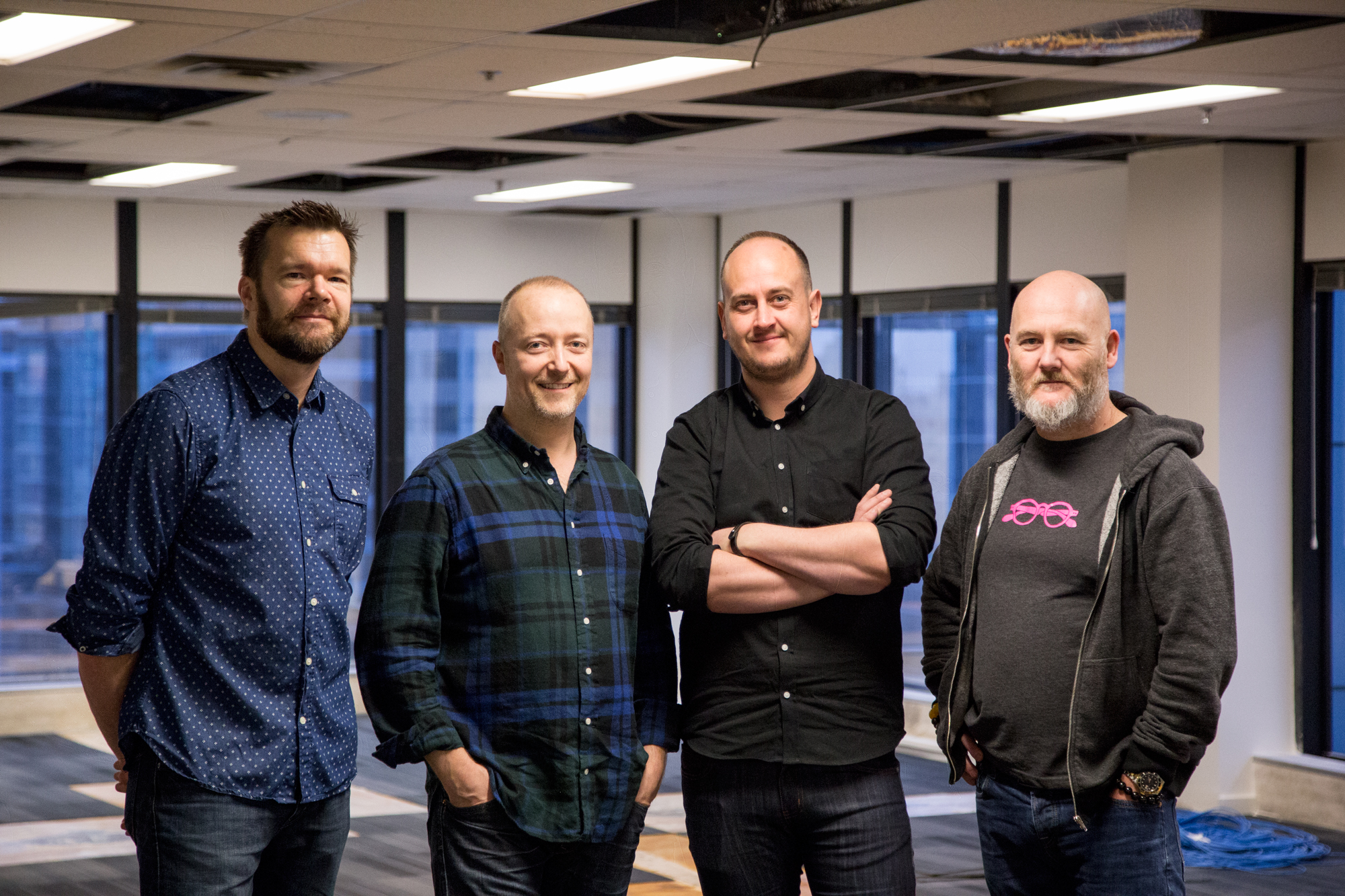 From left: Daryl Gardiner (#7 AD), Dean Lee (#14 CD), Geoff Vreeken (#10 CW) and Cosmo Campbell (#13 CD).
This story appears in the February/March 2016 issue of strategy.
#3 Agency
DDB Canada/Tribal Worldwide doesn't think of itself as a "ta-dah" agency. It tends to bring clients in early in the creative process, involving them from the beginning.
"We don't close the curtain and squirrel away and work and then open up the curtain and go 'ta-dah,'" says Dean Lee, DDB's ECD.
There are exceptions, though. The creative team doesn't limit its field of inspiration to what's on a client's brief, and those conversations can lead to a campaign taking an unexpected route, Lee says. One example is the multiple award-winning posters for Netlix, which CW Geoff Vreeken says the creatives were working on in a "semi-clandestine fashion."
Inspired by artist Saul Bass's iconic minimalist movie posters, ACD Daryl Gardiner and artist Jack Curtis covered the agency's walls with posters they created before the work was commissioned. They made the pitch on the set of the final TV spot in the campaign, presenting the ones for Ghostbusters, Life of Pi and Orange is the New Black.
"We were like, 'You have to buy these. They're done and they're great,'" Vreeken says. "And they did."
DDB Canada brands itself as a "constellation of specialties," Lee says, aligning the various niches within its network to work together depending on an advertiser's needs.
"It's really up to the individual groups to foster their own sense of culture, purpose and drive," CCO Cosmo Campbell says, but the agency can then tap into each specific talent pool across the country and they'll come together for the team. To make it work, he says, the agency is "constantly nurturing and constantly talking about" the benefits of the collective.
The approach has worked, producing award-winning campaigns last year for the Strategic Milk Alliance, the Vancouver Opera, Volkswagen and the Toronto Jewish Film Festival.
DDB is also differentiating itself in its approach to awards, which could impact its place in future Creative Report Cards. DDB Worldwide chief creative officer Amir Kassaei wrote a piece early this year for Campaign in which he called on the industry to "stop the madness" of putting award wins ahead of effective campaigns for clients, and said the agency would be submitting less.
Campbell says DDB Canada already adjusted its approach to awards in the last five years so there wouldn't be a major change this year, but he agreed that awards were the industry's "dirty little secret." There are two types of agency, he says: those interested in building their clients' brands and those interested in building their own, and clients are "seeing through this ruse."
"There needs to be a coming clean," he says.
Ad-libbing the Netflix campaign
#6 brand

Campaign: "You gotta get it to get it"

Some of the wins: One Show Bronze, Lotus Awards Gold, Marketing Awards Gold

One of Dean Lee's favourite parts of the Netflix "You gotta get it to get it" campaign wasn't even written by his team. During casting for the "Airport" TV spot, where a man desperately races through a terminal to catch a woman as she prepares to board her flight, only to ask for her Netflix password, the actor who was cast, Gary Smith, ad-libbed a line at the crucial moment: "It's all lower case, one word?"

"We just loved it. That helped seal the deal of who we wanted to choose as the actor," Lee says.

For the 16-hour shoot, the production team took over a section of Toronto's Pearson International Airport that covered two floors, populated with about 70 extras. "It was a very odd feeling to kind of have free reign walking around an airport," Vreeken says.

Director of photography Dion Beebe was fresh from the set of the Tom Cruise and Emily Blunt action movie The Edge of Tomorrow and made the most of the space, using dollies, rickshaws and steady cams.

"It was pretty amazing to see him just going whole hog," Vreeken says.