Canada's very big year
Editor Emily Wexler looks back at Canadian agencies' big haul in 2015, and how to repeat that success.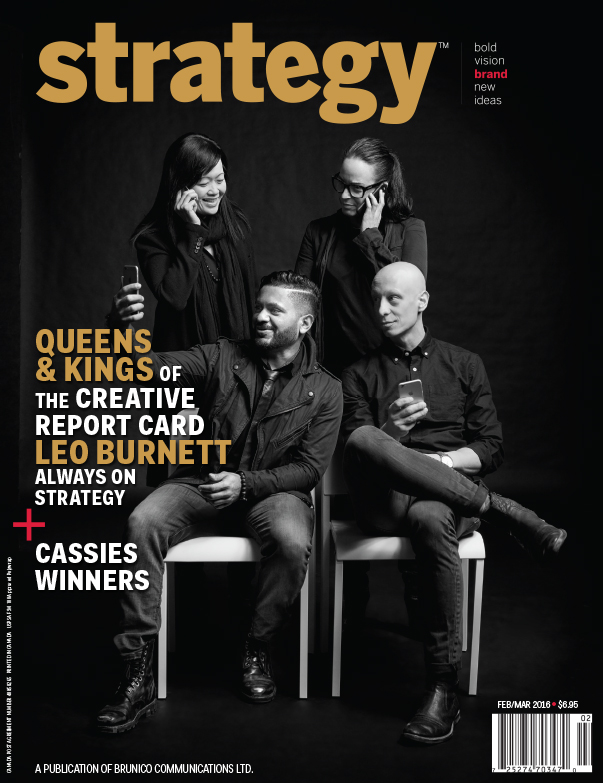 This story appears in the February/March 2016 issue of strategy.
While we said goodbye to 2015 nearly two months ago, I like to think of the February/March issue of strategy as our true end-of-year edition. The Creative Report Card is an accumulation of a year's worth of award wins, and a chance to look back on all the work that came out of the industry. And the CASSIES is the last big Canadian show before everyone starts thinking about what to enter for the next awards season.
I'm not so naïve to think that award wins are the be-all and end-all in advertising. I don't assume an agency that wins zero awards is unsuccessful (some just choose not to enter), nor do I think an agency that sweeps the shows is necessarily the best there is. It's a bit more complex than that.
Some, like Leo Burnett's Judy John, have been long-time proponents of award shows (she wrote an op-ed for strategy back in 2011 on why awards matter); while others, like DDB's Amir Kassaei, have spoken out recently about the negative aspects of the industry's award system.
But if you're looking for a yardstick to measure how an agency – or a country, for that matter – is doing, awards are mighty useful. It's difficult not to look at them as some measure of success. And Canada had a truly excellent year.
We've always been that scrappy country that gets overlooked for our big brother to the south. We fight a little harder for recognition, and when one of us does well, the whole country celebrates. Just look at recent events – Justin Bieber, Drake and The Weeknd had simultaneous chart-topping hits, two Canadian co-productions were nominated for Best Picture at the Oscars, and our new Prime Minister went viral for a statement on gender equality. Suddenly everyone's talking about how Canada is kind of a big deal right now. Because we are. And that includes in advertising.
While Cannes seems like a distant memory now thanks to our winter's sub-zero temperatures, it was tough not to get excited when Canada came away with the most Lions we've ever collectively won. And when agencies like Leo Burnett and Grey are suddenly right up there with the U.S. award-winning giants, you can forgive us for walking a little taller.
It's so easy to pop the champagne and bask in the warm glow of our collective success. But now that year is over. So what are we going to do this year? Are we going to fade back into the shadows, or have we set a new standard of excellence to beat going forward? Are we Cuba Gooding Jr. or are we Meryl Streep?
When I spoke to FCB's global CEO Carter Murray during FFWD Ad Week in Toronto, I asked for his perspective on Canada. He said, "When you see the creativity, the technology, the mindset of Canada – there's lots of opportunities here to take risks, to be brave, to try out new models, but it comes down to the talent."
It's very true that an agency is only as good as the people who work there, and a country is only as good as the talent it fosters – in film, in music and in advertising. So we need to keep nurturing that talent, and allow ideas the chance to become truly great.
The 2016 awards season is about to get underway. Time to prove we can be Streep.