Scotties shouts its curling support
How the brand is targeting small-town stores to reinforce its 35-year backing of the women's championship.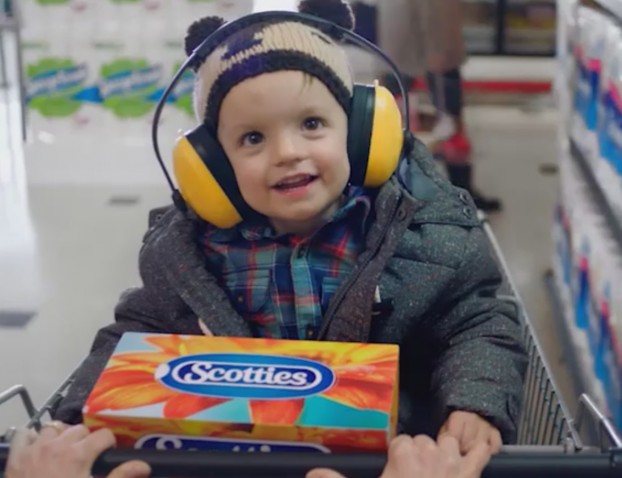 It's been 35 years since Scotties began sponsoring the Canadian women's curling championship and this year, it's shouting its campaign loudly with a new creative campaign and in-store POS advertising.
For this year's creative campaign supporting the Scotties Tournament of Hearts championship (taking place this week in Grande Prairie, Alberta), the brand went with a simple insight: curlers are loud.
"One of the amazingly distinctive things about curling is how these curlers scream on the ice," says Nancy Marcus, corporate VP, marketing at Kruger Products. "It's like a war cry."
At the heart of this year's campaign, led by John St., are shoppers sporting big yellow headphones, with the creative touting the idea that "curling's back, and it's louder than ever." Maxus handled media for the campaign, with Strategic Objectives on PR.
In-store POS materials and advertising includes base wrap, display cards, shelf talkers, ballot boxes, decals and some cut-outs. Marshall Fenn worked with Kruger Products on the POS materials.
While the tournament itself is Scotties-branded, the campaign is focused on a range of paper products in Kruger Products' portfolio, including SpongeTowels, Cashmere, Purex Bathroom Tissue.
Kruger Products refreshes its creative for the tournament every few years. "We like to focus on the curlers and so beside new TV advertising, we absolutely start to own different cities," Marcus says. "It really takes over where curling is of paramount importance." In particular, Scotties focuses on smaller, rural areas out East and in Western Canada and Northern Ontario, where in-store displays typically lead to a sales spike.
Coupled with the TV campaign and the sponsorship itself, Scotties also sees heightened brand awareness and predisposition to purchase during tournament time (Kruger has been measuring certain KPIs around the tournament time for the past 10 years). The final championship usually goes head-to-head with the Oscars (as it will this coming Sunday), but last year, it still had about a million viewers, Marcus says.
"You really understand loyal consumers when you go to these events," she adds, noting that initiatives like handing out collectable pins (a big part of curling culture) when event-goers bring in tear-off tabs from their Scotties boxes, helps the brand ingratiate itself with that community.