Caplansky's is going national
The beloved Toronto deli plans a new campaign to support a roll-out of its first franchise locations.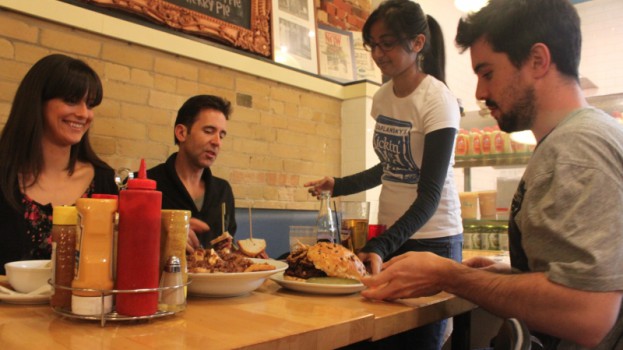 Toronto's Caplansky's Delicatessen has selected a new agency to develop a communications platform in support of its plans to begin rolling out franchise locations, both within and outside of Toronto.

First opened in 2009 by Zane Caplansky, the restaurant based on recreating the traditional Jewish delis of the founder's youth has been featured on numerous cooking and restaurant shows, with Caplansky himself appearing as a judge on Food Network's Donut Showdown. In 2011, the restaurant was one of the first to jump on Toronto's food truck craze and in 2013 launched its line of signature mustards in grocery stores.

Caplansky says since he appeared on CBC's Dragon's Den several years ago, he has been getting calls and emails from across Canada to open franchise locations, and worked with HMS Host to open two locations within Toronto's Pearson Airport in 2014.

"That was when I realized [opening franchises] could work," Caplansky says. "The question was how to grow without sacrificing the quality of the product and the brand."

Caplansky began working with Jackman Reinvents last year to resolve that challenge and develop what he calls "Canada's first fast casual deli franchise system." The concept will debut at Caplansky's Yorkville, and although he didn't want to give away too many details prior to opening, Caplansky says it will feature elements not previously seen in Canada's restaurant landscape and an updated logo for the restaurant. Announcements about further franchise locations are expected soon, as well as those in non-traditional locations similar to the Pearson locations, such as post-secondary campuses, concert venues and stadiums.

"I don't want to get stuck on a number, because I'm all about quality over quantity," Caplansky says of his growth goals. "But without question, the goal is to become Canada's national deli within five years."

In addition to potential franchisees, Caplansky says he's seen high demand from non-food retailers to open locations nearby, and is currently in discussions for retail co-branding opportunities, with announcements expected soon.

To support the launch of its first franchise location, Caplansky's has selected Toronto's Launch*pad to develop a communications program. While Launch*pad's assignment includes creative deliverables to be used by franchisees, the brunt of the work will be consumer-facing, with the agency developing a digital communication and PR strategy, both for the initial launch, as well providing ongoing communications support.

"Basically, we're helping to make sure that there's awareness of the opening and stimuli to drive consumer traffic, be it trial or repeat," says Alex Shifrin, managing partner at Launch*pad, adding that the agency's approach for messaging will be refined following the launch activities depending on the details of the particular location they are focusing on. "Overall messaging will also change over time as more locations [open], and it'll be a mix of national and local communications, each serving a different purpose."

Launch*pad's work is expected debut in May, coinciding with the opening of the first Caplansky's franchise in Yorkville.