Sid Lee restructures production units
Sid Lee Studio brings previously separate offerings into a single integrated production team.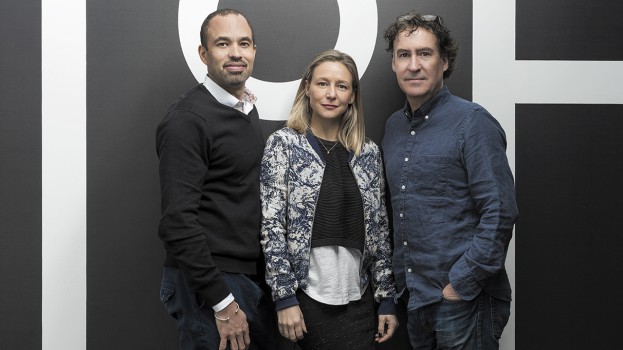 From left to right: Sid Lee Studio CEO Richard Jean-Baptiste, global head of production and experiential Claudia Roy and global head of digital Pierre-Paul Samson.

Sid Lee has taken what were previously separate business units and integrated them to launch Sid Lee Studio, bringing branded content, events and technological innovation together in a single production offering.

The move will integrate in-house production unit Jimmy Lee, digital production team Sid Lee Technologies, experiential and events team Sid Lee Entertainment and UX and creative tech unit Sid Lee Labs. Sid Lee Architecture and Sid Lee Media are unaffected by the change.

Sid Lee Studio will be led by Richard Jean-Baptiste, president of Jimmy Lee since it launched in 2008, as CEO. Claudia Roy, previously VP and global head of production at Jimmy Lee, will be global head of production and experiential at Sid Lee Studio, overseeing all traditional content production and events. Pierre-Paul Samson, previously COO and head of digital production at Sid Lee, will be global head of digital at Sid Lee Studio and oversee all production relating to digital and new technology.

While the global leadership team will lead Sid Lee Studio from Montreal, each agency office will have its own Sid Lee Studio, with its own dedicated head. In January, the agency hired Ryan Bourret, previously a producer with DDB, John St., Proximity and Grey, as head of production and will now be head of studio in Toronto. Nnamdi Nwosu, a London-based freelance producer who has previously worked with M&C Saatchi, Wieden + Kennedy Amsterdam and ran NNProd for three years, has been hired as head of studio in Amsterdam.

Kwame Taylor-Hayford, who joined the New York office as VP and head of integrated production at the beginning of 2014, will be running the studio there. Thomas Laget, long-time director of production at Sid Lee Paris, will be that office's head of studio.

Previous leadership and staff for each business unit remain with the agency, although Michael Turri of Sid Lee Labs left the agency earlier this year.

Jean-Baptiste says each of the units had been performing well, with Jimmy Lee having its second-best year since launching in 2008. From a business angle, he says integrating will eliminate the need to manage separate P&Ls and the risk of having conflicting goals between each unit as they continue to grow, while the creative product will benefit from having a greater ability to provide a full range of services on the same project, from app development to branded series to interactive installations to traditional ads.

"It's one of the most difficult decisions I've ever had to make as a business manager, closing down your company when it's all going well," he says. "But I think it's a reaction to how we're seeing the industry shifting. Clients are expecting more agile and integrated approaches to projects and faster response time. And if they aren't at that point today, they will be very soon."

"We've also begun to see some interest from potential clients in having a different entry point to Sid Lee's culture, giving them more tactical services supported by our creative and strategic background."

The move is also coming with some basic infrastructure and organizational changes, such as having the previously separate teams working in the same space and having a centralized server for editing and creative resources that will connect all the Sid Lee Studios globally.

"That will force us to change our workflows and the way we recruit and how we define what a producer is, and that's a direction we want to be going in," Jean-Baptiste says.