Check it out: Can a Big Mac conquer hate?
McDonald's Canada asks Canadiens fans to hug a hated rival for a free burger.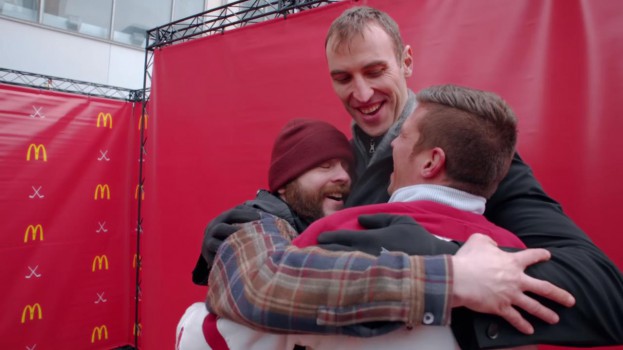 McDonald's Canada has enlisted the help of someone Montreal Canadiens fans despise to prove just how far love for a Big Mac can go.

Outside the Bell Centre in Montreal before a recent game, Cossette and National PR set up an area where fans could get a free Big Mac by doing various tasks to prove just how much they loved the burger. It starts out pretty tame, with fans dancing and doing various exercises, but things are stepped up when they're asked to give a hug to the last person any true Habs fan would want to be seen hugging: Boston Bruins captain Zdeno Chara.

Not only is Chara the captain of one of the Canadiens' most hated rivals, in 2011 a hit by Chara many saw as dirty seriously injured the Canadiens' Max Pacioretty, seeing him taken off the ice on a stretcher.

While Chara did receive a penalty for the play, the NHL decided not to suspend or levy any further punishment against him, making him a contender for public enemy number one in Montreal (Montreal Police even launched a criminal investigation into the hit, though no charges were ever laid). At 6'9", Chara is also the tallest person to ever play in the NHL, which makes him an intimidating figure to appear from behind a curtain, especially when consumers have been conditioned to be surprised with someone they adore instead (like the Canadiens' own P.K. Subban, for example).