KFC goes after common ground
The QSR launches heartfelt new advertising focused on how it fits into Canadians' relationships and communities.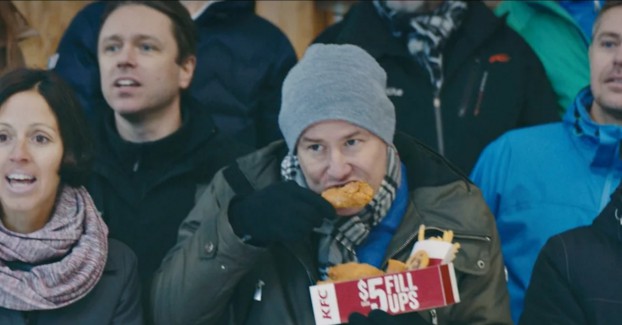 KFC Canada is using its 60-year history of providing comfort to Canadians as the basis of a new campaign focused on how the brand fits into families' lives.

The new "#KFCStories" campaign, first launched at the end of February, aims to capture how KFC's food features in real people's friendships and families. The campaign first launched with a spot called "New Kid," featuring the story of a new Canadian family and their son's entry into playing hockey for the first time and finding common ground with his teammates.

Another "#KFCStories" online spot, called "Better For It," launched March 9 and includes a real girls pee wee hockey team surprised with an appearance by Olympian Caroline Ouellette, where she talks to them about facing a loss and the importance of having support around you. That video is running as promoted media on Facebook and YouTube and as programmatic pre-roll. Its launch was also supported by YouTube masthead.

"What we were trying to celebrate through this piece was it's not just about the game but it's your support system that offers you that sense of comfort," says Beverley D'Cruz, marketing director for KFC at Yum! Brands.

Two other spots, called "Skin in the Game" and "Sharp," also launched at the end of February and will run for the next several weeks. Narrated by actor Reg E. Cathey, the ads are both hockey-focused and specifically highlight the QSR's extra crispy chicken and its "$5 Fill Up" promotion, respectively.

Both of those ads are again focused on the sense of community around hockey and the support system that comes with the spot, which can be expensive for families and tough on kids facing losses. They're also meant to tell a story around the role that enjoying food (and KFC in particular) plays in creating common ground among people, D'Cruz says.

The new advertising overall is part of KFC's repositioning around "Always Original" and the uniqueness of Colonel Sanders. The new ads are meant to align with Canadians' desire for authentic stories, moving in a different direction from KFC's usual more humorous marketing, D'Cruz says. "All stories don't necessarily need to be funny."

Grip handles advertising for KFC Canada, with Edelman on PR.