Windsor Salt refines its look
The maker of culinary and other salt products changes up its logo and packaging to be more relevant to millennial consumers.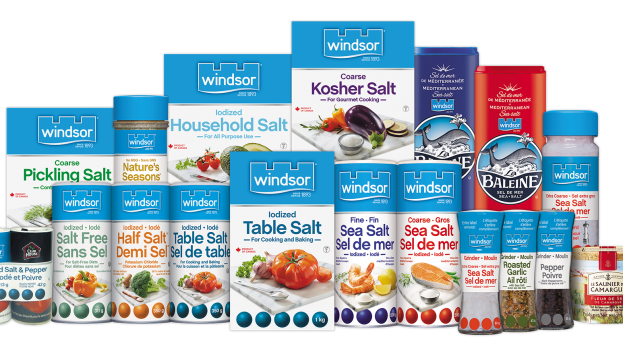 Just as most of its products are refined before landing on Canadian dinner tables, Windsor Salt has refined its brand, with an updated logo and packaging for the first time in a decade.

The Pointe-Claire, Quebec-based company that's been making salt for 123 years has maintained its brand fixtures, namely the blue castle wall and dots. A silver wave has been added to the castle logo, a flourish to give it some movement, while the number of dots at the bottom of Windsor packages has been reduced to one line and one colour.

Michel Prevost, Windsor's consumer products and marketing manager for Canada, says the single row of dots gives the packaging a simpler, more contemporary and premium look.

"When you look at iconic brands, they need to be updated and be relevant with the consumer of today, the millennials especially," he says.

"The consumer has changed, getting a little older, so you want to make sure you cover all your bases."

The company conducted focus groups across the country to ensure it had consumers' "permission" to make the changes, he says. Researchers were told the trademark blue castle and dots were not to be tampered with too much.

The change in font, along with the reduced number of dots and larger food images, gives the packages a cleaner, less cluttered feel.

The company's founding year, the "since 1893″ stamp, has also been moved up into the logo from just below it in the previous version.

"Being around for so long means something to the Canadian consumer," Prevost says, so the heritage was played up.

Windsor, which is also the exclusive Canadian distributor of La Baleine and Le Saunier de Camargue sea salt products, worked with branding and design firms Addison and Pause for Thought on the refresh. Head Research conducted the research, while Windsor's AOR, 3H Communications, also contributed insights to the refresh. Ketchum is responsible for PR and social.

The one-kilogram table salt is on shelves now but most of the products will start shipping in their new packaging after April 1. Prevost said the full culinary line won't be out until the fall, at which time the brand will focus on in-store promotions and release new advertising.

In the meantime, Windsor has updated existing TV ads for its culinary products with the new logo and they're getting a new 13-week run on specialty food channels. For four of those weeks, ads will be running in tandem on YouTube, targeting viewers looking for recipes.

Windsor's water softening products came out with the new packaging last fall and will feature in new TV and OOH ads beginning in May.

Correction: Windsor salt is the Canadian distributor of La Baleine and Le Saulnier de Camargue sea salt products. It doesn't make these products, as a previous version of this article stated.