Creating killer branded content: Five lessons from BCON Expo 2016
From working with influencers to taking cues from TV pilots, here are some key takeaways from yesterday's conference.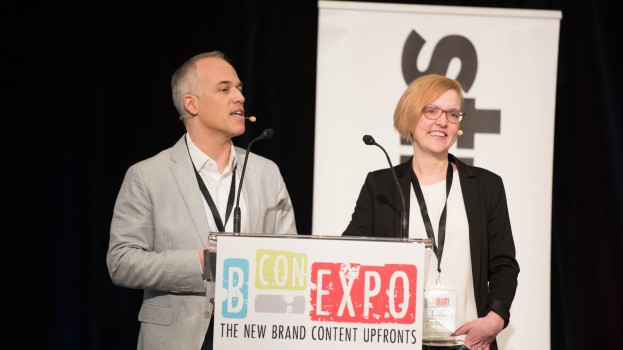 Pictured: Hosts Jason Doolan, director of marketing at General Mills Canada, and Jodi Brown, director of content at Mediacom Canada, at BCON Expo 2016, presented by strategy and Playback.
After a day full of lessons for marketers looking to take on branded content in new, relevant and entertaining ways, we break down five of the top takeaways from BCON Expo 2016. Be sure to also read about how Canada's largest bank, RBC, took on launching its first millennial-friendly web series.
By Jennifer Horn, Val Maloney and Josh Kolm
Use an identity crisis to your advantage
It's not the end of the world if a brand is going through an identity crisis. In fact, it's a good thing, says Katrina Craigwell, global director, marketing innovation at GE. That's when you get to ask yourself these three important questions:
1. What is your offering?
2. Who is it for?
3. What do we need to overcome?
Craigwell says to look at different avant garde business models if you're leading a company going through an evolutionary period. One of the companies that GE looked at when it was trying to refine and define its voice was AirBnB. It was inspired by the home rental site's approach to creating a visually-pleasing aesthetic by entering people's homes to photograph their spaces for the site, for free. This, at the time, was novel, but today it makes sense as the site is now able to use that content to tell its story. GE's decision to use Instagram in a similar way, using professionally shot imagery to visually showcase its high tech products, helped simplify the brand's story.
Photography is imperative, she says. Partner with the best, and provide opportunities for amateur photographers, with extensive social cred, to help tell your brand's story by inviting them into your space. GE has done this by launching its "Insta Walks" series of events, where the brand invites three to six people (who are fans of GE on Instagram and have a robust following) to its facilities and has them photograph its technology and projects, which are then pushed out to their network. "You give a once-in-a-lifetime experience to six people, and the value add is huge," she says of the scale that a simple event can create. The impressions may seem small (in comparison to mass traditional campaigns), but it costs the company very little and has a much deeper role to play in creating a connection with consumers.
Content marketing is dead, long live content marketing
Getting the day off to a controversial start, Robert Rose, chief strategist at the Content Marketing Institute (CMI) declared content marketing to be dead, or so some headlines would have you believe.
Rather than shutting off the lights and telling everyone to go home, Rose rallied the audience to change the way they think about content marketing, urging them to create content that makes consumers feel the same anticipatory delight that they get from the intro of an HBO TV show.
"Create the most-impactful customer resource first and then move out from there," he said. "The customer doesn't need to understand you're a thought leader, what tremendous value can you provide? What amazing, differentiating resource centre can you create?"
The issue isn't that brands aren't producing branded content now, said Rose, citing stats that said 76% of consumer-facing companies feel they are doing content marketing according to the latest CMI report. But according to the same report most of the respondents feel like they're experimenting with that content and only three in 10 feel like they have a handle on its effectiveness.
And 44% of companies said they have a content marketing strategy but it's not documented, despite 77% of respondents saying they will be creating more content in 2016 than they did in 2015.
So where do brands go from here? Rose suggested a model that moves away from creating short bursts of content around each campaign to one that uses content marketing to get subscribers online, native advertising and campaign advertising for promoting products and branded content and customer experiences to grow audiences.
Take your content cues from TV pilots
Harry Brisson, director, Nielsen Media Lab, presented branded content development tips based on the company's research of over 4,000 pieces of content.
He said marketers should treat their branded content like a pilot, focusing on a strong beginning, have a unique and compelling premise, a pay-off to viewers and an ending that provides resolution while also raising unanswered questions for future episodes.
Brisson drilled down effective content to five Ds: delivery (in what form is the content being delivered?), destination (what content is surrounding the branded content, what platform is it being delivered on?), distraction (is your audience paying attention?), device (what technology is the audience using to view the content?) and decision (what is the role of choice when the audience is viewing the content?).
Choice played an especially large role in the results, with Brisson noting that intent to purchase jumped 28% when a user chooses to watch a video versus it being pushed to them.
Use social listening to your advantage
Joanna Milroy, associate director of portfolio marketing at Kraft Heinz, leads the team responsible for national, multi-brand platforms like Kraft Hockeyville and the What's Cooking recipe hub. What's Cooking has been a program on the Kraft side for 20 years, first appearing as a national magazine in the pre-digital days.
Milroy says the best way to break through today's content clutter is to use social listening to tap in to what is generating the most discussion at that moment. For example, ahead of St. Patrick's Day, the team was noticing a lot of discussion around making "green velvet cake." Kraft didn't have a green velvet cake recipe, but it did have a red velvet cupcake recipe that was loved by its consumers (insight it gleaned from its customer feedback/rating system), and so its in-house team of chefs created a new recipe that tapped into a timely conversation.
Besides connecting with "food moments" when consumers are having cravings or thinking about meal prep, Milroy says social listening has also given the company the data that makes What's Cooking more effective by getting the content to the right audience.
"Content without data is where you are going to sell yourself short," Milroy says. "You can have all these great pieces of content, but if it's not going to the right audience, no one is going to pay attention. They want you to have a conversation with them and want to feel like their needs are understood."
How to create a ton of content with a small team
With a team of only five people to help her lead creative, media investment, social media and PR strategy, Walmart Canada senior director of marketing Heather Loosemore helped to create over 1,000 individual pieces of content last year. The small team and its agency partners are prolific because they look at everything the company is doing and repurpose different elements around one idea, as opposed to focusing on a single execution.

"Getting everyone to rally around the idea is much better than helping the entire team pitch one event to create one piece of content for one purpose," she says.

For example, every year the retailer brings in thousands of children to play-test its toy selection in the summer. This then helps the merchandise team decide what will be available in-store before the holiday shopping season.

But she says the retailer wanted to do more than just communicate (on packaging and in-store) that the toys had been toy-tested. "We've got this room full of kids, why aren't we doing something with this? The idea we rallied around was how we could make content out of this connection we already have."

That program turned into a multi-part TV special on YTV, through a partnership with Corus as well as 40 unboxing-style videos online and through social media, in addition to the more traditional elements it was already doing.

With that amount of content on so many different platforms, though, comes the need for a great deal of planning, especially when it comes to the PR elements, which can be overlooked when focusing on creating flashy creative content. While social media-led content allows for fast, real-time creation and posting of content, PR elements can require as much as a six-month lead time to plan when pursuing an editorial element.

"What we need to be cautious of is that when that editorial story hits that our PR agency has been working to make it happen. It needs to line up with the brand campaign story we're putting in market," Loosemore says.

For example, to promote the launch of its grocery offering, Walmart used print ads, flyers, social posts and a TV spot to establish the "different side" positioning of the campaign. The campaign looked to convince consumers to go to the retailer for products they might not expect it to have, while also maintaining its "100% satisfaction guarantee" it's known for. To drive that idea home on the PR side, it enlisted celebrity chef Graham Elliot to be the face of the idea, and arranged numerous appearances on national TV and radio to show the ingredients Canadians could find at a store like Walmart. This led to a 1.3% increase in foot traffic and a 9.7% increase in revenue in the grocery segment.