Up to the Minute: Zulu adds six
Plus: Critical Mass names a new GM in Toronto, an AOR win for Taxi and more news you may have missed.

Hires, promotions and other news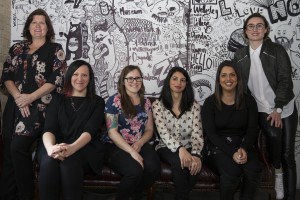 Zulu Alpha Kilo continues to grow, making four additions to its production team. Pam Portsmouth joins as senior producer after more than six years on the production team at J. Walter Thompson, where she helped launch the agency's in-house editing facility. Laura Dubcovsky joins as a producer from Taxi, where she was print production manager. Samantha Leirsch joins as a digital producer from DDB, while Nadaa Baqui joins as digital production coordinator from digital media company Yangaroo. The agency has also added art director Anna Cumyn to its creative department and HR generalist Jav Saeidi, previously a talent coordinator at Vision7, to its HR team.
Critical Mass has promoted Mark Ashbaugh, who will now be general manager of the agency's Toronto office. Ashbaugh, previously VP and client partner, will continue to lead the agency's Visa and AT&T business in addition to his new role.
North Strategic has bolstered its social media team, hiring Nancy Smith as director of social media after four years of leading social strategy at Travel Alberta. While Smith will be based in North's Calgary office, the PR agency has also added a trio of new hires to the social team in Toronto: Dylan Doyle (previously of Rack & Pinion), Danielle Eve (previously of Tangerine and Target Canada) and Spencer Emmerson (previously of Maverick).
Digital agency Idea Rebel has made a number of hires and promotions in response to recent business wins, namely Keurig Canada. Pamela Dunn, previously on the digital teams at Lavica Coffee and Metro, has been hired as digital account strategist to oversee and lead the strategic direction for Keurig from Montreal. Senior art director Andrew Mowbray, previously at Critical Mass, has been added to the creative department to work on the Keurig account, while UX specialist Alban Carmet has also been added to the creative team. Other new hires include business development manager Warren Kean, technology managers Randy Alvarez and Robert Fyffe, and senior project managers Anisha Lad and Dave Platt. On the promotions side, previous VP of client development Lance Montgomery has been promoted to managing director in Vancouver, while Carmela Samonte has been promoted from senior digital producer to manager of project services.
New business
Taxi Vancouver has won the national business for Miracle-Ear Canada. The hearing aid retailer has 20 locations in Canada since expanding from the U.S. in 2013, and Taxi will be tasked with driving awareness for the brand as it expands nationally, as well as creating a Canada-specific brand positioning that distinguishes it from the U.S. The agency will be responsible for all advertising and communications, including digital and social.
Media
Rogers Media has launched Sportsnet Now as a direct digital streaming service that allows subscribers to stream live content from its six linear channels. The service, a version of which was previously only available to Rogers and Shaw subscribers, is available beginning today regardless of cable provider (or lack thereof).

Former Match Marketing Group VP of strategy Nish Shah has joined Initiative (which was merged with M2 last year) as VP of strategy.