22 Canadian agencies among One Show finalists
Updated: Rethink, Jam3, JWT, Lg2 and Leo lead the first three rounds of finalist announcements.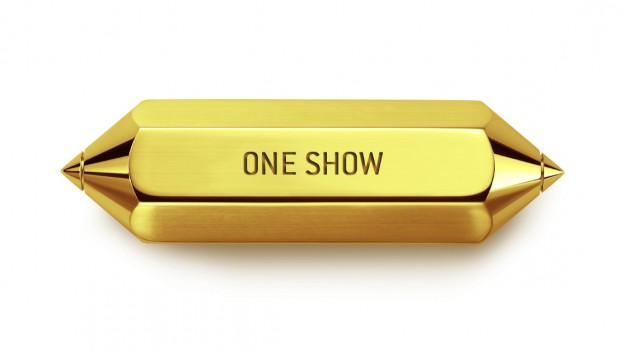 Updated with the full list of finalists following the original story, which appears below.
The One Show has announced the first two rounds of finalists, and 17 Canadian agencies are in the running for a pencil at the award show in May.
The One Show undertook a new process for accepting submissions and announcing its shortlists this year, with quarterly deadlines and shortlist announcements so work could be submitted as it was ready. The finalists are being rolled out now, further paring down the shortlisted work and organized by awards category.
The finalists announced so far cover the Film, Direct, Cross-Promotion, Interactive, UX/UI, Mobile, Social Media and Print & Outdoor categories. The remaining finalists are set to be announced by the end of the week, covering the Branded Entertainment, Design, Intellectual Property, PR, Radio and Responsive Environment categories.
Jam3 is leading Canadian agencies thus far with 13 finalist spots, primarily for work with U.S.-based clients MTV (for last year's Video Music Awards), Kale (working with Turkish agency Modiki to create an interactive documentary about the battle of Gallipoli) and Ford (working with its in-house agency Team Detroit on the "2015 Mustang Customizer"). Rethink has the second-most so far with seven for work with clients including Molson Canada, Uber and AAUW.
Update, April 5, 1:12 p.m.
On Tuesday, the finalists in the Design, Intellectual Property and Responsive Environment categories were released. While the Design category brought a trove of Canadian nominaions, Rethink was the only Canadian agency to be acknowledged in Intellectual Property (for Molson's Global Beer Fridge) and Responsive Environments (for Uber's Uber Safe). Combined with a number of Design nods for King Koin Laundrette and Universal Outreach Foundation, Rethink is now in a tie for the most Canadian nominations with 13.
In Design, JWT Canada got four more nominations for work with PFLAG and Alzheimer's Society of Toronto, bringing its total to nine, while Leo Burnett continued to pick up nominations for Somerset Graphics and Smith Restaurant + Bar to bring its count from five to eight. Cossette and Lg2 each earned four more nominations (the former for work with McDonald's and Amnesty International, the later for A2C, Nike and Natrel), bringing each of their totals to seven.
In addition, Calgary's Wax and Toronto design agencies Concrete Design and Blok Design picked up nominations, bringing the total number of Canadian agencies in the running for a pencil up to 20.
Updated, April 8, 11:15 a.m.:
The last round of finalists, covering the Radio, PR and Branded Entertainment categories, have been released, and three more nominations for Rethink (two in Branded Entertainment for "Hockey Heaven" and one in PR for "#TheNew10″) have made the agency the outright leader in Canadian nominations with 16.
JWT, BBDO and Grey also increased their total nominations, with Lg2′s PR nomination for "Bell Let's Talk" bringing its total to eight, tying it for fourth-most with Leo Burnett.
Also, Saatchi & Saatchi Canada picked up a PR nomination for "The Gay Sweater" and 123w in Radio for its work with the Vancouver Art Gallery, bringing the grand total of Canadian agencies eligible for a pencil during Creative Week next month to 22.
See the full list of agencies and nominated work below:
Rethink: 16
Molson Canadian, "Global Beer Fridge": Direct (2), Intellectual Property
Molson Canadian, "Hockey Heaven": Cross-Platform, Branded Entertainment (2)
Uber, "Uber Safe": Cross-Platform, Design, Responsive Environments
Uber, "Uber Food Drive": Mobile
AAUW, "#TheNew10": Direct, PR
King Koin, "King Koin Stationery": Design
King Koin, "King Koin Logo": Design
Universal Outreach Foundation, "2015 Brand Indentity Refresh": Design
Self-promotion, "Rethink Ornament": Interactive
Jam3: 13
MTV, "2015 VMAs": Interactive (2), Social Media, Direct (2), Cross-Platform
Kale, Modiki, "Sons of Gallipoli": Interactive (2), UX/UI (2)
Ford, "2015 Mustang Customizer" (w/Team Detroit): UX/UI (2)
Fido, "Mobile Music Video" (w/Vice's Virtue Media): Mobile
J. Walter Thompson Canada: 10
Hospital For Sick Children, "Better Tomorrows": Film (2)
Walmart, "Pooch Truck": Print & Outdoor
PFLAG, "Shedding Light on What Matters": Print & Outdoor, Design (2)
Alzheimer's Society of Toronto, "Music for Memory Project": Print & Outdoor, Design (2)
Canadian Film Fest, "Rom Com": Radio
Leo Burnett Toronto: 8
Somerset Graphics, "Printed By Somerset": Direct (2), Print & Outdoor, Interactive, Design (2)
Smith Restaurant + Bar, "Smith Menu": Print & Outdoor, Design
Lg2: 8
Farnham Ale & Lager, "A Bit Bitter": Print & Outdoor (2)
Société de l'assurance automobile du Québec, "Tired": Film
Natrel, "Natrel Milk Bar": Design
A2C, "A2C Logo and Rebranding": Design (2)
Nike, "Chin-up": Design
Bell, "Bell Let's Talk": PR
BBDO: 7
Shomi, "iZombie's Guide to Surviving Among the Living": Print & Outdoor (2)
Skittles, "Holiday Pawn Shop": Cross-Platform, Print & Outdoor, Design, PR
Doritos, "Doritos Ketchup Hold Out": Mobile
Cossette: 7
Hospital For Sick Children, "Life Unpaused": Film, Interactive, UX/UI
McDonald's, "Moving Day": Design
Amnesty International, "Hashtag for Freedom": Design
Amnesty International, "X": Design
Amnesty International, "Tie-wrap": Design
FCB Toronto: 6
Simmply Macs, "Here's To The Cheap Ones": Film
PFLAG Canada, "Nobdoy's Memories" (w/FCB Chicago): Film (4)
BMO, "NBATM": Design
Grey: 6
Moms Demand Action For Gun Sense in America, "Groceries Not Guns": Cross-Platform, Film, Print & Outdoor, Interactive, Social Media, PR
Zulu Alpha Kilo: 4
Cineplex, "Lily & The Snowman": Design (2)
Self-promotion, "Say No To Spec": Film
Self-promotion, "Zulu Mugs": Print & Outdoor
Concrete Design: 3
Capo Capo, "Capo Capo Apertivo": Design (2)
Wayward Arts, "Words of Protest": Design
Sid Lee: 3
Kumpan Electric, "Library": Film
Reno-Depot, "The Cursor": Interactive
Maisonneuve-Rosemont Hospital Foundation, "Wine for Thought": Design
John St./Hannah Smit: 2
#CoverTheAthlete, "#CoverTheAthlete": Film, Social Media
123w: 1
Vancouver Art Gallery, "Stolen Radio": Radio
Bleublancrouge: 1
Ubisoft Canada, "Assassin's Creed Syndicate Posters": Print & Outdoor
Blok Design: 1
Flash Reproductions, "Wayward Arts": Design
DDB Canada: 1
Volkswagen, "Moments": Film
DentsuBos: 1
Henri Vezina, "Sea Sick": Print & Outdoor
Juniper Park\TBWA: 1
Miller Coors, "Pride Coaster Poster": Print & Outdoor
Red Lion Canada: 1
Toronto Silent Film Festival, "Choose Your Own Silent Film": Mobile
Saatchi & Saatchi Canada: 1
Canadian Centre for Gender and Sexual Diversity, "The Gay Sweater": PR
Wax: 1
Proof Cocktails & Curiosities, "PR%F Indentity": Design