Sid Lee takes the Grand Crea
The agency won for its Quebec-specific Lotto 6/49 campaign, while Lg2 took home the most awards.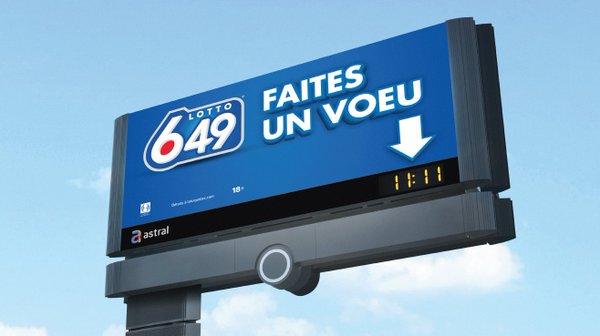 Last night was Sid Lee's lucky night at the Créa Awards, presented by Infopresse to honour the best creative advertising work in the Quebec market.
The agency took home the Grand Créa, given to a campaign that performed well across several categories, for the "#TuDevraisAcheterUn649″ campaign for Lotto 6/49. The work centred around a billboard, which pointed to a built-in clock when every digit of the time was the same number (like 11:11, or 3:33, and so on), designating it someone's lucky moment to make a wish. The concept was echoed in radio ads broadcast during similar "lucky" moments ("If you are hearing this message, it is the 12th minute of the 12th hour of the 12th day of the 12th month) and TV ads.
Sid Lee also pulled in awards for work with Jour De La Terre (Quebec's Earth Day foundation), Videotron, Samsung and Reno-Depot, among others, for a total haul of 25 awards (10 Grand Prix and 14 Prix to go along with its Grand Créa). That was only good for second place, though, as Lg2 won the most, taking home 11 Grand Prix and 24 Prix for a total of 35. Lg2′s big winners, as in past years, were for SAAQ and Farnham Ale & Lager, though it also won for work with Krispy Kernels, Arctic Gardens, Quebec Festival of Magic and Yum Yum.
Rounding out the top five agencies were Bleublancrouge (17 awards, led by work with Ubisoft and Sherlock), Cossette (eight awards, including work for Anorexia and Bulimia Quebec, McDonald's and Amnesty International) and DentsuBos (eight awards, led by work for MTL Tattoo, Canal and Food Banks of Quebec). In total, 21 different agencies took home awards last night.
Créa also gives out a handful of Artisan awards to individuals and companies for technical achievement. Bleublancrouge's Julien Hérisson and Jean-Bernard Bastien won the Artisan Grand Prix in art direction and copywriting, respectively, with Lg2′s Marc Rivest winning for Retouching and Maxime Giroux of production house Les Enfants winning in Production. Animation house Shed won a pair for Art Direction and Animation. Independent photographer Simon Duhamel won the Artisan Grand Prix in Photography for his work on Bleublancrouge's Sherlock campaign, while Chantal Legault won in Culinary Styling for her collaboration with Lg2 on its Producteurs de lait du Quebec work.
See the full list of winning campaigns below.
Lg2: 35
Grand Prix: 11
Krispy Kernels, "Km 43″: Activation
Laboratories Choisy, "Nose": Creative Media
SAAQ, "Camion": Film
SAAQ, "Interruption": Radio
SAAQ, "Couverture": Outdoor, Print
SAAQ, "Pigeon": Interactive
1One Production, "Jesus": Film
Farnham Ale & Lager, "A Bit Bitter": Outdoor
Farnham Ale & Lager, "Pregnancy Test": Print
Artisan Award
Marc Rivest (SAAQ, "Couverture"): Retouching
Prix: 24
Lg2, "Échangiste": Self-promotion
Farnham Ale & Lager, "Scream": Non-media
Farnham Ale & Lager, "A Bit Bitter": Radio, Print
Farnham Ale & Lager, "Pregnancy Test", "Formula" ("A Bit Bitter"): Outdoor
Farnham Ale & Lager, ""Travesty" ("A Bit Bitter"): Outdoor, Print
Festival de magie de Quebec, "Magicien": Creative Media
Festival de magie de Quebec, "Levitation": Outdoor
Arctic Gardens, "Brosse à dents": TV
Arctic Gardens, "Divan": TV
Arctic Gardens, "Sauté": Print
Arctice Gardens, "Grimaces": Print
SAAQ, "Empêcher": Film
SAAQ, "Pichet": Film
SAAQ, "Alcool": Radio
SAAQ, "Fin de session": Outdoor
Quebec Agency of Health and Social Services, "Hésitation": Film
Yum Yum, "Pagette": Outdoor
Yum Yum, "Dans les patates": Outdoor (2)
Boutique Studio, "Arrive First": Outdoor
Krispy Kernels, "The Most Luxurious Coupons in the World": Online Campaign
Valentine, "Snap Valentine": Social Media
Sid Lee: 25
Grand Crea: 1
Lotto 6/49, "#TuDevraisAcheterUn649″
Grand Prix: 10
Lotto 6/49, "TuDevraisAcheterUn649″: Integrated Campaign, Creative Media, Outdoor, TV
Jour De La Terre, "Polluchons": Integrated Campaign, Film
Videotron, "LTE – Réseau": Outdoor
Videotron, "Ultra Rapide": Print
Videotron Superclub, "Crevettes": TV
Samsung, "Next is Now": Film
Sugar Sammy, "Referendum 2015″: Outdoor
Prix: 14
Lotto 6/49, "12:12″: Creative Media, Radio
Lotto 6/49, "Toune/Qui suis-je?": TV
Lotto 6/49, "Clés / Aéroport / Casquette": Film
Reno-Depot, "Installation 2015″: Radio
Reno-Depot, "Le curseur Réno-Dépôt": Online Campaign
Rona, "Mini-Kit for Mega Fans": Activation
Videotron, "Libère ta musique": Film
Videotron Superclub, "Immanquables": TV
Videotron Superclub, "Dessert": TV
Kumpan Electric, "Bibliothèque": Film
Kumpan Electric, "Son": Radio
Sugar Sammy, "Sugar Sammy quitte le Québec": Radio
Jour de la Terre, "Polluchons": Outdoor
Samsung, "Next Is Now": Digital Campaign
Bleublancrouge: 17
Grand Prix: 8
Cadillac Fairview, "Magic Workshop": Non-media
Bleublancrouge, "BBR Master Class": Self-promotion
Sherlock, "Vidanges": Outdoor
Ubisoft, "Assassin's Creed London Gangs": App or Microsite
Ubisoft, "Timely Content": Social Media
Loto Quebec, "Étincelle": Interactive
Artisan Award
Julien Hérisson (Ubisoft, "Assassin's Creed Syndicate"): Art Direction
Jean-Bernard Bastien (Self-promotion, "BBR Master Class"): Copywriting
Prix: 9
Ubisoft, "Assassin's Creed Syndicate": Integrated Campaign, Outdoor, Digital Campaign
Loto Quebec, "Étincelle": Non-media
Loto Quebec, "Divertisseurs": Digital Campaign
Loto Quebec, "Naissance du monde": Interactive
Sico, "Illuminated Garden": Non-media
Quebec Toyota Dealer Association, "Mariage": TV
Sherlock, "Vidanges": Outdoor
Cossette: 8
Grand Prix: 1
Anorexia and Bulimia Quebec, "Fréquence": Radio
Prix: 7
McDonald's, "Max 67″: TV, Online Campaign
McDonald's, "Déménagement": Outdoor
Habitat For Humanity, "Le Népal tremble, les marques se mobilisent": Radio
Amnesty International, "Hashtag": Outdoor, Print
Amnesty International, "Facebook Profile Minute of Silence": Interactive
DentsuBos: 8
Grand Prix: 2
MTL Tattoo, "Tattoo Your Promises": Social Media
Food Banks of Quebec, "Skip": Interactive
Prix: 6
Canal Vie, "Penis, vagin": Radio
Canal Investigation, "Popsicle": Print
Catholic Church of Montreal, "Calice": Print
Fido, "360 Video": Online Campaign
Transat, "Sun Auction": Social Media
DentsuBos, "Dentsu Noël": Self-promotion
Brad: 6
Grand Prix: 2
Infopresse/Crea, "Almost Nothing Seperates You From A Crea": Print
Infopresse/Crea, "Focus Group": Print
Prix: 4
Opera de Montreal, "Passez à l'acte": TV
Opera de Montreal, "Madame Butterfly": TV
PEN International Quebec, "Petition": Film
Daniel Gagnon, "Lecture Rapide": Outdoor
Tank: 3
Grand Prix: 2
Valda, "Garderie": Radio
Valda, "Gorge irritée": Radio
Prix: 1
Teletoon, "Bart": Outdoor
Cloudraker: 2
Grand Prix: 2
Kijiji, "Kijiji Raps": Online Campaign, Digital Campaign
John St.: 2
Prix: 2
1 Second Everyday: Creative Media, Radio
Mitsubishi, "Essuie-glaces chauffants": Outdoor
Shed: 2
Grand Prix: 2
Artisan Award
Quebec Cinema, "Jean-Carl, Anne et Antoine": Art Direction
Ministry of Health and Social Services, "Magane pas tes organes avec la boucane": Animation
Tam Tam\TBWA: 2
Grand Prix: 1
The Big Media Food Drive, "Caisses rapides": Outdoor
Prix: 1
The Big Media Food Drive, "The Big Media Food Drive on Kijiji": Interactive
Wasabi: 2
Prix: 2
Videotron, "VR Shakedown": Activation, App or Microsite
Alfred: 1
Prix: 1
Familiprix, "Diarrhée": TV
Cundari: 1
Prix: 1
Fix Auto, "First Word": Film
DDB: 1
Grand Prix: 1
Drummondville Volkswagen, "Have You Ever Seen The Rain": Radio
Havas Worldwide Canada: 1
Prix: 1
Couche-Tard, "Sloche": Social Media
La Base: 1
Prix: 1
Lafleur, "Bacon à l'érable": Print
La Cavalerie: 1
Grand Prix: 1
François Bellefeuille, "Noël 2015″: TV
Les Enfants: 1
Grand Prix: 1
Artisan Award
Maxime Giroux (Plaisirs Gastronomiques, "Tennis", Chatouille" and "Paparazzi"): Production
Les Évadés: 1
Prix: 1
Super Ecran, "Babouin": TV
Publicis: 1
Prix: 1
Numero: Outdoor
Other Artisan Awards
Simon Duhamel, Sherlock, "Vidanges": Photography
Chantal Legault, Les Producteurs de lait du Quebec, "Everything's Good With Milk": Culinary Styling