Up to the Minute: Citizen grows in Vancouver
Plus: Dentsu wins Quebec Poultry Farmers account, the final One Show finalists and more news you missed.

Hires, promotions and other changes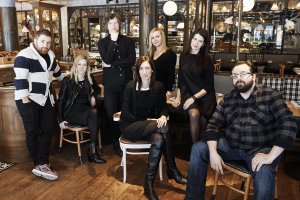 Following the promotion of Vito Piazza to COO and Eve Rémillard-Larose to managing director of the Toronto office, Sid Lee has also gone public with several new faces it added in Toronto between last fall and the beginning of this year. The hires include: Ryan Lawrence, formerly of Australia's Clemenger BBDO, as ACD; Ryan Bourret, formerly of DDB Canada, as head of production; JJ Sullivan, previously of The&Partnership, as senior strategist; Amanda Buchanan, formerly of Critical Mass, as UX director; and Christina Festoso, formerly of Bell Media and Rethink, and Katherine Craig, formerly of Bruce Mau Design, as account directors.
Citizen Relations has made a number of moves in its Vancouver office, including hiring Sophia Cote and Izabela Lezsko as account managers. Cote, a Vancouver native, joins after several years in the Berlin office of APCO Worldwide, while Lezsko joins from Vancouver's Laura Ballance Media Group. In addition, Crystal Kwon, who joined the agency in 2012, has been promoted to account director, while Cecilia Kim, who joined in 2013, has been promoted to senior account executive. The changes are a result of several recent mandates for the agency, including Loblaw, Molson and Tourism Australia.
Toronto-based PR firm DV Communications has expanded its offering to include commercial production, promotions, and advertising services. In a press release, president Dina Vieira said the move was an effort to help its clients integrate all their communications and to have a consistent brand voice.
Content-driven agency 5S has launched in Montreal, led by former freelance video director Kiril Shmidov and former Le Site strategist Gabriel Garceau. The agency, which recently produced video content for Desjardins' "Viva MTL" contest, looks to blur the line between agency and production house in its approach to video-based, online content marketing.
Canadian toy company Tech 4 Kids has hired Hugh Kennedy as SVP of marketing. Kennedy, who was previously SVP of global marketing and licensing at U.S.-based Blip Toys, will be responsible for all marketing, licensing, product development and brand management for the company.
The One Show has been releasing its finalists this week, and Rethink leads the 22 Canadian agencies in the running with 16 nominations. Check out the full list of finalists here.
New business
The new hires at Sid Lee (mentioned above) are in response to several new business wins, including a new international social media mandate for Samsung and broader brand and strategic assignments with VQA and North Face.
Les Éleveurs de volailles du Québec (Poultry Farmers of Quebec) have selected DentsuBos and Dentsu Media as its new agencies following a competitive review (the account was previously held by BBDO Montreal). The agency has been tasked with improving awareness of the organization and creating a new brand platform.
Alfred has been selected as the agency for Granby Zoo following a review.
Around the globe
Pablo del Campo, global creative director of Saatchi & Saatchi and founder of decorated Argentinian agency Del Campo Saatchi & Saatchi, has announced he is leaving the agency network after 20 years to take a break from the world of advertising. Del Campo, who took the global CD position two years ago, will be replaced by Kate Stanners, CD at Saatchi & Saatchi's London office.
Media
The beleaguered Postmedia has launched a special committee to explore new options to improve its finances after reporting a $225 million loss in its Q2 earnings and the resignation of Ted Lodge from its board of directors (Lodge is a partner at New York's Golden Tree Asset Management, which has a 52.6% stake in Postmedia).
WPP's MEC has launched Wavemaker, consolidating its content strategy, social, partnerships and experiential, organic search and creative services expertise into one division that uses consumer insight to drive branded content creation and strategies. The unit, which has now launched in 10 markets, is expected to come to Canada before the end of the year.
Jonathan Dunn, previously senior product manager in digital sales marketing at Bell Media, has been hired by Juice Mobile as its Canadian business development lead. Last month, Juice was acquired by Yellow Pages in a $35 million deal.