It's 'nacho time' at Boston Pizza
The restaurant's new "GM" helps it go tactical to launch a new product (and a few t-shirts).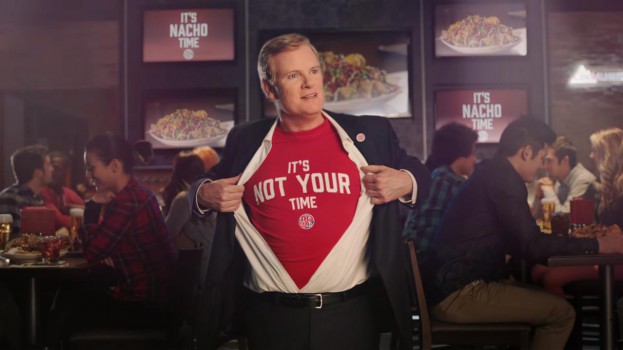 Though the "Nacho Shield" Boston Pizza promoted on April Fools Day wasn't real, its new Cactus Cut Nachos – the latest element of the "All-Star Food" campaign – are.

The first spot in the campaign features Gerry, the restaurant's recently-debuted GM, introducing the new Cactus Cut Nachos – Boston Pizza's signature Cactus Cut chip served with two different styles of nacho toppings – and celebrating their arrival with a stadium-style t-shirt cannon before realizing the "Nacho Time" pun didn't quite translate to the people who printed the shirts.

Another, soon-to-debut spot will show Gerry acting as a "beer sommelier" by pairing the nachos with Sub Zero Coors Light. Taxi continues to handle creative on the campaign.

Since launching at the beginning of the year with more of an overall brand approach, the "All-Star Food" platform has also had an execution focused on the quality of its pizza ingredients. Alexander Green, VP of marketing at Boston Pizza, says one of the goals with the platform was for it to be flexible enough to drive brand connections as well as deliver more tactical messaging to deliver "food news," like new product launches.

In addition to the Cactus Cut Nachos, Boston Pizza is launching two new wing flavours. Green says that while new launches related to any of its top-selling categories are always a big opportunity, the focus on nachos was chosen because it had more "upside" in terms of product innovation and improving the quality of its overall credibility in the category, an approach that has been successful for Boston Pizza in the past.

"This allows us to take what is already one of our top-selling appetizers and build sales around it that not only work during promo periods, but extends from that point forward," Green says. "Historically, we had success when we did a similar approach to wings. It generated triple-digit growth in the category, but what's important is that we've also been able to sustain it over time since then."

The launch campaign also features more tactical elements, such as servers wearing comically "corrected" versions of the t-shirts featured in the spot, as well as a social element highlighting proper "nacho etiquette" when sharing nachos with friends. Green says all of Boston Pizza's campaigns are increasingly focused on also bringing food news to digital channels.

"One strategy is doing a lot of short-format, digital food content that has the same goal as the TV spot, but is more tailored and suited to social channels," Green says. "The second strategy is just to build new content that people want to engage with, and are a different but fun way to talk about something that's new. Together, they make the same campaign bigger."

Last year, Boston Pizza also tied its April Fool's prank to a real product, with a fictional Wingman app that delivered the real Two-Four pack of chicken wings. Green says the beginning of April is a perfect time to launch new products aimed at casual snacking or eating during a game for its sports fan target, with the MLB season kicking off as the NHL and NBA head for the playoffs.