Staying priceless
MasterCard repositions itself as a tech leader as it prepares to celebrate its 50th birthday.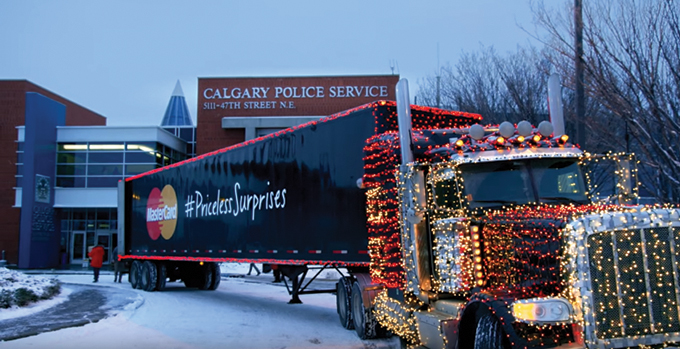 It wasn't always a technology company. Before it came out with touchless payments and experimented with digital wallets, before it sponsored hackathons and figured out how to verify payments with a selfie, before it started buying patents as if it was headquartered in Silicon Valley rather than Purchase, N.Y., MasterCard was a credit card company with a notably durable tagline playing up life's special moments. The tagline remains but much else is changing.
In February, the company announced it would be rolling out its first biometric payment service, MasterCard Identity Check, this summer in Canada and other markets. The pay-by-selfie app uses an algorithm to decipher a customer's facial features, allowing purchases to be verified by snapping a selfie rather than entering a password. The tool is the latest in a brand evolution as the payments and technology worlds blur, bringing new competition to the once-cozy sector.
The new technology, a recent focus for the company celebrating its 50th birthday in August, also brings new marketing opportunities. After spending the better part of four decades competing with rivals Visa and American Express primarily on the cards' acceptance, MasterCard is now spending more energy on innovation and security, communicating with customers on social media and, like other credit card companies and banks, securing patents. Tech giants Apple, Google and Samsung have spent years battling over intellectual property in the courts. As they move into the payment space, MasterCard applied for 500 patents in 2015, 10 times as many as in 2010, Bloomberg reported earlier this year. The company has also courted tech startups through hackathon events that seek innovations for retail and online shopping.
The Canadian office is leading some of these efforts, including a new global campaign that will focus on safety and security – significant territory for consumers uneasy about new payment methods. "If you were to look back on our advancements over the last 50 [years], probably what we're going to undergo in the next five is going to be just as significant," says Milos Vranesevic, MasterCard Canada's VP and head of marketing.
The fight for prestige and acceptance
The MasterCard story begins in 1966, when 17 banks met in Buffalo, N.Y. to form the Interbank Card Association. The national Interbank Card replaced the local and regional cards the banks had been franchising. Member banks promoted the card locally, setting the fees and interest rates. Master Charge became the association's biggest card brand and, in 1969, the name and logo – the interlocking circles that are still used today – were trademarked. The first cards were issued in Canada in 1972. Interbank rebranded the card as MasterCard in 1979.
Marketing credit cards involves at least a two-tiered approach that can be challenging for brands to navigate, especially in Canada. The card brands want customers to use their cards as much as possible, incenting them to advertise broadly. The banks and other institutions that partner with the card companies determine the nature of a card's perks and do their own marketing to promote those features. Until 2008, Canada had a non-duality policy that limited banks to only issuing one type of card.
With the issuer institutions promoting their cards based on the benefits, the credit card companies are left mostly with two main differentiators: where their cards are accepted and branding that connects emotionally with consumers.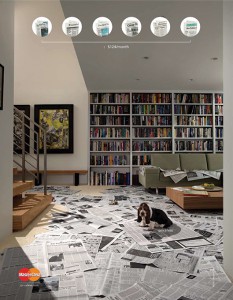 "At a strategy level, by the time you're competing on emotion, if that's your only differentiator, it becomes a pretty expensive way to compete because now the question isn't who's got the best credit card or even who's spending the most on advertising. The question is who taps into the strongest emotion best," says Queen's University economics professor Kenneth Wong.
For the industry's first 30 or 40 years, acceptance was the primary territory the credit card brands were fighting for, says Ryan Timms, VP and director of client services at MacLaren McCann in Toronto, who's been working on the MasterCard account since 2007. Even now, the card issuer's loyalty program often "tips the scales" far more for consumers than the card brand, he says.
"While there's a certain ubiquity to the brands, they don't have that kind of ability to go right to the cardholder. That relationship has been owned and nurtured by the banks themselves," Timms says. "Being able to build a brand and create meaning for a brand like MasterCard, or Visa for that matter, with a cardholder is difficult when you can't have that direct consumer engagement."
While acceptance and prestige were the early differentiators, that started to change in the late '80s when SSC&B: Lintas took over the MasterCard account, just as it started to move away from that decade's upscale branding toward something more emotional. The first campaign was called "Master the moment." The second, "For the way we really live," in 1990, was getting closer to the theme that would, by the end of the '90s, define the brand into the present.
Targeting the Canadian market
It wasn't until the early '90s that MasterCard got serious about advertising in Canada. The U.S. marketing was by that point a "well-oiled machine," says Tracy Hanson, who started in 1992 as MasterCard Canada's marketing and communications manager and served as the brand's VP marketing from 1996 to 2004. But there hadn't been any made-in-Canada campaigns. With a small budget, the new office was working on promotions rather than advertising. It didn't have an agency in Canada. "After the first half-year, I introduced the notion of us putting together an advertising campaign," Hanson says.
The Canadian team put out an RFP for its own agency and chose The Communique Group for English and Lg2 for French. The English ads used the tagline "Your card for life" and began airing in 1993. The first 30-second spot, "Dangerous," was in the spirit of Thelma and Louise, with a group of women over 50 holidaying in Arizona in a red, 1960s-era convertible, using their MasterCards to pay for everything from lunch to speeding tickets to bail. The other spot, "Safari," dramatized a family shopping trip through the father's eyes.
For the francophone market, MasterCard used Quebec TV personality Julie Snyder in a series that came to be known as the "chic-a-chic ads," referring to the sound the old card slider machines made. Both campaigns played up MasterCard's acceptance.
South of the border, the company was once again looking for a new agency in 1997, which would prove to be a pivotal year. The brand was stuck between Visa, the market leader perceived to offer wider coverage, and American Express's prestige and high-value transactions. Both the global and Canadian brands conducted brand equity studies around this time. Hanson says the results were almost identical. "It didn't matter what country you went to, it was always the same: the most important things to people around the world were family and friends," she says.
"That's really how we were able to determine that there was this whole emotional category that hadn't been tapped into from a payment vehicle before. American Express and Visa were still counting on 'buy whatever you want.' Coming off the glitzy, gluttony period of the '80s and the 'shop away' [attitude] in the '90s, MasterCard was able to create this brilliant campaign that really gave them ownership of a category that hadn't been delved into. And that was the birth of 'Priceless.'"
A campaign that breaks into pop culture: priceless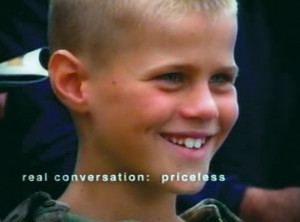 When McCann Erickson pitched for the U.S. MasterCard account in 1997, the agency produced an ad featuring a father and son at a baseball game, following a format most people can now recite: a list of purchases (hot dogs, popcorn, soda) and their cost, followed by the emotional kicker –"Real conversation with 11-year-old son: priceless." Then the tagline: "There are some things money can't buy. For everything else there's MasterCard."
McCann chose to focus on the brand's everyday appeal, recognizing a cultural shift away from the idea that status was in the purchase alone: owning the best car, the best suit, the best business card holder, what Timms compared to the ethos in Bret Easton Ellis's 1991 novel American Psycho.
"It became more about the narrative behind the purchases, the experiences they enabled – the sense that experiences started to matter more than things," Timms says. "For a credit card to come out and say that what you buy is not as important as the experiences that result was a pretty daring and bold move on their part. But I think if you look across the financial category now, whether it be a credit card or a bank, that's the game everyone has started to play. MasterCard just happened to lead it."
The spot first aired during Game 4 of the 1997 World Series. The dozens of iterations that followed have now been seen in 112 countries, in 53 languages.
For Wong, the move demonstrated the limited space in which credit cards could still compete. With card acceptance basically a wash at that point and issuers handling the card benefits, brands were left to distinguish themselves in the realm of perception and emotion. "If you're going for a mass appeal, 'Priceless' makes some sense because what else are you going to differentiate on?" he says. Emotion is in vogue now, but in 1997, "'Priceless' was way ahead of its time."
The campaign launched in Canada in 1998. By that time, MasterCard Canada had left Communique and was working with McCann Erickson Worldwide, with a Canada-specific account team out of New York. It wasn't until 2006 that MacLaren McCann in Toronto would take over the account.
"We had a really great group of people that we could explain the nuances about Canada with and they understood it," Hanson says. "It was really important that we were able to maintain that individuality in all the creative that we drove out of Canada."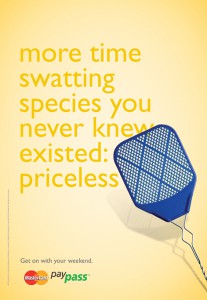 While the idea for "Priceless" was global and carried universal appeal, different markets were able to apply it in ways that made sense to local audiences. This meant some spots created in Canada, as well as some borrowed from other markets around the world and inserted here. One of the first ones, shot in Canmore, Alta., was called "Zero Degrees" and featured the making of an outdoor skating rink.
Not surprisingly, rinks were to become a major theme in the Canadian "Priceless" campaign. The brand partnered with the NHL and the CHL, becoming the sponsor for junior hockey's main event, the Memorial Cup, and it also got behind figure skating. This made for some fun spots where hockey legend Bobby Orr and top figure skater Elvis Stojko switched places. National women's hockey team captain and 2002 Olympic gold medal winner Cassie Campbell became another face of the brand, which also filmed a series of spots with the Stouffville Clippers, a team of Ontario eight-year-olds, in 2003.
If the primary goal of branding is to attain a level of cultural relevance, few campaigns can touch "Priceless." Characters and celebrities from Homer Simpson to Peyton Manning appeared in the ads. A relatively unknown Billy Crudup was cast as the voice, and remained so for more than a decade.
And there were spoofs, which, for a while, were everywhere. David Letterman applied the "Priceless" format to Monica Lewinsky and Bill Clinton, wrapping up a rough accounting of the Starr Report with a typical flourish: "Impeaching the president's fat, guilty ass: priceless."
During that peak period of viral email gags in the late '90s and early 2000s, it seemed that every few weeks another puerile send-up of "Priceless" was waiting in every Hotmail and Yahoo account. And it hasn't quite ended. WikiLeaks founder Julian Assange parodied the format in a 2011 video protesting MasterCard's blocking of web-based donations to his organization.
"Once it becomes part of the vernacular, now you've really succeeded because your promotion is going beyond what you paid for," Wong says.
MasterCard's Vranesevic divides the company's marketing history into two epochs: pre- and post-"Priceless." And the post keeps going and going. "Easily another 20 [years]," he says when asked how much longer the campaign can last.
That could be true, Wong says, as long as MasterCard continues to present it in new and interesting ways. "The theme transcends time. It's how you communicate that theme and make it relevant to the audience you're reaching. You can keep revising that one forever," he says.
The brand tests the strength of "Priceless" every couple of years, Vranesevic says, to make sure it's still resonating with consumers. He says it is more than ever, "especially as people's values continue to shift more toward work-life balance, toward changing opinions on the importance of money in their lives versus family and friends."
From priceless moments to paying by selfie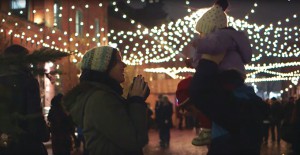 The evolution of "Priceless" has meant moving from "observing priceless moments" to "enabling" them, Vranesevic says. The campaign has been able to stay fresh by moving into new areas with its "Priceless Cities," which offers promotions to cardholders in specific places, and by making use of social media with "Priceless Surprises." Toronto was the third city included in the former campaign, in 2011, and Montreal followed last December. The "Surprises," launched in 2014, have featured intimate events for cardholders in Canada with former hockey stars Doug Gilmour and Guy Carbonneau, pop icon Justin Timberlake and model Coco Rocha. Rather than simply telling stories, as it has been doing since 1997, the emphasis now is on experiential campaigns that create moments, which are then shared on social.
But while the company's slogan hasn't changed, the emphasis has shifted toward technology, reflecting new competition. In MasterCard's 2009 annual report, it wasn't until the fifth and final page of the letter to shareholders that the word "technology" appeared. By 2012, it was in the first sentence and it's only become more explicit in the card's branding.
After competing for decades on card acceptance and emotion, with no big functional differences between brands, the mobile space – from online shopping to digital wallets to biometrics – is changing what can go into the marketing. "Now it's really about trying to compete on both a functional and an emotional level. It's as much an R&D race as it is a brand saliency effort, which is what it always had been," Timms says.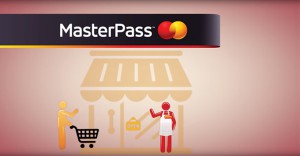 In 2008, MasterCard introduced PayPass, the first contactless payment method. That's when the brand message shifted and MasterCard "started talking about innovation, what was going on within the company and technology, and how it was informing the payment space," Timms says.

The sector also underwent a major regulatory change in Canada in 2008. The federal government's decision to end its non-duality policy and allow banks to issue more than one type of card was a boon for MasterCard. Prior to the policy change, the brand only issued cards through one of the five major banks – BMO. Visa held exclusive relationships with the other four, Timms says, forcing MasterCard to adjust its strategy.

"We had to think creatively about how we were going to grow our business," Vranesevic says of the period before duality was allowed, when growth came through a co-brand strategy. That meant aggressively partnering to issue cards with companies such as PC/Loblaw, Canadian Tire and the Hudson's Bay Company, as well as financial companies such as CapitalOne and MBNA – foreign banks authorized to perform some banking services, such as issuing credit cards, in Canada. By the time the regulations changed in 2008, MasterCard had already done the legwork with all the small, individual issuers and could put its energy into securing the bounty of cards issued through the remaining four big banks.

Consumers had typically based their card choice on what their banks offered. "With duality, credit companies could no longer rely upon that forced allegiance," says Wong. It meant more competition between the card brands to win over both consumers and issuers.

Visa is still the leader in Canada when it comes to market share by number and value of transactions (55% and 61%, respectively, to MasterCard's 44% and 30%). But MasterCard leads in the number of cards issued, with 51% of the Canadian market compared to Visa's 43%, according to Euromonitor's numbers for 2013.

The Nilson Report's 2014 numbers for purchase volume in Canada, which include credit, debit and pre-paid cards, had Visa leading with 41% market share compared to Interac's 32% and MasterCard's 22%. Globally, Nilson had Visa's market share for purchase transactions worldwide at 58% to MasterCard's 26%.

Last year, MasterCard completed its 2020 research examining what the consumer-merchant relationship would be like at that time. The next five years will see advancements as significant as any in the company's history, Vranesevic says. In Canada that means devoting more of its marketing energy to digital.

The 2020 research showed that expectations of transparency are stronger than ever. This has led to more engagement with customers on social, providing information when they need it. Canada was the first MasterCard market to bring social community management in-house in 2012 to allow for more two-way communication with customers, Vranesevic says.

The goal is to "create a whole new territory, the emotional territory around safety and security," he says. The global campaign that MasterCard is working on with MacLaren McCann, the first time the Canadian market is developing an integrated global campaign platform, will focus on security, Timms says. "We think we've found an approach that will feel a bit more empowering for people and the brand, versus something that would have been fear-mongering in the past," he says.

The new technology and consumer anxiety about privacy and security make for tricky marketing territory, though: "If you start talking about it, you might inadvertently risk making it top of mind," he says.

As new technologies emerge, the brand will continue to push for a consumer experience that's "human-led rather than technology-led," Vranesevic says. With
that in mind, a blinking selfie as payment verification makes sense.

The Identity Check smartphone app, set to come out later this year, will allow customers to verify purchases by taking a selfie or placing a fingerprint on the screen rather than entering a password. Customers register with an image that the company scrutinizes, taking a number of measurements, particularly around the eye and nose area, developing an algorithm around the face's "landmarks," said Bob Reany, MasterCard's senior VP for identity solutions, in a video explaining the technology. The customer must blink so the app knows the image it's capturing is of a live human.

"It's just that simple: you blink, you pay and you're done," he said.

Keeping with its signature advertising message, it probably won't be hard to make the case that smiling into the camera to verify a purchase is a "priceless" way to pay.