Grip grows by 12
A dozen recent hires are spread across the agency's departments.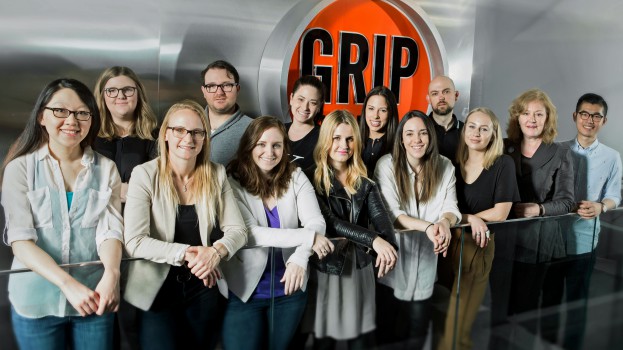 Grip's newest additions, from left to right: Daisy Qin, Michelle Budge, Shelby Musser, Craig Brandon, Danielle Vincent, Morgan Starr, Terri Winter, Nicole Berends, Ariela Gutfrajnd, Egan McConvey, Inna Vartazarian, Karen Cronin and Zhi Gao.

Grip has gone on a hiring spree, bringing a dozen new staffers to its creative, client services and strategy teams.

Craig Brandon has been hired as an art director from Saatchi & Saatchi, having also had stints at BBDO and MacLaren McCann. Egan McConvey, previously of CRM-focused agencies Track DDB and Kenna, joins as a copywriter. Designer Michelle Budge has rejoined Grip, having left the agency two years ago for a job at boutique creative shop The Workhouse. Copywriter Morgan Starr and art director Inna Vartazarian, previously a junior team at Lowe Roche, have joined Grip, and former intern Zhi Gao has been hired full-time as a junior designer.

The agency pointed out that Budge is the 11th person on its staff of 160 to have returned to the agency after leaving.

On the strategy side, Daisy Qin joins as a social content strategist, joining from the digital team at lifestyle and fashion brand Nuvango. In client services, Shelby Musser has been hired as an account director from Havas Health, while Danielle Vincent and Ariela Gutfrajnd have been hired as account co-ordinators.

Terri Winter has also joined Grip as an interactive producer from Saatchi & Saatchi, after previous stints at Taxi and Isobar. Former freelance business consultant Karen Cronin has come to Grip as a business manager, while Nicole Berends has joined the agency's human resources team as HR co-ordinator.

The hires mark Grip's first major growth since its acquisition by Dentsu Aegis in January. Last month, the agency's creative partners Dave Hamilton and Bob Goulart left to join the leadership team at Unitas, founded by Grip co-founder Mike Robitaille.