Shopper Innovation Awards winners revealed
Check out all of the best work that moved the judges most.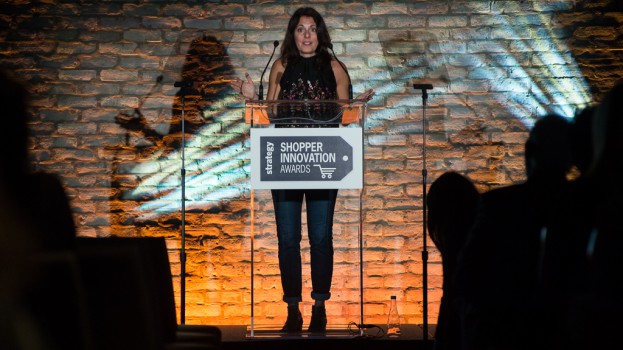 Pictured: Shopper Innovation Awards host Erica Ehm. (Photo: Matt Forsythe)

This story appears in the April/May 2016 issue of strategy.

Stop, collaborate and listen: it turned out the glue for many of this year's winning programs was the deep partnerships forged between retailer and brand.

From Walmart and Mattel opening a store (outside the store) together, to Best Buy and Intel partnering to build a tech-testing playground, to Java U and Natrel merging their milk expertise to co-create a café — these creative collaborations prove that, sometimes, two heads can be better than one.

Award-winning partnerships can also extend beyond retailer and brand. Cause Grand Prix winner SickKids Foundation worked with a myriad of media partners for its "Better Tomorrows" campaign, while the Commercial Grand Prix winner, U by Kotex, relied a fair bit on its production and creative partners Shift2, SmokeBomb and Geometry to produce the millennial-loved Carmilla web series.

Twenty programs, plans and partnerships were recognized at this year's SIA gala, held in Toronto on April 19 during strategy's two-day Shopper Marketing Forum. Judged by a panel of experts, the awards celebrated the best breakthrough work between brands and retailers.

To learn more about the winners, read on.

Grand Prix: SickKids offers the gift  of perspective

Grand Prix: U by Kotex bites into a branded series

Shock Top literally speaks for itself

Reviveaphone travels to Oz and saves a phone

Intel escapes to Mars inside Best Buy

Natrel introduces a world of dairy

Ontario government takes on 'grey areas'

Budweiser rocks out with Metallica

Walmart and Mattel's virtual toy store

Boston Pizza ups the loyalty ante

Tim Hortons' new level of chill

SC Johnson highlights messy moments

BMO builds better saving strategies

Scene spotlights the feeling of free

Cases edited by Jennifer Horn.