Lessons from a 1959 board game about Loblaws
It's fun to reflect on the time the game was made, and how much (or, how little) the physical shopping experience has changed.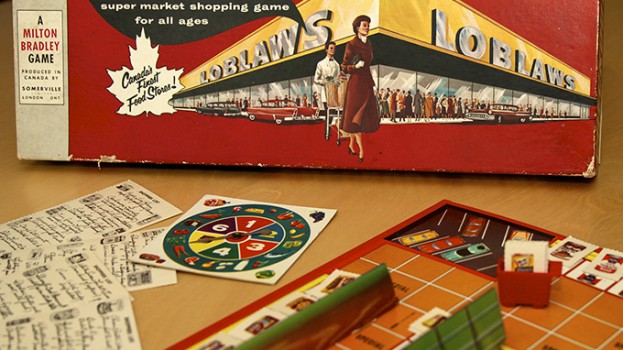 This story appears in the April/May 2016 issue of strategy.
In the 1950s, marketers were keen to capitalize on the unprecedented retail boom in supermarkets that in 10 short years had almost redefined suburban society. This includes the Milton Bradley "Loblaws Checkout Game" from 1959, which I recently found on eBay.
The gameplay itself is a fairly accurate snapshot of what grocery shopping was like (and is surprisingly similar to today). All of the products in the game that you could fill your cart with as you "pushed it" around the board were actual products listed for sale at Loblaws at the time, which may make this one of the first true shopper marketing experiences.
Many of the brands featured in the game are still around today, and several (including Allen's Apple Juice, Five Rose Flour, Clover Leaf Tuna, Tide and Bee Hive Corn Syrup) have packaging that hasn't changed a lot.
It's fun to reflect on the time the game was made, and how much (or in many cases, how little) the physical shopping experience in Canada has changed. Here are a few takeaways:
The evolution of grocery lists
One of the game's fascinating aspects are the "hand-written" grocery lists that tell you which items to put in your basket. It's funny, as even today this one tool constitutes the closest thing to a commitment that the shopper will buy your product. What's interesting about the game is it not only uses real products on the lists, but also product endorsements (Prem Luncheon Meat: "With Tender Beef Added!").
Studies differ regarding how many Canadians shop with lists – anywhere from 40% to 80%. But the insight these days isn't how to get on the list, but the redefinition of the list itself.
With the advent of click-and-collect and e-commerce-driven grocery shopping, getting on that first list is critical. After a first-time shopper builds his or her first cart online, shopping becomes frictionless. Through "Repeat Previous Basket" and "Favorite Items" features, users can now start each shop with a cart full of their usual items and edit accordingly. If you aren't in the first basket, your chances of being added to the cart drop dramatically. Even if they are on smart devices instead of paper, getting on the list is still the key. Keyword planning, innovative use of pre-roll, CRM-driven predictive loyalty e-blasts, and good old-fashioned flyer ad innovation are just the tip of the iceberg in providing impetus for a shopper to put pen to paper.
Gamification is the name of the…game?
The game may be one of the first examples of grocery "gamification" in history.
In the late '50s, grocery shopping was a service-driven experience, with only the flyer telling you what was on sale. Today, a Mintel report reveals that while only 35% of all Canadians actually enjoy grocery shopping, 73% of shoppers agree that they love the thrill of scoring a deal. Today's shoppers are leveraging tools like Checkout 51 or Flipp, flyer comparison programs and social couponing. For brands, you need to figure out not just how to give a deal, but to make it fun.
A great example is Coupgon. The Toronto-based couponing app has been quietly testing with Canadian manufacturers and retailers (including Loblaw, FCL and Longo's) since its inception in 2013. Shoppers can open their app, see the coupons they like, clip them with a tap, and then redeem instantly at participating retailers. Beyond that, they are the first in Canada to commercialize beacon technology – and the data that comes with it – in-store, as well as to integrate coupons into existing loyalty card infrastructures, all while making it feel like a game. Who knew saving money could be so fun?
The importance of the experience
If you are a shopper marketer, part of your role is delighting your shopper, making things "special." In the game, there are "Special" squares; if you land on them, you have to pull a "Shopper Special" card, where fun (and sometimes not so fun) things happen to you that immediately affect your play.
Sixty years later, these special experiences are the only thing that keeps people coming back. Loblaws took this to an entirely new level with select vendor partners when they created the "Market Moments" campaign, giving away everything from free samples to free groceries. The mantra should be "not just their deals, but how they feel."

Except if you pull the "You met Aunt Hilda and she wants to tell you about her operation, lose a turn" card. Whether it's 1959 or 2059, that one always sucks.

Jason Dubroy is VP, managing director at TracyLocke.