The omnichannel future of grocery
Digital grocery shopping faces a number of challenges. But the supermarkets are taking it on anyway.
This story appears in the April/May 2016 issue of strategy.
In March, Sobeys' Quebec banner IGA unveiled its new app, which allows users to create their grocery lists by scanning previous purchases on their shelves, or adding produce and meat based on inventory at their local store. With a click, they can buy their entire list and pick it up in store at their convenience or have it delivered.
It's designed to make the shopping process as easy as possible, says Alain Dumas, Sobeys' senior director of public affairs and digital strategy, and it's targeted at people who still do the bulk of their shopping in stores. But it also takes aim at shoppers looking to buy their groceries with a click and those who are hesitant to try online grocery shopping at all.
"We know this process of creating shopping lists [with the app] will teach people how easy it is" to buy groceries online, he says. "It's training, if you will."
While e-commerce has been a topic of conversation since the advent of the internet, it's only within the last two years that omnichannel retail has hit the grocery aisles with any real force, with Walmart, Loblaws and Metro announcing they've joined (or are planning to join) Longo's and IGA with cyber shopping carts.
Originally launched in 1996, IGA has offered e-commerce since well before most Quebecers had internet access (at the time, only 20% of Canadians had it, Dumas says).
It wasn't until 2008, when better internet speeds allowed the company to post photos of grocery items, that it really started to grow, he says. Sales have since grown 20% year-over-year.
Now, Dumas hopes to take it to the next stage of growth. The app, which is designed so it can be adopted across all eight Sobeys brands (including B.C.'s ThrifyFoods, which also offers e-comm grocery) when they're ready to delve into online shopping, takes things a step further.
The launch campaign will roll out across IGA's owned digital and in-store channels and focus on how easy it is to use, he says.
Convincing people to try grocery shopping online is the hardest part. In Canada, 88% of people said they've never tried it, while 68% said they have no interest in it, according to a survey by Mintel.
Canadians' lack of interest coupled with the size of the country has made it difficult for omnichannel grocery to take off, but retailers are still delving into the fray, and shopping habits are changing, albeit slowly.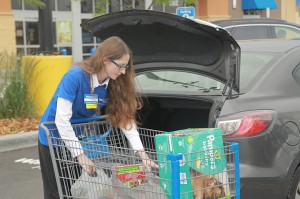 In 2015, Walmart added fresh items to its e-commerce store in Ottawa, and rolled it out to the Greater Toronto Area in February this year.
The retailer has been offering non-perishable goods online for two years now, but Simon Rodrigue, SVP of e-commerce at Walmart Canada, says it kept hearing people wanted to be able to do their complete grocery shop in a single transaction, rather than only a portion of it.
It opted to explore the click-and-collect model because people responded better to it than delivery (they can choose a time to pick it up and don't have to wait an hour for delivery), says Rodrigue.
It was a natural evolution for the brand, he says, adding Walmarts around the world have been offering this kind of service for years, and Canadians were finally ready to take part.
"Five years ago most e-comm was one-and-done," he says. "[Consumers] went online, bought a patio set, something they needed once. The relationship was very short, and then [they] went off and shopped elsewhere for other things. As we've continued to add more products, whether that be health and beauty, consumables, grocery – particularly the baby category – we've seen those become much larger portions of the business. We have a big segment of our customer population who shop with us every couple of weeks, so we're seeing that they choose to shop digitally like they once did with their weekly shop [in store]."
He remained mum on the number of users but says satisfaction rates have been in the 90% range.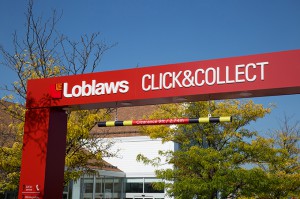 Loblaws joined the pack in 2014, offering click-and-collect at three locations in a pilot program, says Lauren Steinberg, director of e-commerce marketing at Loblaw Digital. Last year, it rolled its offering out to 37 stores in three provinces. Steinberg says more than 50% of people who use the service return, and she says the plan is to continue growing its presence across the country.

Despite this growth, Jason Dubroy, VP and managing director at TracyLocke Canada, says online shopping won't replace in-store, and at this rate, we're really only just catching up to the rest of the world (less than 1% of grocery sales in Canada occur online, compared to 5% to 10% in the rest of the world).

Established players, like Longo's Grocery Gateway, have done a good job filling a niche (specifically delivery, versus click-and-collect), he says. So people who want to buy online probably are, and it seems like retailers have to move mountains to reach those who aren't.

"We believe e-commerce represents an immaterial portion of the incumbent grocers' overall businesses," a January study by BMO found. "Further, web traffic data appears to show that incumbent grocers, even those with grocery e-commerce, have yet to significantly grow their digital penetration." Grocery e-commerce was simply uneconomic, the report concluded.

Carol Wong-Li, senior lifestyle and leisure analyst at Mintel, found consumers overwhelmingly still want to visit grocery stores. There's something personal about picking fruits and vegetables, she says, that makes it difficult to adopt the e-comm model.

Our car-dependent suburbs also mean the convenience isn't as notable for Canadian consumers compared to those in countries where parking can be a challenge (75% of IGA's e-comm business comes from urban centres where parking is harder to come by).

But this is just the beginning of grocery e-comm. There are huge opportunities for grocery retailers who chase occasion-based shops, Wong-Li says.

For example, there's a high demand across all channels to make dinner planning easier. For busy families, any form of retail that can solve that annoyance would be well poised to succeed.

IGA has seen some success with its pre-prepared meal delivery, and Dumas says it's exploring more ways to innovate in that space (though he didn't have details to share at press time).

Subscription services such as Chef's Plate, Fresh Canteen and Prepd deliver prepared fresh ingredients and a recipe, leaving the cooking up to the consumer. Though they are still niche offerings, these startups are sprouting up across the country. Other subscription services, like fruit and vegetable delivery service Front Door Organics or gourmet treat delivery Love with Food, have also seen a boom in recent years.

Walmart, too, is exploring subscription services for its highly consumable products, like cleaning or baby products, as well as new methods of delivery. Through a partnership with 7-Eleven, for example, the brand has lockers in dense urban centres where people can pick up their non-perishables (but not fresh foods at this stage), giving the retailer access to young urban professionals who might not have otherwise visited a Walmart.

And of course, south of the border, Amazon and Google are both dabbling in fresh delivery (Google recently announced its pilot project for same-day groceries in San Francisco and L.A.)

So don't count online grocery out just yet. After all, few foresaw the dangers of digital to books or electronics in the very early days. This time, retailers are out ahead of the problem. And after all, the program is offering a new source of valuable data, giving retailers another entry point into the consumer loyalty journey.

"We've invested a lot of money to make sure people have a great experience in our stores," says Dumas. "The objective is not to stop customers from going to the store. We don't think online will replace going in store. It's more about [offering] accessibility anytime. It's a complement – another way to shop."