Shopper marketing forum: Lessons from day two
From balancing competing brands' wants and needs to multicultural strategies, here are three takeaways from yesterday's event.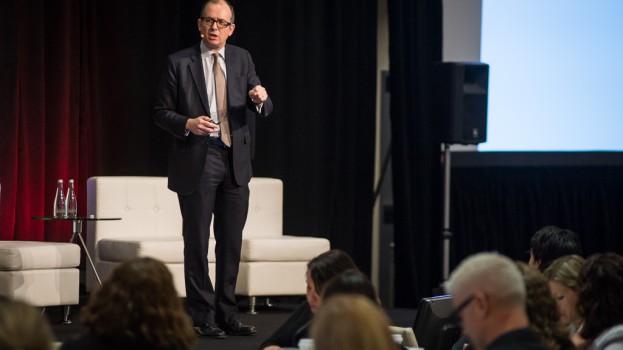 Pictured: Deloitte's Robin Brown speaks about multicultural marketing strategies during day two of the 2016 Shopper Marketing Forum. (Photo: Matt Forsythe)
For the past two days, Canada's CPG and shopper marketing community came together for strategy's Shopper Marketing Forum to hear about the latest insights on retail reinvention, consumer behaviour and how brands can keep up with fast-evolving tech. Here are just a few key takeaways from day two. Be sure to check out the highlights from day one here.
By Jennifer Horn and Harmeet Singh
Too many cooks in the kitchen? Be communicative and committed
Loblaws sees your one vendor partner, and raises you another seven.
For its ongoing Market Moments program, the retailer partnered with a total of eight brands to facilitate grocery giveaways in its stores. That's a tall order for any one retailer. Juggling program objectives of just two parties can be tricky, but try having to manoeuvre the wants, needs and goals of eight different (competing) brands. These include the likes of Campbell, Coke, General Mills, Kraft and Mondelez, some of which spoke on stage with Loblaw Companies' Wes Brown at yesterday's conference.
Usually lasting four weeks at a time (with the fourth wave launching in the coming weeks), the program sees the retailer's floor staff randomly gifting goods (like flowers and chocolates) to unsuspecting shoppers. It's even gone as big as having Loblaws managers stand on till counters and announce a year's worth of free groceries to randomly selected customers.
The toughest part about working with Loblaw, admitted Richard Behrman, senior shopper marketing manager at Campbell, was thinking about the needs of the retailer's massive amount of stakeholders, from its cashiers all the way up to its VPs.
"Sometimes we didn't have the same objectives in mind," he said. But that's where having multiple brands connected to the program was a blessing. "It gave us a bigger voice at the table to match Loblaws' size and clout." It also helped create a louder, more collective vendor voice, which in turn allowed fair and equal discussion on what both retailer and brand want to get out of the program.
Jacquelyn Langdon, associate manager, customer marketing at General Mills, gave Loblaw kudos for its commitment to the program, which is entering its fourth month of Market Moment giveaways in more than a year. "Retailer commitment does breed better programs," she said, adding that another reason it's been a successful collaboration is Loblaw's initiative to outline its goals in a creative brief to the vendors. "That way, we could cement [its objectives] into our own."
When it comes to multicultural marketing, go beyond festivals
Sponsorships and activations at festivals around major events like Diwali and Chinese New Year are a great way for brands to get their feet wet when it comes to multicultural marketing, but it's not enough of a strategy to stand out with Canada's growing populations, says Robin Brown, VP of insights and advisory at Deloitte Canada.
Festivals are really the "training wheels" of a multicultural strategy, he says. To take the strategy further, brands should leverage knowledge and assets around particular populations (such as South Asians) from other global markets.
Ethnic communities don't exist in a bubble, so while some multicultural programs might be based on specific insights related to one group, brands should also try to align multicultural campaigns with mainstream communications, he says.
He also recommends considering highly niche targeting. When promoting its B2B roaming packages, for example, Wind Mobile targeted the large Punjabi-speaking population in the Canadian trucking community.
Language isn't the only differentiator either, he points out. Giving groups a frame of reference for understanding a category in store is also important. He points to a category like cheese, which can be overwhelming even to people who can read the labels (the same as looking at an extensive tofu section in a TNT grocery store), he says. Educating new Canadians about how to buy a product they may not be familiar with can lead to big opportunities.
What's working, and what's not

For all the number-crunching marketers and agency folks in the audience, Don Mayo at IMI International walked us through some of the findings his company pulled together from a whopping 13,000 interviews sourced from various research companies (including his own) in early 2016. Here are three items he shared with us yesterday:

1. Consumers' top five favourite brands are noticeably more diverse (in category) and more heavily tech-focused today than only a decade ago. Ten years ago, CPG companies made more frequent appearances on the list.

Top 5 for 2005:
1. Sony
2. Coke
3. Kraft
4. Pepsi
5. Walmart

Top 5 for 2016:
1. Apple
2. Nike
3. President's Choice
4. Sony
5. Samsung

2. Apps are the future. There are currently four million apps. That's 27 downloads per person and about 50 billion downloads a year. Also, close to 1,400 apps are being launched every day.

But do people download apps with the purpose of staying in touch with brands? Not really. In fact, 3.5% of Gen Z said they do, while 3.2% of millennials, 3.8% of boomers and 3.4% of those age 55 and over agreed. Not-so-fun fact: 9.8% of consumers are more interested in downloading apps for the weather than an app from a brand.

3. Sampling is an important driver for consumers. In fact, 71% of consumers say that experiencing a product is the best way to guarantee its purchase. Mobile marketing, on the other hand, did not fare so well in convincing a person to shell out her hard-earned money, especially when it came to Gen Z. About 43% of them think mobile marketing is intrusive and 49% typically find it irrelevant.