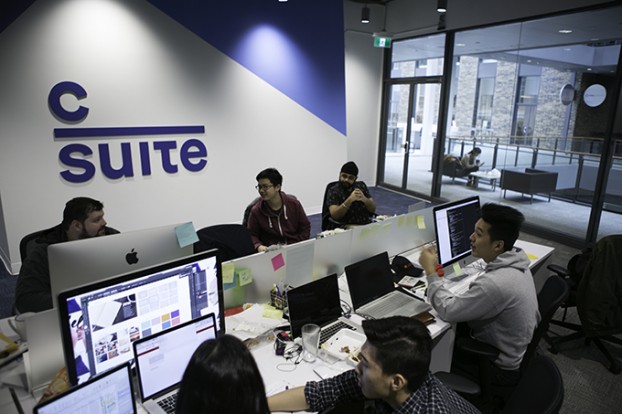 This story appears in the April/May 2016 issue of strategy.
Canada's banks, for the most part, are doing OK.
In September, they were ranked by the World Economic Forum to be the soundest on the planet for the eighth straight time, and several of our biggest banks regularly appear on lists of the country's most recognized and trusted brands.
But like any longtime incumbent, they're fighting to keep up on several fronts, mainly outside of the typical bricks-and-mortar branch. According to a report updated last summer from the Canadian Bankers Association, only 13% of Canadians say the branch is their main method of banking, and 40% say their use of in-branch has declined.
Where financial institutions were once just competing with one another, they're now up against mobile-focused players across the spectrum, from lending to payments and everything in between.
Some are backed by more established entities like Equitable Bank's EQ Bank or Desjardins Group's Zag Bank, while other millennial-friendly brands like Mogo or robo-adviser WealthSimple are making a splash with cheeky ad campaigns.
This is not a case of David and Goliath, where one mobile service is swiftly going to take down one of the big five. Instead, as Scotiabank's Jeff Marshall puts it, the risk is more of "death by a thousand cuts."
Marshall is the head of the bank's Digital Factory, an innovation lab announced last October. The Digital Factory is the formal coming together of what the bank called its "rapid labs" – teams working on digital capabilities to ultimately improve customer experience (the first initiative was a mortgage onboarding service and another focused on improving the credit card application process).
The term "factory" was very deliberate, Marshall says. This is not just a lab for thinking up grand ideas – the output toward commercialization needs to be there too. Overall, the factory (set to be consolidated in one 70,000-square-foot downtown Toronto location this spring) will include roughly 350 employees, such as user experience designers, data scientists and analytics specialists, to work on innovations that address customer pain points in a faster and more flexible way.
Marshall is quick to point out that the bank has also been innovating outside the lab, launching options like Touch ID for authentication (instead of a password) and a mobile wallet application.
In the past few years, banks such as CIBC and TD have also invested in mobile wallet applications and now all the major banks offer mobile apps with functions like making transfers easily or remote deposit capture (taking a picture of a cheque with your phone to deposit it). In CIBC's case, it launched an entirely new marketing platform, "Banking that fits your life," focused on the various ways it makes life easier for the customer.
These features have become table stakes for the big banks. Now, it's about being forward-looking and fulfilling unarticulated consumer needs.
Gabriel Woo, VP of innovation at RBC, cites Henry Ford: "If I had asked people what they wanted, they would have said faster horses." In the case of banking, that's meant taking a "joining them," not "beating them" approach to the world of fintech.
"I think about this space not so much as a zero sum game where there's winners and losers," Woo says.
RBC has a relationship with the C100 – an organization of Canadian startups in Silicon Valley – and in January, partnered with several others to create Canada House, a co-working space in Silicon Valley for startups. It also sponsors a monthly TechToronto meet-up.
"I don't think of startups as competitors that we need to defeat," Woo says. "I think of them as an integral part of the ecosystem that bring a very different set of capabilities and background that we as an industry can hopefully bring to bear in service of the end customer."
More recently, RBC has been working with companies like Manifold Technology and Ripple to explore the potential of blockchain technology for banking, including potentially improving how loyalty rewards are delivered.
RBC is not alone.
In February, Scotiabank-owned Tangerine – formerly ING Direct and arguably the original disruptive bank in Canada – forged a partnership with Ryerson University to foster startups creating solutions for things like payment tech, and potentially allowing the bank to be the first to test them.
Tangerine, originally a digital-only bank, has been ahead of the curve with several technologies, including launching a biometric mouse for authentication back in the late 1990s, though it was too early for that to take off. Since then, it's become somewhat of a leader in innovating around retail banking tech.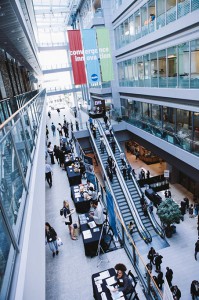 Last August, CIBC also joined MaRS Discovery District's fintech cluster. There, the bank's team – made up of its own digital and user experience professionals, along with co-op students rotating in and out – undertakes "six-week sprints" to explore potential innovations it can bring to market, says Aayaz Pira, VP of digital channels at CIBC.
For example, the team knew wearables were of potential interest, not just in banking, and used a six-week sprint to come up with 100 different use cases for the Apple Watch. Those ideas were brought in-house at the bank to be refined and, eventually, its app for the watch launched.
Not everything coming out of the lab will necessarily go to market, but that's not the point, Pira says. The idea is to explore what could be relevant to banking and having a point of view.
He points to virtual reality as one example of the type of tech its lab at MaRS would explore. "I'm not sure if that will actually have any use cases in banking in the future but we should obviously understand it, because in the future there's no reason why you couldn't actually have a conversation with a financial adviser using a virtual reality headset."
TD Bank, meanwhile, has partnered with Communitech in the Kitchener-Waterloo region for the past year-and-a-half. Like RBC's Woo, Rizwan Khalfan, TD's chief digital officer, says that partnering with the fintech industry has been the right approach.
"As much as we think about them as competition, if they're innovating and delivering a convenience that could be widely adopted by our customers, we should be partnering with them and bringing them to market," he says.
For example, the bank has been working with mobile budgeting app Moven to integrate in-the-moment advice to customers – what Khalfan describes as a kind of Fitbit for financial wellness. Back in September, it also partnered with Flybits to integrate more personalization into its app.
For Khalfan, TD's digital improvements aim to keep customers at the centre, with what he calls "co-creation" with its clients. In other words, its mobile experience has been tailored based on customer feedback, improving things like its remote capture feature based on pain points customers have described.
Partnering with groups like Communitech or MaRS, or in Scotiabank's case, creating its own dedicated lab, also allows the banks to position their brands as innovative among communities of young tech talent, like at major universities.
"I think that a lot of these companies are trying to understand how do they move with where the customer is moving, move to where the technology is going and how do they provide customer service much more efficiently and effectively to help get satisfaction levels higher with customers?" says Salim Teja, EVP of ventures at MaRS. "If they're not thought of as innovation brands, they have a hard time winning that talent."
Correction: This article originally stated that Tangerine partnered with the DMZ at Ryerson University, when the partnership is in fact with Ryerson itself. Strategy regrets the error.