Cossette adds to its creative team
Two creative directors and an ACD are among the new faces at the agency.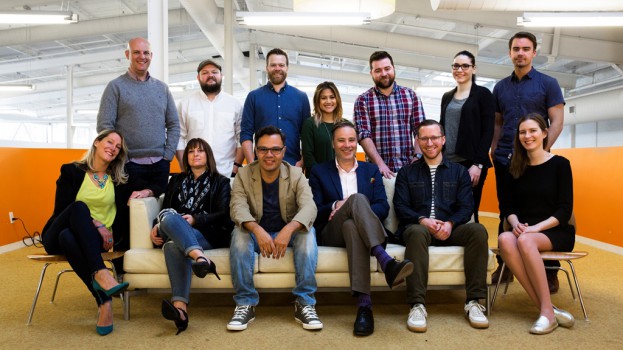 Pictured: (Front row, left to right) Marissa Mastenbroek, Shira Kirsh, Carlos Moreno, Peter Ignazi, Jordan Hamer, Sarah Rutherford. (Back row, left to right) Jonathan Careless, Jonathan Guy, Eric Grimes, Carla Rimando, Spencer Dingle, Vittoria Vennare, Cooper Evoy.

Cossette has announced 12 new hires to its creative department, all of whom have joined since the beginning of the year.

The hires have come in the wake of business growth from both new and existing clients. They also come as chief creative officers Carlos Moreno and Peter Ignazi aim to bring together creative talent in a variety of disciplines, including brand, digital and one-to-one marketing, according to a press release. The agency has also had some senior departures from its creative department in recent months, with CD Sean Barlow taking the CCO role at Cundari at the beginning of the year and CD David Daga joining Manifest Communications as ECD yesterday.

Among the new hires is Jonathan Careless as creative director. Careless was most recently group creative director at Maclaren McCann. Prior to that, he held roles at Juniper Park, Grey Canada and TBWA\Toronto, among others.

Marissa Mastenbroek has also come on as creative director. She joined after working freelance for Cossette, and has held roles at Ogilvy, BBDO and Saatch & Saatchi.

Jonathan Guy has joined as associate creative director. Guy was previously an art director with Taxi, Leo Burnett and BBDO.

Art director Spencer Dingle and his creative partner, copywriter Jordan Hamer, have also joined the shop. The pair were most recently with Lg2 and have held roles at BBDO.

Other new hires include copywriter Cooper Evoy, who comes from DDB and Red Urban; art director Carla Rimando, formerly with Track DDB;  copywriter Eric Grimes, also previously with Track DDB and Rapp; Shira Kirsh, senior art director, previously with Ogilvy One, Wunderman and Proximity; Sarah Rutherford, senior writer, previously at Mirum; Steph Simms, an art director joining from Bimm; and Vittoria Vennare as junior writer.

Cossette's new business wins over the past six months include M&M Food Market, an alcoholic beverage client, a major advertising assignment from the Ontario Advertising Review Board and a digital assignment from L'Oreal. Work has also expanded for clients including the SickKids Foundation and TD Bank.

New business also led to an expansion in Vancouver in February, including a slew of creative hires and a new VP of strategy. Last month, the agency also added former Taxi 2 general manager Daniel Shearer as its new general manager for its Toronto office and the new "Cossette Ontario and West" division.