Team Canada heads to Rio with icy veins
Ahead of the summer games, the Canadian Olympic Committee uses harsh winters to showcase our athletes' grit.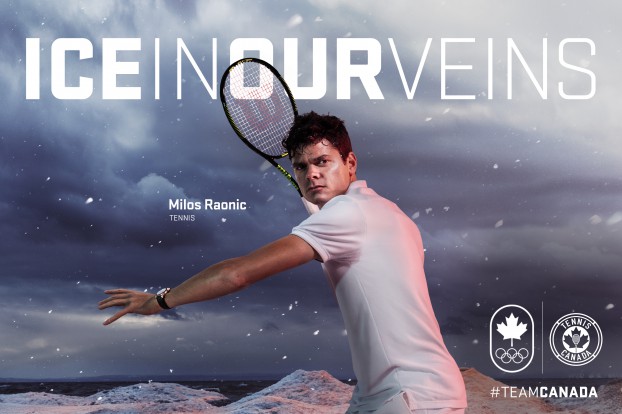 It's usually not very kind to say someone is icy, but for the Canadian Olympic Committee, it's an advantage to be cold-blooded.

For its new campaign leading up to the Rio 2016 Olympic Games in July, the organization has launched a campaign showing that Canada's athletes are coming to Brazil with fire in their hearts and ice in their veins.

Led by Cossette, the main online film, "Ice in Our Veins," features Canadian summer athletes training hard in brutal winter conditions. The campaign's message came from insights derived from the athletes themselves. In essence, gold medals are won in the summer, but earned in the winter, says Derek Kent, chief marketing officer at the COC.

The film, shot by director Mark Zibert, features a variety of athletes including Milos Raonic, the first time a tennis player has been featured in a COC campaign.

This is the largest summer campaign for the Canadian Olympic Committee, rolling out now with 60- and 30-second spots, OOH, digital, and seven specially-created 10-second spots to be used on digital channels.

More broadcast will roll out closer to the games, and more media partnerships will be announced later this summer (the organization relies on donated media). OMD is the COC's media partner, with North Strategic on PR.

This year's campaign is building off of the success of "#WeAreWinter," created by Proximity for the 2014 games in Sochi. During the Pan Am Games last summer, the organization and agency also launched "#NowOrNever," also directed by Ziebert, to help build excitement for Rio.

The main challenge for the COC is extending its relevance beyond Olympic events. "Part of my goal is to try to extend the window of appetite and awareness for our athletes, for the brand, beyond the games window," Kent says. Having a highly cinematic campaign, beyond just showing athletes working out, is one way of doing that.

This year, it's also extending its relevance by holding athlete events in the lead-up to Rio, including a major send-off on Canada Day in Toronto, with a yet-to-be announced band playing. Kent says the event is expected to have "tens of thousands" of attendees. The COC also plans to hold a post-Olympics event with its athletes in Ottawa this fall.

Since launching "Give Your Everything" for the London Olympics in 2012 – its first integrated marketing campaign, according to Kent – the COC has been working on establishing a stronger digital focus.

In the past four years, it's grown its social media following significantly, and last year it launched the Olympic Club, a fan-oriented website that now has more than 100,000 members. Additionally, when announcing the Olympic-wear with the Hudson's Bay Company earlier this month, it did so through Facebook Live, a launch that had 500,000 viewers and was HBC's most successful to date, Kent says.

Last fall, the organization also integrated its digital team with its brand and communications teams (led by Todd Denis, executive director of brand marketing at the COC). "We wanted the left hand to know what the right hand was doing," Kent says.

Correction: This article originally named the incorrect creative agency partner for the COC's Sochi 2014 campaign. Strategy regrets the error.