Cadillac Fairview invests in the outdoors
The property company is putting $21 million into its north Toronto open-air mall.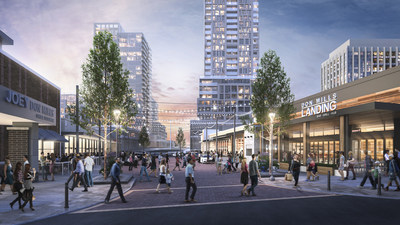 CF Shops at Don Mills is getting a $21-million dollar investment from Cadillac Fairview (CF) to reinvigorate the North York retail space, the company announced Tuesday.
The open-air Toronto shopping mall, which opened in 2009, will see improvements to pedestrian and parking areas, elevated entertainment zones and nearby LRT transit access with a new Science Centre Station. The construction, which is underway, is set to be completed in September 2017.
The construction will be complemented by the addition of new stores and restaurants in the coming months.
The parking area will feature digital signage with real-time parking counts, and will also see better access to the four-level parkade through a new pedestrian entrance. Sidewalks will be widened, and the mall is adding cobblestone roadways and a new lighting system to improve the pedestrian experience.
The redesign will also feature landscaping work and art installations for better greenspace and walkways surrounding the mall, as well as new seating areas and furniture and a facelift for the onsite water fountain. Another entertainment zone is also being added.
Ilene Klein, general manager of CF Shops at Don Mills, says shopper feedback helped inform the revitalization.
"The redevelopment effort incorporates changes based on valuable recommendations from our guests to allow us to effectively meet the needs of shoppers and our community," she said in a release.
CF has been investing in its properties in recent years to make them go-to locations for a premium shopping experience in Canada, especially as the luxury retail market here expands.