Tangerine brings biometrics to its new app
The bank is promoting the new tools with a series of online videos.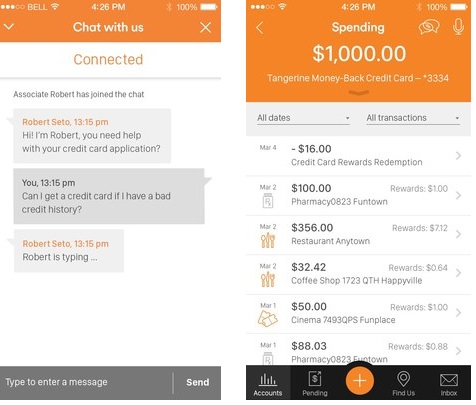 Tangerine has a new mobile banking app with eye verification, vocal passwords and other tools, promoting the features will a series of online videos.
The Scotiabank-owned brand launched its new Mobile Banking App for iOS, which features some first-to-market biometric technologies, late last month. It has since released a series of 15-second online videos, in English and French, that highlight some of its features, including Touch ID and Secure Chat.
The new app is safer and more intuitive, Tangerine president and CEO Peter Aceto said in a release, and made improvements to the previous version based on client feedback.
The brand had offered Secure Chat – which allows clients to get help from an associate – through its website since January but the new app makes it the first Canadian bank to offer it on mobile.
The app's  EyeVerify function uses Eyeprint ID technology to verify the user's identity with an eye scan. Customers can also say a phrase to access their accounts using the VocalPassword function.
Tangerine, originally a digital-only bank, has been ahead of the curve with several technologies, including launching a biometric mouse for authentication back in the late 1990s, though it was too early for that to take off. Since then, it's become somewhat of a leader in innovating around retail banking tech.
In February, it formed a partnership with Ryerson University to foster startups creating solutions for things like payment tech, and potentially allowing the bank to be the first to test them.
All the major banks and payment systems in Canada have been focused on innovating as they fend off challenges from mobile-focused players.