Car dealerships tap NFC tech for better shopping
Digital shop Tuku uses the in-store tech to provide more in-depth content on vehicle features to potential buyers.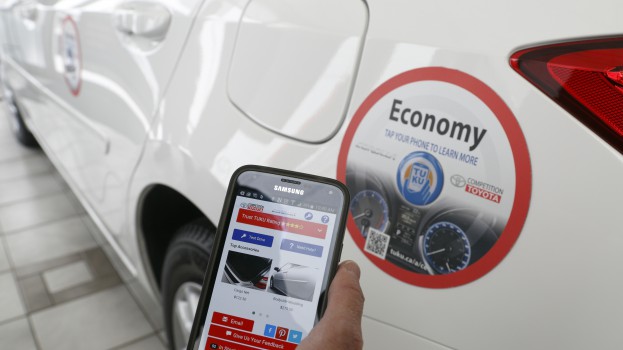 With car technology becoming more sophisticated and consumers doing more homework about products both in advance and in-store, a London, Ontario-based marketing company is helping salespeople keep up.
Tuku, a contactless marketing agency whose founders hail from print-to-web flyer company Conversys, has developed near-field communication (NFC) stations on cars at two London dealers to help its salespeople with their pitches.
The AutoTour platform provides content to salespeople for training and presentations to customers. Cars at the London Honda dealership have six NFC contact points that the product advisers access on tablets, bringing up enhanced presentation material about the vehicles.
In addition to training the sales team on the cars' features, it allows them to play a video on a crash mitigation system, for example, "which is difficult to describe verbally but a 30-second video does it very, very well," says Tuku president and co-founder Mark Baldwin.
At the Competition Toyota dealership, the platform is focused equally on salespeople and customers, with the touchpoints providing ratings, reviews and product videos that consumers can access on their smartphones.
With more and more consumers using smartphones during the shopping experience to learn about products and make purchase decisions, Baldwin says his platform aims to provide as much useful information as possible in one place.
"With a simple tap or a scan, we're providing all the content that the consumer needs to make that informed decision in a very short period of time," he says.
"And from the seller's perspective, they want to keep the shopper in their environment, both physically but also within their digital environment where the seller can communicate their value proposition – why buy my product here, today. We're providing that communication channel to accomplish that."
Tuku curates the content for the platform, which runs through the smartphone's mobile browser. In addition to the car dealerships, the agency is working with childhood education company Scholar's Choice and a restaurant Baldwin couldn't name at press time.
Particularly at the Scholar's Choice stores, where the content is focused on consumers, the platform provides valuable data on their intentions: it allows the retailer to track which products consumers are most interested in and which content is most engaging, allowing them to adjust that content as well as the positioning of categories within the store.
No one else is providing that information at that moment when the consumer has the product in one hand and a smartphone in the other, Baldwin says.
"It's really data from that last step in the path-to-purchase."